Some lightning fast peanut butter cake pops for autumn!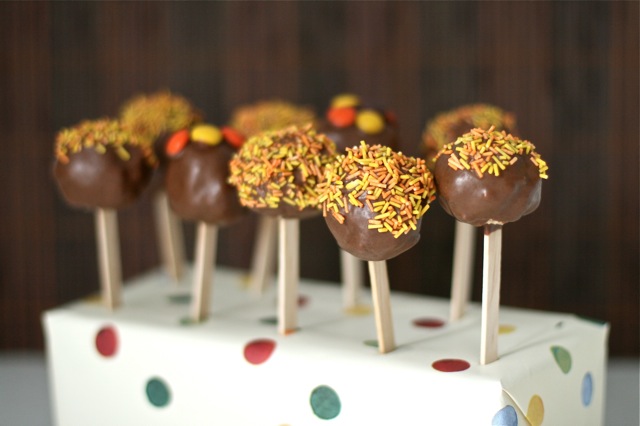 I love the orange packets of Reeces Pieces… in the absence of peanut butter M&Ms they're the nearest I can get in the UK.  I'm on a Reeces roll at the moment – at the weekend I went back to All Star Lanes Stratford and enjoyed another devilishly fine Reeces Pieces milk shake.
If you've not had Reeces peanut butter, it's sweet and similar to the more widely available Skippy. The Reeces candy range includes chocolate cups filled with peanut butter, sugar coated peanut butter candies (like M&Ms or Smarties) and even, I learn from Amazon, a white chocolate version although I think I'll stick with milk.
Reeces peanut butter cups used to only be sold in Woolworths when I was a child… they seemed so exotic and familiar at the same time. Nowadays I can buy them in not one but two nearby convenience stores but possibly this is a local fluke. After all, I live near to the famous award winning Walthamstow Spar.
The bright orange and yellow sweets and sprinkles used to decorate so many American baked and candy treats cheers me up each autumn. This year I whipped up a quick tribute of my own.
Very easy, very fast peanut butter cake pops
Peanut butter seems such an obvious flavour and texture to mix into cake pops that I'm amazed I've not come across peanut butter cake pops before.
Possibly you have to be in the mood to fiddle with cake pops – I admit this was not a day when things particularly went my way decoration wise. But you should know by now I'm not someone who wants to sit here giving the impression of being perfect.
I might have blamed Ted for the haphazardness… indeed he's helped me dip cake pops before but alas, the randomness, speed and low skill threshold are entirely down to my own, on this occasion, slack efforts.
One last confession. Being in a hurry, these were made using bought fairy cake bases.
Like gravy granules, I see they have their place. And here, that was to make peanut butter cake pops inside 30 minutes.
Result!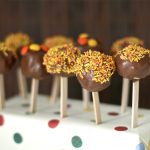 Print Recipe
Reeces peanut butter cake pops
Ingredients
200

g

crumbled sponge cake

50

g

buttercream

50

g

Reeces

or Skippy peanut butter

150

g

bar of milk chocolate

oh it has to be milk, none of that classy dark stuff

Reeces pieces

Orange and yellow sprinkles

Wooden lolly sticks
Instructions
In a medium size bowl, churn the crumbled sponge cake crumbs into the buttercream and peanut butter.

With your hands form golf ball size balls and place each one on a plate. Chill the cake balls for 20 minutes.

Meanwhile melt the chocolate (carefully) in the microwave - short sharp bursts with intermittent stirs rather than letting it scorch.

Let the chocolate cool so it's still dippable but no longer hot.

Dip a wooden lolly stick into the chocolate and then push into the cake balls. Then swirl upside down in the chocolate.

Rotate the stick allowing chocolate to settle over the surface; let any excess drip off.

Before the chocolate sets completely, stud the tops with whole Reeces pieces or dip into a shallow dish of the sprinkles.

Stand on the sticks in a block of florist's foam oasis covered in wrapping paper.
Notes
If you want to stud your cake pops with whole Reeces Pieces, this does work but you need to wait until the chocolate is nearly set - otherwise they slide off rather ungraciously. But what price sweetness eh?