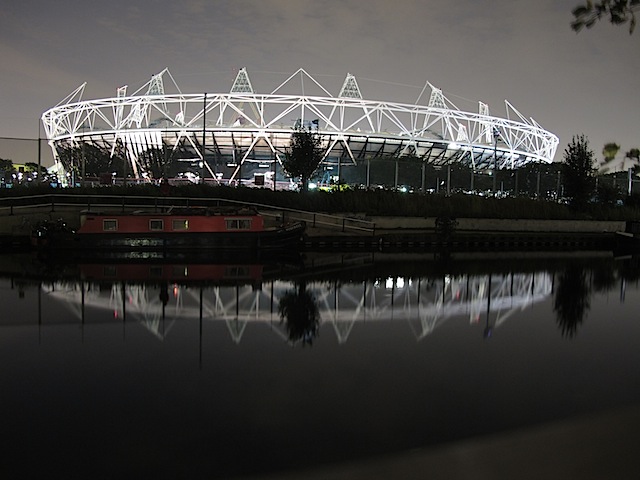 Reviewing restaurants has not been a top priority for me recently, however I was intrigued to hear about the tapas nights at The Counter Cafe.
Although I'm rarely reviewing restaurants anymore unless they're done Dinner With Crayons style or places known for their patisserie or puddings, I wanted to visit as the Olympic park is only a ten minute drive from home and Hackney Wick's desolate industrial nowhereness intrigues me.
Free parking is abundant; a rarity for London. I will definitely be checking out the nearby Forman & Field restaurant, Forman's and Hackney Pearl soon although I would feel uneasy arriving on foot, particularly if alone as street lighting isn't as good as in more built up places.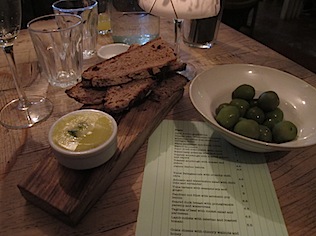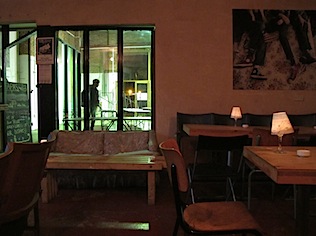 Having moved into the Stour Space warehouse next door (also home to a monthly designers' market) since my previous brunch review 18 months ago, they now boast probably the best view of the new 2012 Olympic stadium, shown above by night on the other side of the canal.
A ramekin of moussey chicken counter pâté, amused me for the pun alone; the homemade sour dough bread was substantial and chewy, to the point of being hard work.
The interior is slightly smarter than the previous incarnation but there are still touches of building site chic such the hatch through to the kitchen being a hole in the wall with bare brick showing. The vintage leather cinema seats are still there although frankly the sofa shown above looked like it had come out of a skip.
The table lamps DIY'ed out of tea lights and wine glasses with paper shades were fun and the quirky menus are printed on paper record cards.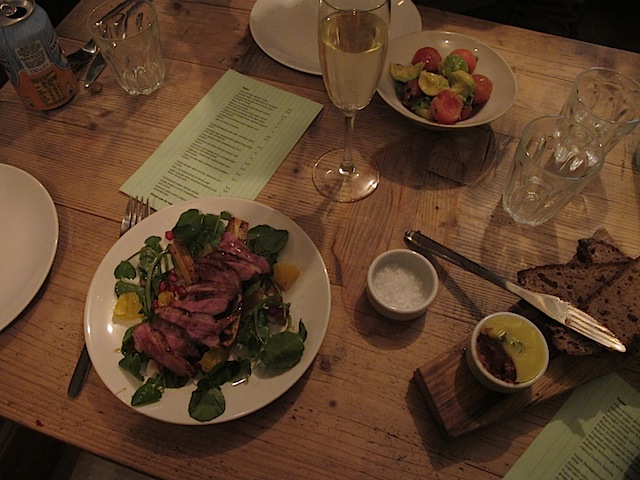 Duck was one of the larger portioned dishes; tender slices of juicy pink meat with parsnip and orange.
A watermelon and avocado salad was hyped as being passed down from someone's mother but the chilli listed on the menu appeared to have been forgotten rending it quite mundane.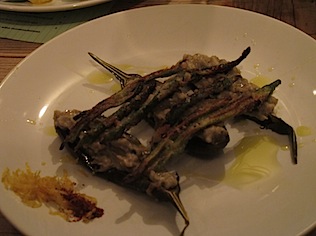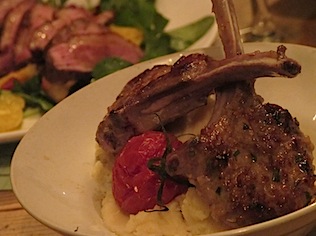 Or maybe they put a double dose in the baba ganoush by mistake? I had hoped for a smoky aubergine dip intriguing which had been billed as being flavoured with violet. Instead skinny slivers of a single piece of okra were draped across three halves baby aubergine, violet scarcely noticeable under head blowing amount of chilli powder. Too much heat, not enough food….
Lamb cutlets and celeriac were tender and one of my preferred dishes. But we were still hungry, having been guided how many dishes would be suitable for two people, I think they should have recommended more than they did.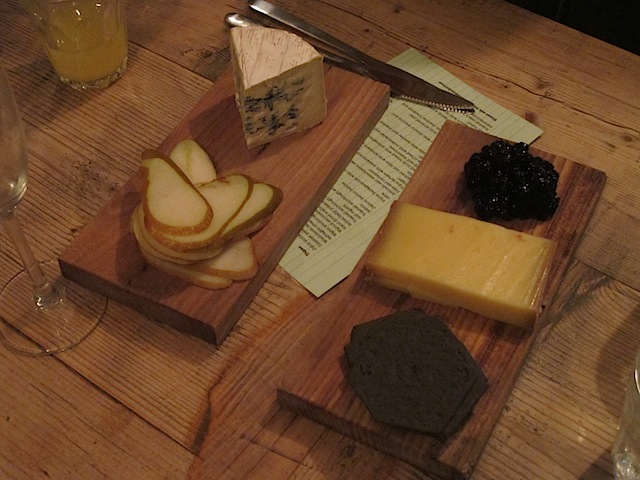 Fortunately the cheese board rescued us; comte with charcoal crackers and cherry jam were super although given that this is meant to be tapas some quince paste would have been more appropriate. Bleu de Bresse with slivers of pear were a successful follow up. Definitely the high point of the meal.
Prosecco at £4.50 a glass is a bargain, unfortunately my second glass failed to materialise along with any more service.
Another group of people arrived (initially we were the only diners) and appeared to be friends of the owners. After this we were ignored, either because staff were socialising with this group, or else they'd vanished completely into the kitchen and we were left dangling like lemons at the counter waiting to say we were ready to leave. It's a shame because had my second drink been remembered, we would have probably sat at the table until the staff reappeared but instead one mishap led to a double whammy of sloppy service.
Verdict; The Counter Cafe is definitely worth a visit for its location alone, it's an intriguing area of London to visit, tucked in an elbow of the A12, awkward to reach on public transport unless the Overground line from Stratford is working but with a bird's eye view of the Olympic site. Don't go expecting Spanish food; these are tapas size portions but the menu is a patchwork of culinary styles.

Definitely it's worth a trip for brunch, even if it's just a convenient stopping off point whilst prowling around the publicly accessible bits of the periphery of the Olympic development. By night however, I'd say this was an atmospheric place to go for drinks with a large group of friends with the added benefit of enjoyable light food being available but that it's not somewhere to go as a couple if you're ravenous.

I seem to have mislaid my menu from the evening and there's no example one shown on their website right now, I recall dishes ranged between around £3.95 and £6.95 each.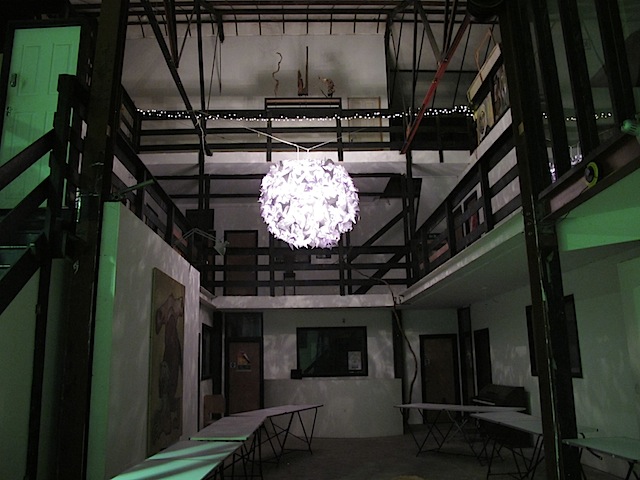 With thanks to The Counter Cafe, Roach Road, Hackney Wick, London, E3 2PA. Telephone +44 (0)7834 275 920.