Today I have a cute cookie project you can make with kids – it's inspired by the new Rio 2 movie and I've got a giveaway of Rio 2 goodie bags too!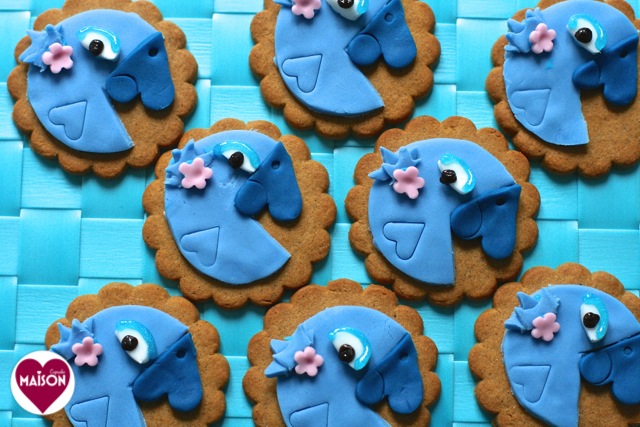 Brazil, if you haven't noticed is cool right now. Not only do they have the World Cup and Olympics on the way, Brazilian food is increasingly fashionable, it seems we can't get enough of Brazil.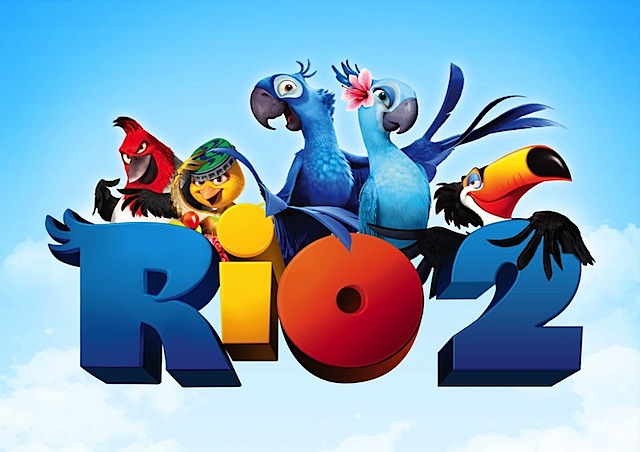 So right on cue we have a Brazil based kids' animated movie series… enter the birds from Rio 2!
It's the sequel to
Rio
 and made by same folks as the 
Ice Age movies
.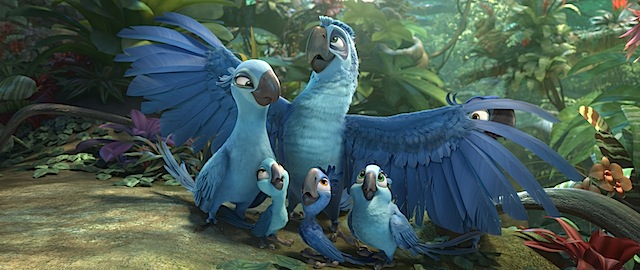 It follows the adventures of some colourful feathered friends in Brazil's Rio de Janeiro who go on an adventure in the Amazon rain forest. I have based the cookies on one of the main characters, Jewel, voiced by Anne Hathaway. Other birdies in the movie are voiced by Bruno Mars and Mr "Voice" himself, Will.i.am.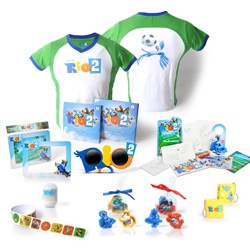 Stay tuned below if you'd like to win some fun Rio 2 themed goodies. But first let's make those blue parrot cookies!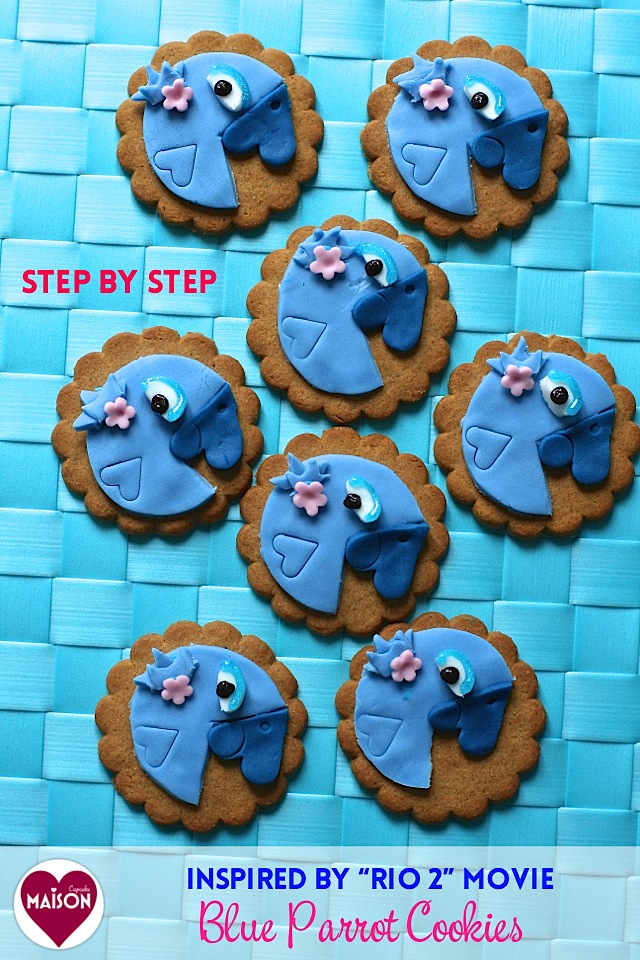 Only very very basic sugar craft skills and tools are required to make these cookies… if you're a dab hand with Play Doh you can manage these!
Here's what you need…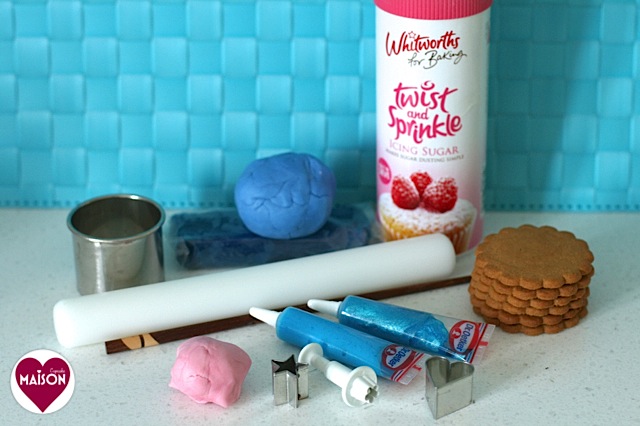 You will need:
Some blank biscuits (if you don't want to make your own, these crinkly ginger ones from IKEA look fab!)
…or try my chocolate cookie dough recipe.
Biscuit sized circle cutter
Small heart cutter
Small star cutter
Small blossom cutter
Blue squeezy gel icing (sold in tubes in supermarket – often multipacks of 4 colours)
A chopstick
Small rolling pin, preferably plastic non stick one but one from a kids' baking set will do
Icing sugar to dust and stop sugar paste sticking to your workstops
Sugar paste in pale blue, pale pink, darker blue and white. (Or buy all white and tint with food colouring)
Everything you need is available in the supermarket, Lakeland or from Amazon. Here are a few suggestions of things similar to those I've used:
From left:
So lets kick off with what you need to do!
Rio 2 blue parrot cookies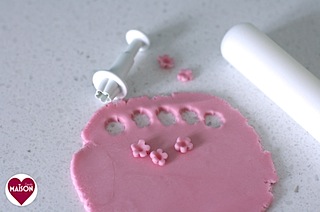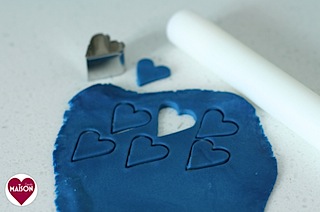 First roll some pink sugarpaste and cut out as many pink mini blossoms as you have cookies. Set aside on a sheet of parchment paper.
Next roll some dark blue sugarpaste and cut out some small hearts for the parrot beaks.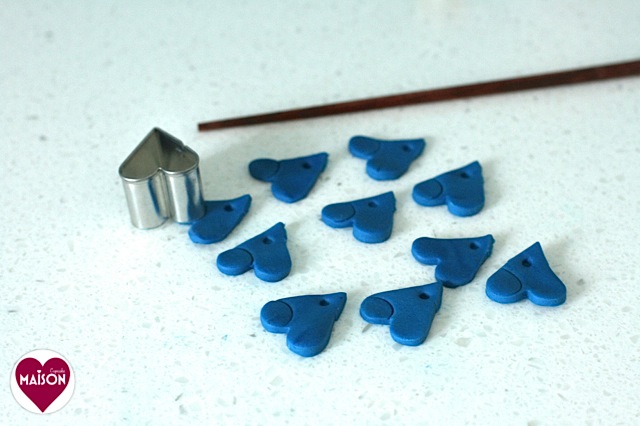 Use the tip of a chopstick to indent the "nostril" in the beak and use the edge of the heart cutter to indent a curved line on the heart as shown.
Set these pieces aside on a sheet of baking parchment paper.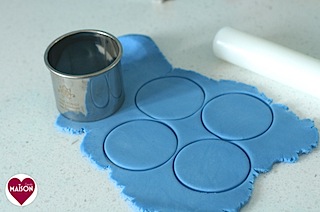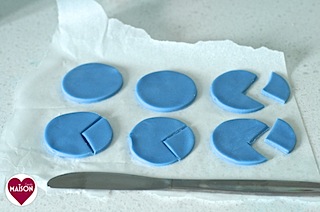 Next roll out pale blue sugar paste and cut out some circles for the parrot heads.
Then trim away one third segment of each circle as shown. Set the segments aside for a moment.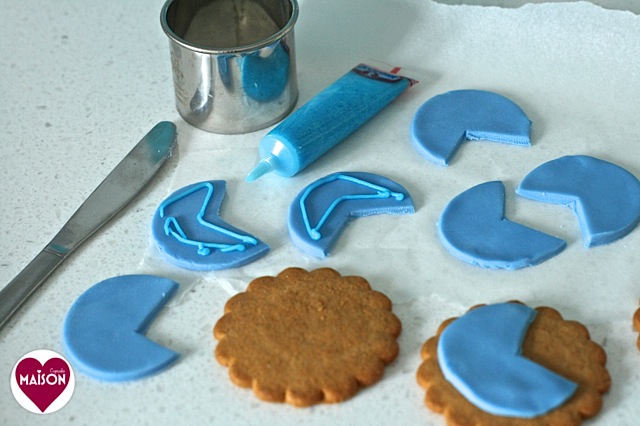 Using squeezy gel icing "glue" down the remaining two thirds circles to your cookies and set aside.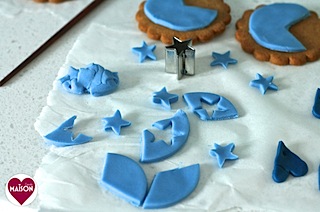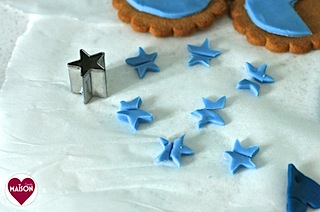 Now with the little pieces of pale blue sugarpaste segments, cut out mini stars as shown. Then cut them down the middle so you have 2 points and 3 points on respective halves.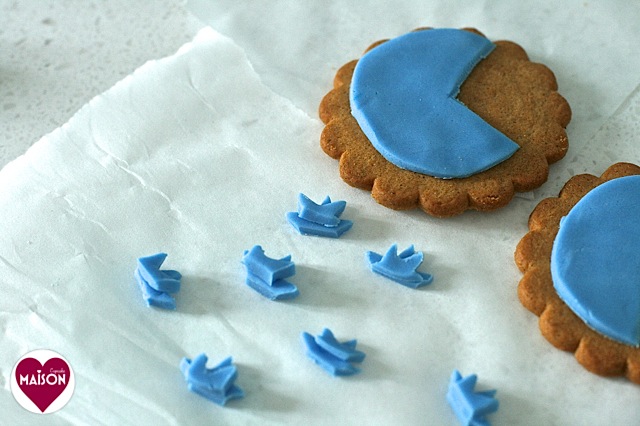 Gently place the 2 point piece on top of the 3 point piece – don't squish them yet though.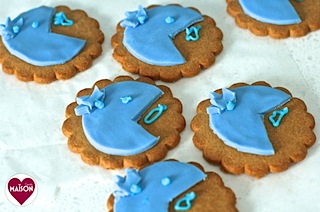 Dab more blue gel icing in the top left side of the pale blue sugarpaste as shown. Gently squish down the star pieces and dab on more blue gel icing as shown ready to stick down the pink blossom, the eyes and beaks.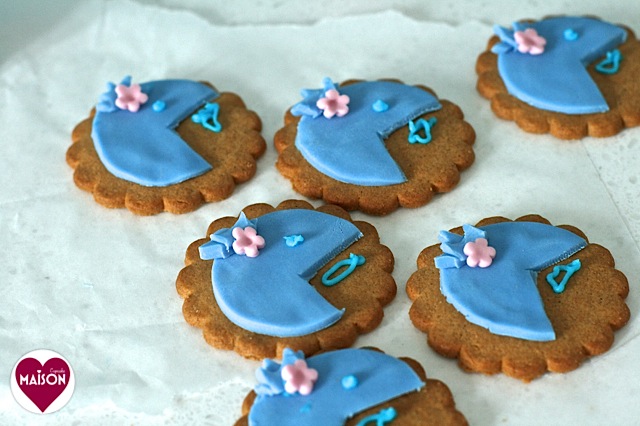 Stick down the pink blossom on top of the pointy star pieces.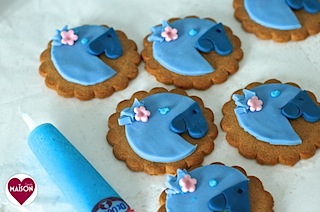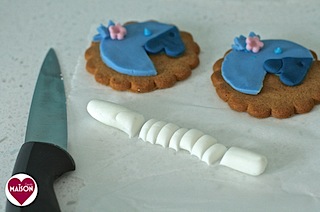 Then stick down the heart shaped beaks as shown. For the white eyes, roll a small thin sausage of plain white sugarpaste and squash slightly so the base goes flat. Slice tiny semi circles for the eyes. (I'd used a kitchen knife in the photo but a butter knife with a thin non-serrated blade is advisable if making these cookies with children).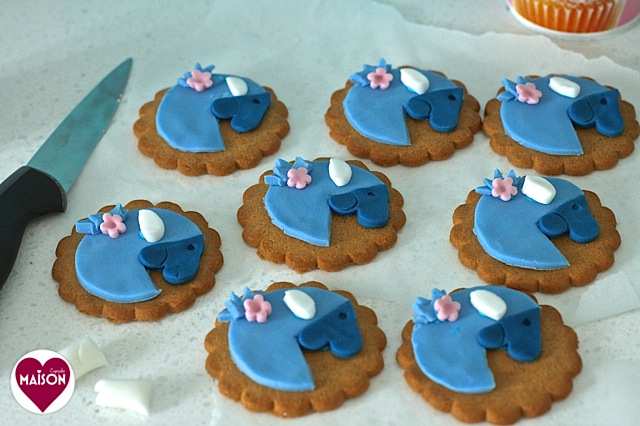 And stick these eyes down – nearly there now!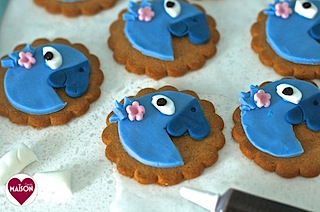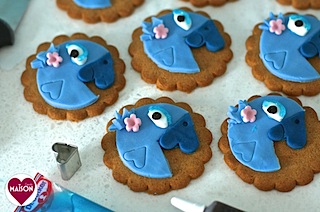 Finally add the finishing touches of a dot of dark chocolate squeezy icing for the pupil of the eye and a sweep of blue glittery gel icing for the eyelid.
And you're done!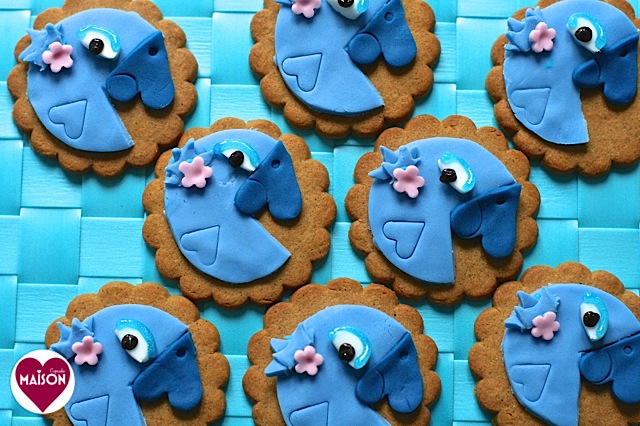 Giveaway: Rio 2 goodie bags – 3 to be won

How to Enter

Complete the Rafflecopter form below to confirm entries made via blog comments, Twitter, Pinterest, Facebook etc.
Closing date: April 19th 2014.
Read the "Terms and Conditions" link at bottom of Rafflecopter form.
Winners are contacted by email and announced on the Rafflecopter form below once they claim their prize.

Tips for entrants 


No form showing? Hit refresh and it should appear (your computer needs to be running Javascript)
New to Rafflecopter? Watch this short video How Rafflecopter works
Complete the Rafflecopter form – otherwise your entries cannot go into the draw.
Entries are verified and all cheats' entries disqualified.
Complete mandatory entries first – usually to answer a question by leaving a blog comment below the post. Comments from new visitors are approved manually so your comment may not be visible immediately. Return to the Rafflecopter form to confirm you've left a comment and this will unlock other entry options even if your comment is still awaiting approval.

For how to find the URL of your tweet read this helpful post here.
Want more chances to win? Bookmark https://maisoncupcake.com/giveaways and come back daily to register bonus entries!
Viewing this giveaway via email newsletter? Click through to to site to enter.

Good luck!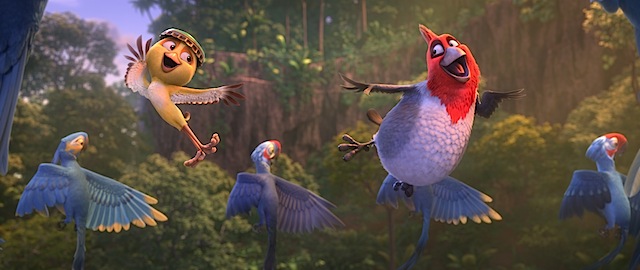 Giveaway and cookie project commissioned by promoters of Rio 2 .