This Shark steam cleaner review is a guest post. My mother has been putting the Shark steam cleaner through its paces on her narrowboat.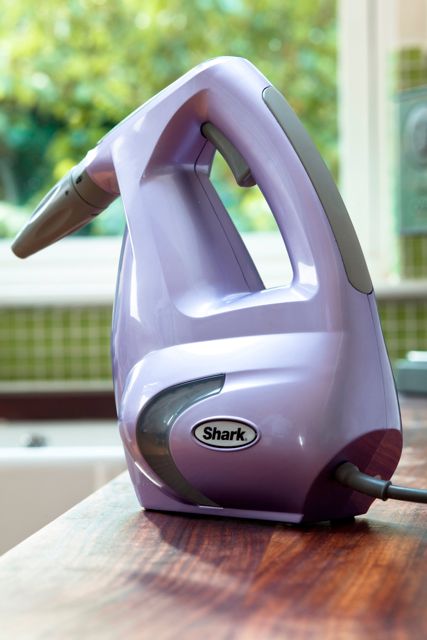 I'm the ideal person to review the portable Shark steam cleaner! Living on a narrow boat there are many crevices and narrow spaces where grime can collect. I wanted to see how well the Shark steam cleaner would perform getting dirt out of these difficult tiny spaces.
The portable Shark steam cleaner kit
Storage space is tight on narrow boats so on seeing the large box for the Shark steam cleaner, I thought this had better be good.
The Shark steam cleaner kit comprises many pieces: nozzles, pipes and fluffy dusting mittens, yards of cable, bits in plastic bags. Tools that promise to cater for every eventuality.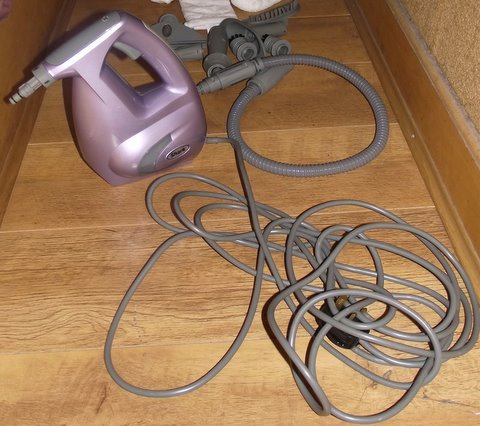 The handheld Shark steam cleaner is mauve in colour and easy on the eye. The instructions are easy: fill the steamer using the little jug, choose your nozzle and switch on.
Using the portable Shark steam cleaner
Once filled with water, the Shark steam cleaner gives a surprising 8-10 minutes steaming time. The Shark steam cleaner ready to use in under 30 seconds but not as hot or powerful as I hoped.
Problems with Shark steam cleaner
Dislodged bits are moved by the Shark steam cleaner rather than washed away. You need a cloth to wipe with one hand, then swap hands when your thumb gets tired holding the power switch down.
How good is the Shark steam cleaner?
Shark steam cleaner in the kitchen
The Shark steam cleaner publicity shots sparkle so I expected a lot. In reality this is no "new stuff for old" magic appliance. The Shark steam cleaner improved the cooker hob, but burnt areas just look cleaner. Repeated use may be the answer. Best results from the Shark steam cleaner were achieved with the kettle and cooker crevices.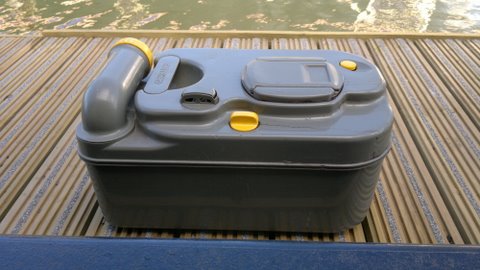 Shark steam cleaner in the bathroom
Sarah banned me from mentioning the "poo tanks" on a food blog but I'm going to since the Shark steam cleaner cleaned them most effectively. The "poo tanks" (joke name) are regularly emptied cassettes used for catching your business in narrow boats' loos. I now have a sparkling white loo and will definitely continue to use the Shark steam cleaner on it at regular intervals.
Using the Shark steam cleaner for textiles and lighting
The Shark steam cleaner upholstery tool perked things up rather than clean them. The clothes steamer worked, but was a bother to set up when you could just as easily hang things in a steamy bathroom. Fitting fluffy covers to the larger attachments creates steamy dusters although I don't have the light fittings or venetian blinds they'd be suited to.
Shark steam cleaner pros and cons
Overall the hype surrounding steamers' capabilities is overstated; they're more effective on mild dust rather than dirt. It did nothing for cupboard fronts – although admittedly as these were wood and I didn't leave the nozzle on too long.
There are many parts and fiddly little covers, you'll need storage space to access these easily if you want to use them regularly.
The jug performs best when kept upright and the direct steam hose and direct steam nozzle are best. If these were standard with the option to buy upholstery cleaners separately, the size and price could be brought down.
Shark steam cleaner review verdict
Easy to use, good at polishing dusty areas but don't expect magic on older things where dirt has built up over time. Persevere and repeated use brings better results. Having to hold the power switch down at all times is a complete pain (literally). I find the standard retail price high but you can find it for less online.
Buy Shark steamer products today on Amazon. With thanks for the review model from Shark Clean Euro-pro.com. Also available on the high street from Argos and Lakeland.