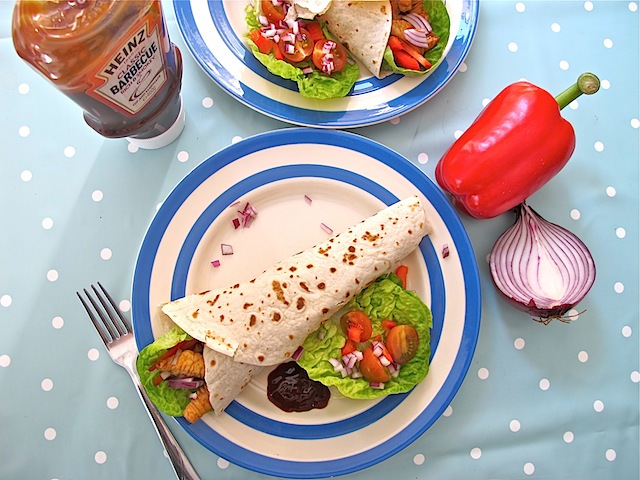 Well it's the Easter holidays and typically I don't get much time to write up blog posts whilst Ted is off school.
I did however take advantage of him being with me to engage on a mission with a new project I am working on with the Collective Bias™ Social Fabric® Community.
Our first mission was to investigate Heinz products at our local Morrison's supermarket and to come home with a product I'd not bought before and use it to make a family meal.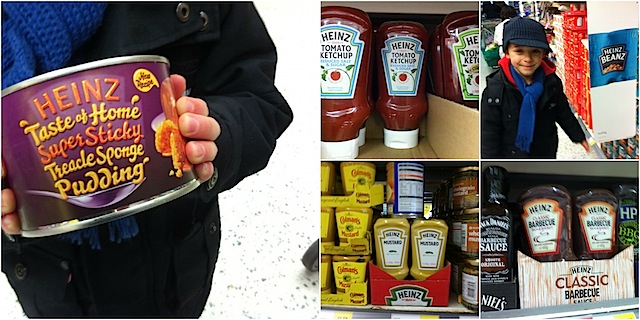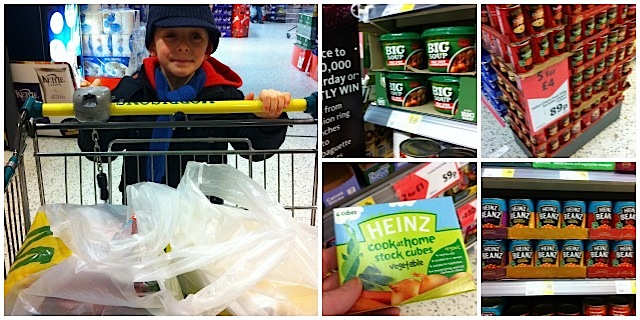 I think everyone is very familiar with the traditional Heinz baked beans – or Heinz Beanz as they're now officially called – Heinz Tomato Ketchup and Classic Soups. However I was staggered to learn on the Heinz website there are actually now 5,700 Heinz products – never mind 57 varieties, actually 5,700. I was further amused to learn there were on average 465 beans in a 415g can. I'm glad it's not my job to count them.
You can see all the photos from my visit in this Google+ album Heinz Morrisons #CBias together with my commentary on the range of products available. I made a point of looking for things I'd not previously realised Heinz made. There were also lots of products I remembered from childhood but hadn't bought for a long time, some such as the canned puddings have had a bit of an update since.
I also stumbled across this vintage advert from 1986 which celebrated 100 years of Heinz – there were SO many adverts I remembered from when I was a kid and yet this ad was nearly 30 years ago. I especially remembered the music from the canned coleslaw and potato salad adverts (I don't think they make these anymore) from 2′ 0″. Oh dear I may fall down a You Tube rabbit hole of looking for vintage adverts!
At Morrison's I think I found everything I looked for apart from Toast Toppers. I don't think I've bought Toast Toppers for over twenty years but I'm somewhat craving them now in the way I might crave Yeoman's Mashed Potato with Bacon Bits or Old English Spangles.
My favourite Heinz products as a kid were Lentil Soup and Oxtail Soup. When I was off school in the holidays as a teenager my mum (who was at work) used to leave me some money to buy my lunch in the local convenience store and I would make a special trip to buy a can of Heinz soup! I also remember making a Heinz Tomato soup pencil case in textiles classes – it was screen printed for the black and red areas and I embroidered the letters on!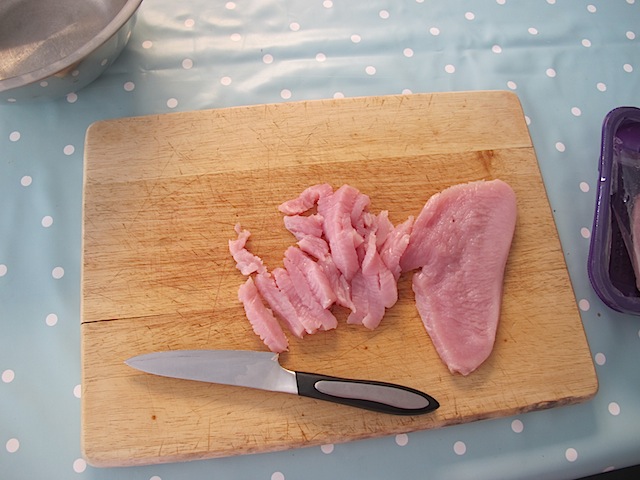 Turkey wraps with Heinz Classic Barbecue Sauce
Chop the turkey breast fillets into thin strips. Use a sharp knife – my favourite is this Heston Blumenthal knife by Grunwerg.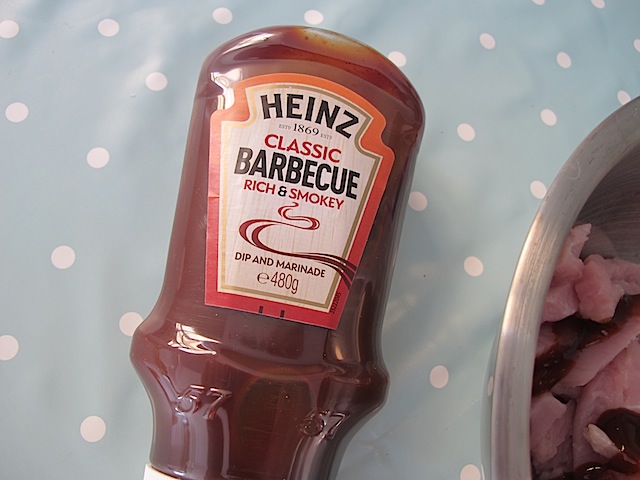 Take a bottle of Heinz Classic Barbecue Sauce. It can be used as a dip or marinade.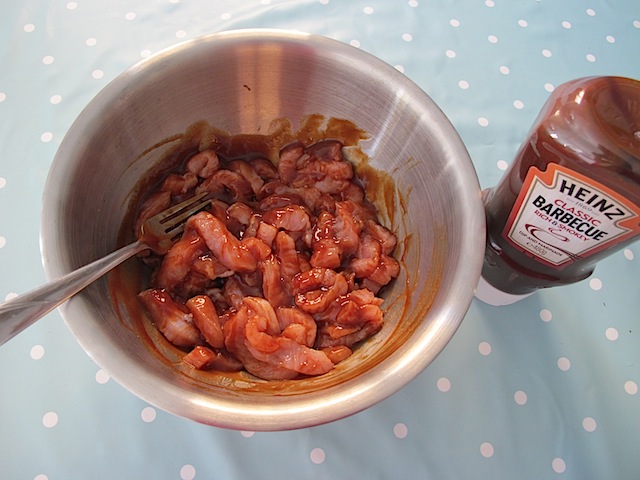 Cover the turkey breast strips with Heinz Classic Barbecue Sauce – I used around 1/3 bottle with 400g turkey. Cover the bowl with cling film and allow to marinade for a few hours or overnight.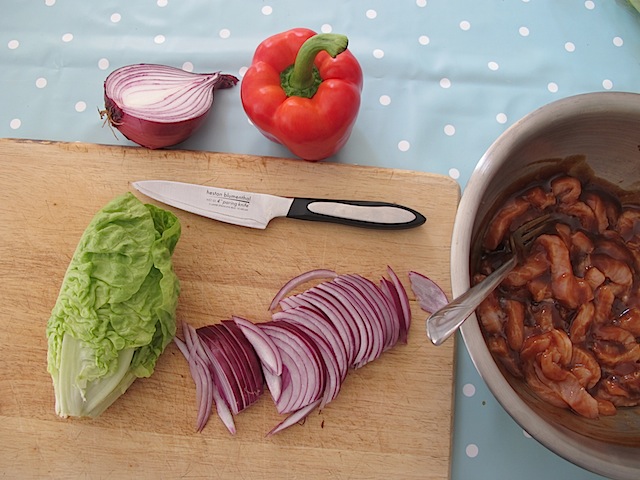 When you're ready to cook the turkey chop some red onion and red pepper. Grab some lettuce or salad leaves.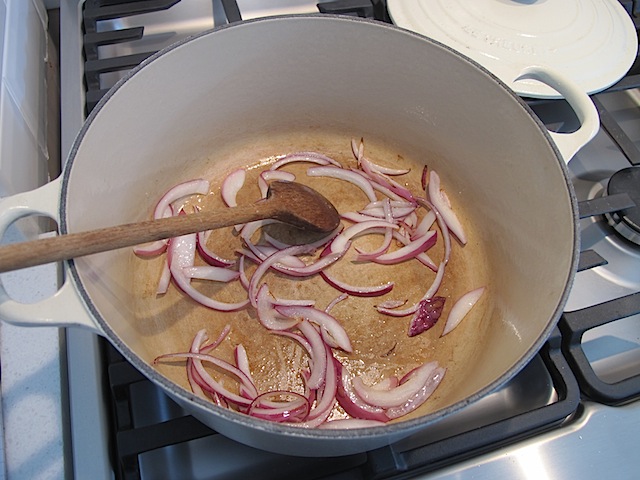 Fry most of the red onion gently in 1tsp olive oil. Retain a tablespoon of red onion to chop finely and use as garnish.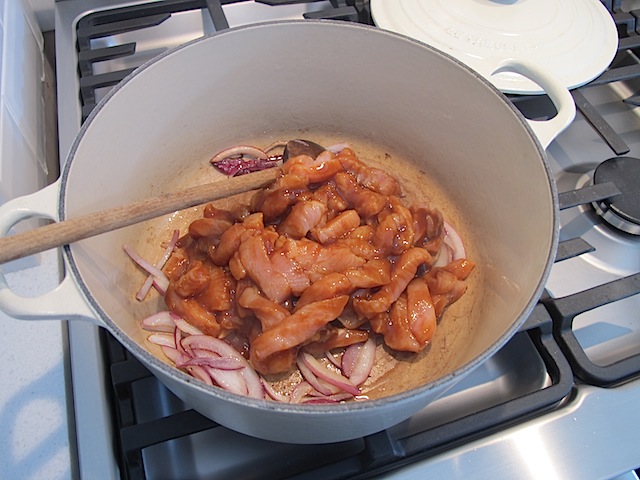 Once the onion has softened, tip in the turkey in its marinade.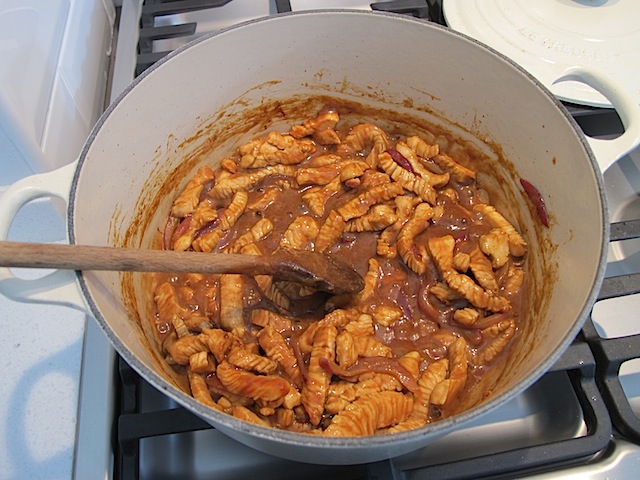 Cook on a medium heat until cooked through. Allow to cool slightly before spooning onto the wraps.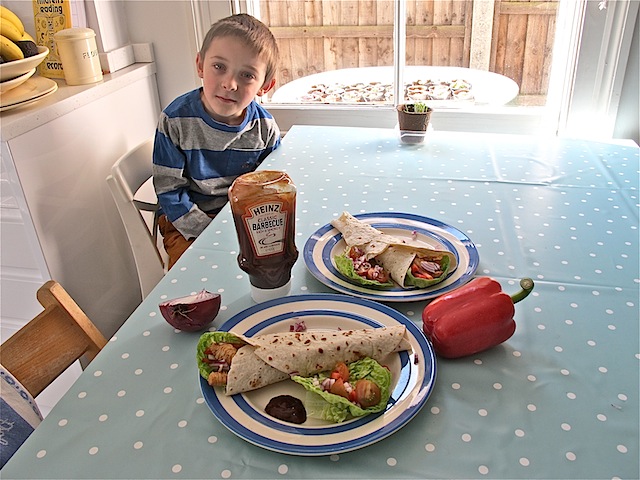 Roll some of the cooked meat and sauce up in a wrap with lettuce, raw red pepper strips and red onion. Serve immediately with a little Heinz Classic Barbecue Sauce on the side for dipping.
We enjoyed these for a week day lunch. Allow around 100g turkey per wrap. Make sure the meat has cooled down before handing to children to eat. If yours are like mine, they get grumpy eating anything messy so I actually gave Ted a fork to eat his filling and then rolled up the tortilla wrap covered in lettuce and barbecue sauce to eat afterwards!
I'm very impressed with this barbecue sauce, I don't usually rate Chinese sauces and I reckon this would double up brilliantly as a noodle sauce.
What was your favourite Heinz product when you were little?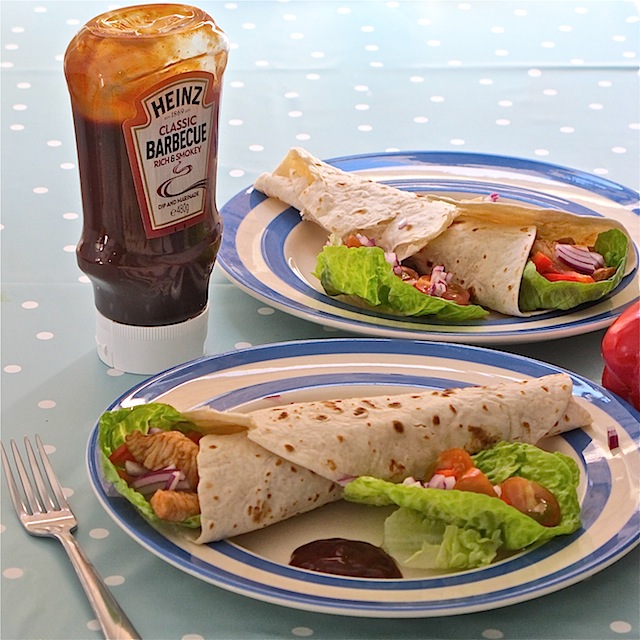 I am a member of the Collective Bias™ Social Fabric® Community. This content has been compensated as part of a social shopper insights study for Collective Bias® #CBias #SocialFabric.