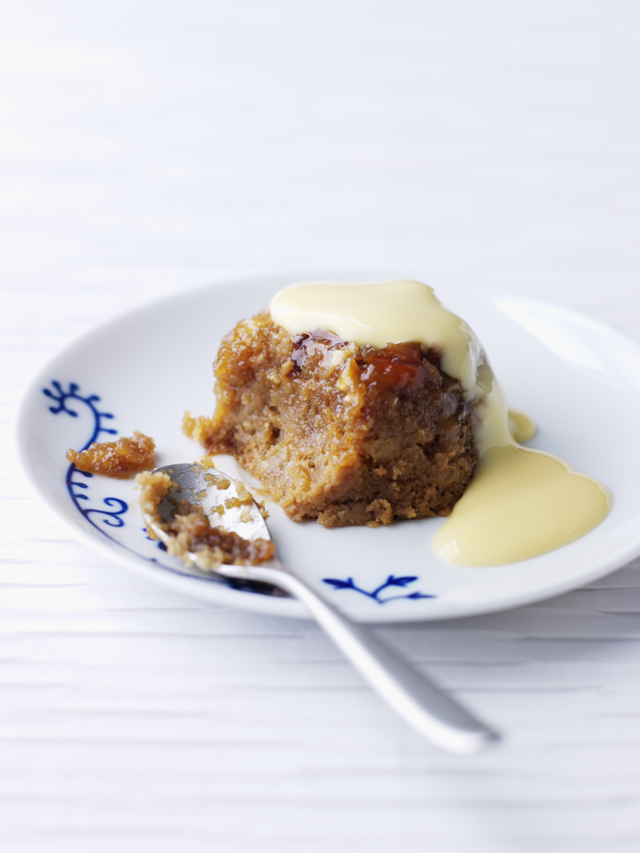 Three and a half weeks into the new year and I have been alcohol free, raw food chomping and slurping wheat grass and banana smoothies for breakfast.
It's probably time I let my hair down a bit without doing too much damage to my hard work hence the appearance of this deceptively virtuous pud from the new book by Weight Watchers.
So stir up the custard and grease those ramekins to save all your calories for some of my other giveaway prizes going live today: for the diet conscious I have Weight Watchers books, for those in need of pampering or dining I have a fabulously exciting Groupon voucher worth £50 and for the rest of you determined to bury yourselves up to the neck in chocolate I have three copies of the new William Curley book "Couture Chocolate" and a luxuriously decadent Hotel Chocolat Beauty Box worth £50.
Enjoy!
Sticky Toffee, Date and Banana Pudding

A comforting winter pudding that won't spoil your new year's diet resolutions.

Recipe by:Tamsin Burnett Hall/Weight Watchers
Published: January 2012
Prep Time:15 minutes
Cooking Time:25 minutes
Total Cooking Time: 40 minutes

Weight Watchers Recipe: 8 ProPoints per serving 
Serves 4

Ingredients

---

5 sprays cooking spray, calorie controlled

50g margarine, soft, polyunsatured

50g muscovado sugar, dark or light

1 medium egg, whole, beaten

1 tsp vanilla extract

50g flour, wheat, white, self raising

1 medium banana

25g date, raw without stone, chopped


1 tbsp milk, skimmed


4tbsp (level) golden syrup


300g custard, low fat, ready to serve


Method

---

Preheat the oven to Gas Mark 4/180°C/350°F. Spray 4 individual pudding basins or ramekin dishes with low fat cooking spray.
Beat the margarine and sugar together until light and fluffy. Gradually beat in the egg then stir in the vanilla extract. Sift in the flour and fold it in with a large metal spoon. Mash the banana and stir it in with the dates and milk.
Put 1 teaspoon golden syrup into each pudding basin or ramekin. Spoon the creamed mixture on top. Cover tightly with pieces of foil. Stand the basins or dishes in a small roasting pan or baking dish and pour in enough warm water to come halfway up their sides.
Bake for 25-30 minutes until set and golden. Cool for a few moments whilst you heat the custard, then run a knife around each one and turn them out. Serve with the custard.

Notes

---

Reproduced with permission from the new Weight Watchers' book The Complete Kitchen by Tamsin Burnett Hall. You can win one of two copies in my current giveaway as shown below.
Until February 9th:
Hotel Chocolat Beauty Box RRP £50!
Until February 28th:
Two copies of Weight Watchers The Complete Kitchen!
Three copies of William Curley's Couture Chocolate!