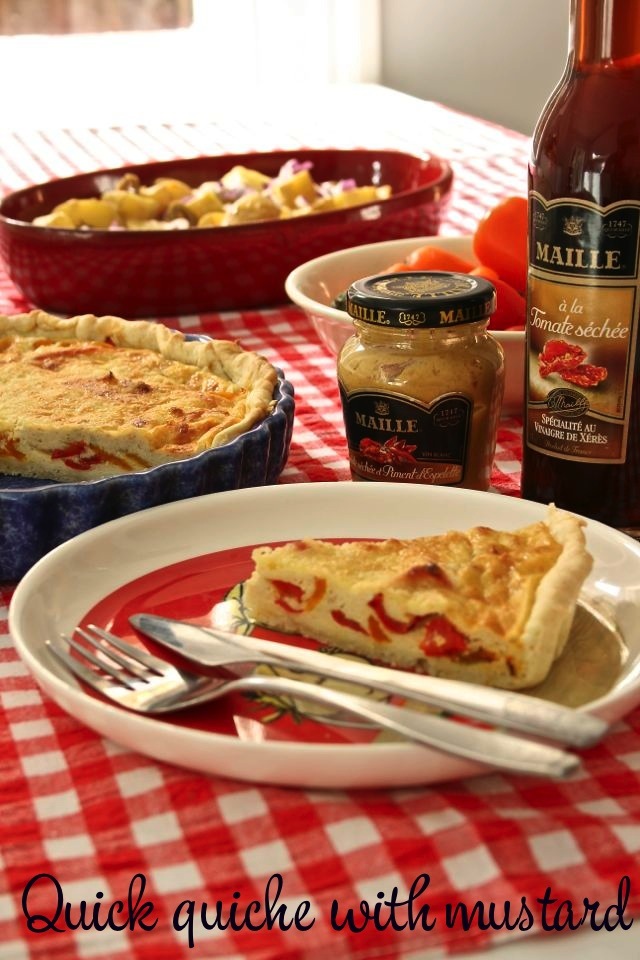 Saturday mornings are often my cooking days, I like nothing more than assembling bits of leftover ingredients in the fridge before restocking with the weekly shop.
I say "weekly" shop however I am prone to skipping a week and doing it fortnightly. My habit resolute husband is generally horrifed by this, under the illusion we may be short of food if we don't dash to the shops every weekend.
But the truth is, if we look deep into our storecupboards, there is often enough food to keep us going a while longer and certainly plenty of lovely things in jars. Certainly there was plenty of proof of goodies hoarded in cupboards in the last Random Recipes round up where food bloggers had been asked to bare their cupboards for readers to see.
I missed out on publishing my cupboard baring post in the post Christmas shenanigans but you would certainly have seen a selection of Maille products. Whenever I scour a French supermarket I can be sure to pop a jar of their Dijon mustard and vinegars in my trolley to bring back home.
I think I've mentioned on here before but I was introduced to French mustard from an early age when my uncle married a French lady and thereafter my grandma always placed a jar of brown French mustard on the dinner table alongside the bright yellow one we were familar with. Ever since, French mustard – which is milder than English – has been my preference.
Some of the new Maille products I've tried recently include:
Dried tomatoes with chilli pepper mustard
Pesto and rocket mustard
Parmesan and basil mustard
Sundried tomato vinegar
(I often buy their raspberry vinegar in France as it's sold in a bottle that's just the right size for a week's self catering holiday!)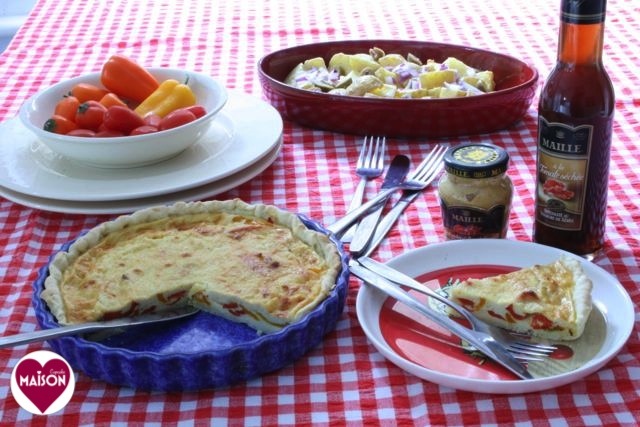 The good news is, Maille products are widely available in the UK and they've even opened their own mustard boutique in London's Piccadilly Arcade. I'm due to visit this soon and will report back afterwards but in the meantime, do enjoy these easy family lunch dish suggestions each made with Maille mustard.
First up is this easy quiche made using pre-rolled pastry – I have got into the habit of buying one of these at least every other week, they're excellent for bashing out a last minute puff pastry tart or in this case, a shortcrust pastry tart base. I like making my own pastry and am perfectly capable of doing so but I like shortcuts more 😉
I used miniature peppers in a bag from Tesco to make this but you could just as easily use standard peppers. I like the mini ones because they seem to keep longer and you can make a dish using several colours without using up 3 big peppers at once. By weight I'd say the price was competitive with the 3 packs of "value" peppers.
Each of the dishes in this post would work equally well for packed lunches and picnics.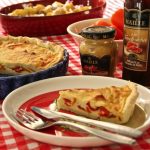 Print Recipe
Baby pepper quiche with sundried tomato Maille mustard
Ingredients
1

sheet pre-rolled shortcrust pastry

A little butter for greasing

1/2

tub low fat crème fraiche

3

large eggs

8

miniature peppers of mixed colours

or 1 large one, thinly sliced

1

tbsp

olive oil

1

tbsp

Maille sundried tomato and pimento mustard

50

g

grated cheddar
Instructions
Preheat the oven to 200c / gas mark 6. Toss the peppers in the olive oil and spread across a baking sheet lined with parchment paper. Roast in the oven for 10 minutes then set aside.

Meanwhile, grease the tart dish and line with short crust pastry leaving a raised edge of around 7mm to allow for pastry shrinkage.

Using a sheet of parchment paper and baking beans, bake the case "blind" for 15 minutes.

Remove the pastry case from the oven and carefully remove the paper containing the hot baking beans. Set aside whilst you prepare the quiche filling.

In a pint jug, beat the eggs into the crème fraiche, then beat in the mustard.

Scatter the roast pepper slices into the cooked pastry case. Pour over the crème fraiche, egg and mustard mix and finally sprinkle the grated cheese on top.

Bake in the top of the oven for 10 minutes at 200c / gas mark 6 then reduce the heat to 180 c / gas mark 4 and bake on a lower shelf for a further 15 minutes.

The quiche will be raised when it comes out of the oven but will level out upon cooling. May be eaten warm or cold.
Notes
You will need a 7inch tart dish and some baking beans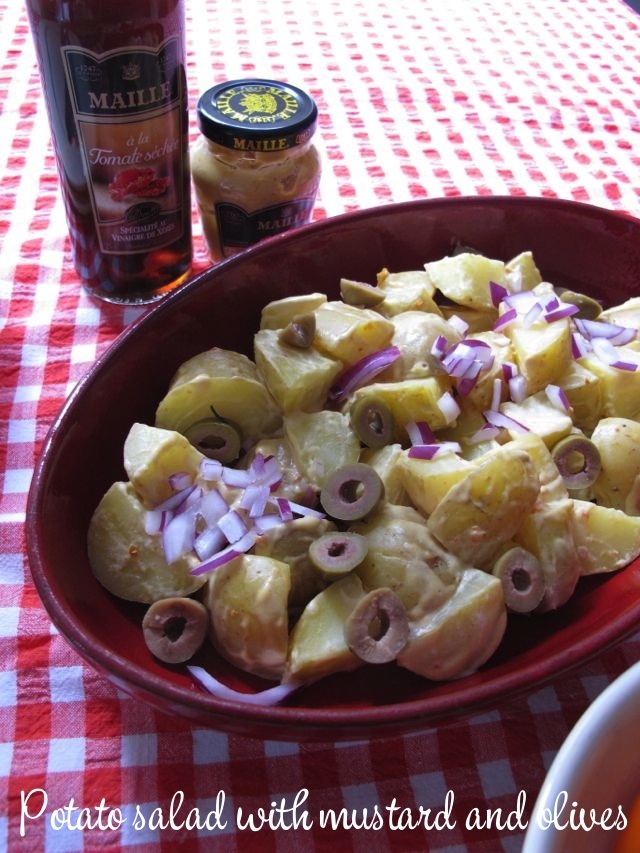 Potato salad with mustard and olives
As a bonus today I'm offering you two recipes for the price of one! My mother always used to serve potato salad warm with salad cream, I think it may have been how her German mother served it for her. I am always attracted by potato salads dotted with pink flashes of red onion and studded with olives – I've seen similar in Jewish cookbooks. These green olives even have a matching pink tinge at their centres where the stone has been removed.
Rather than salad cream, I used a 50/50 mix of creme fraiche and Maille sundried tomato and chilli pepper mustard to coat the warm potatoes and then scattered over the diced red onion and sliced olives.  Around 50g (or half a small cup) of this mustard/creme fraiche blend is ample to cover 7-8 largeish Charlotte potatoes chopped into chunks. Anya or any waxy potato would work equally well.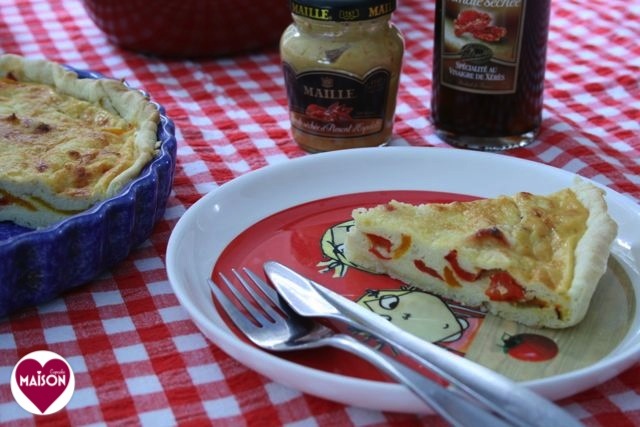 Other serving suggestions for mustard:
In scrambled eggs, souffles, omelettes or frittata
To flavour salad dressings like these by Katie at Feeding Boys
In marinades for meat
As a topping for baked fish or grilled chops
In ham or beef sandwiches
The list is endless – what is your favourite way to use mustard?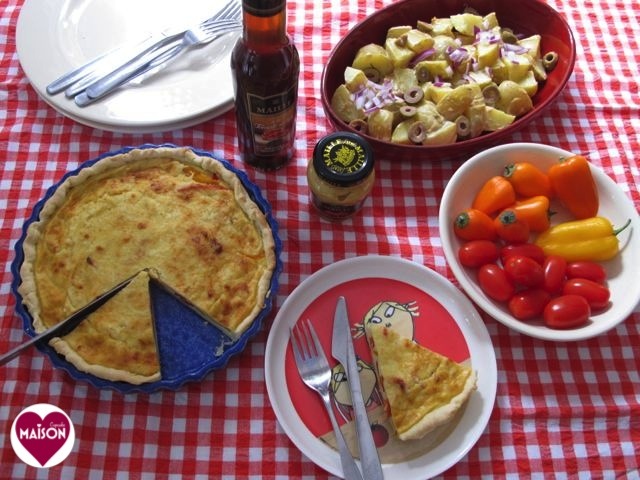 This post featuring Maille products was commissioned by Maille for a fee.