A step-by-step guide to icing Pudsey Bear cookies for Children in Need fundraising.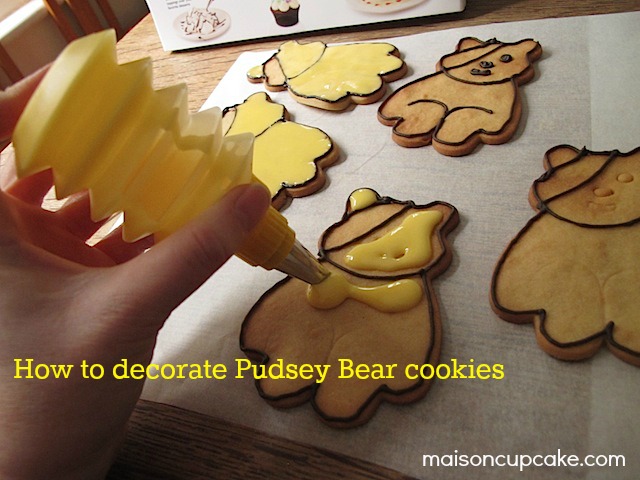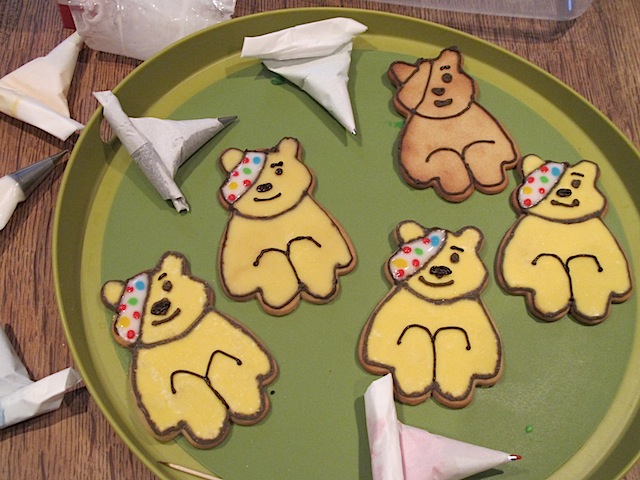 Pudsey Bear is a familiar face in the run up to the BBC's annual Children in Need appeal.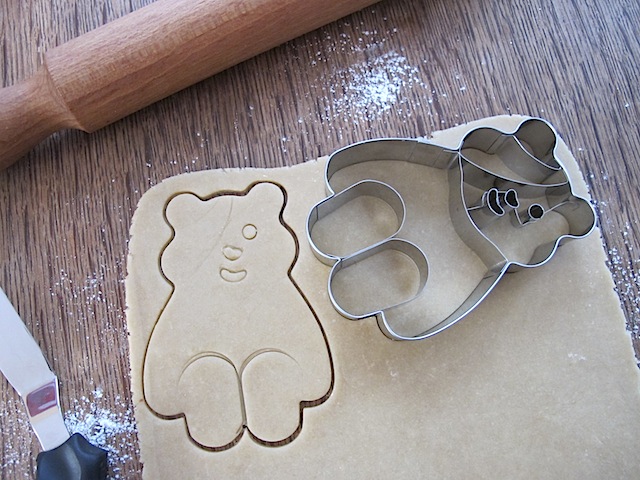 How to Make Pudsey Bear biscuits
Lakeland have long sold an annual collection of Pudsey related baking kit; pudsey bear cupcake cases; pudsey bear gift bags.
Baking Pudsey Bear cookies to sell is one of the best ways how to to raise money for Children in Need so this year we tried out the metal pudsey bear cookie cutter which is one of two designs available, the other one is yellow plastic.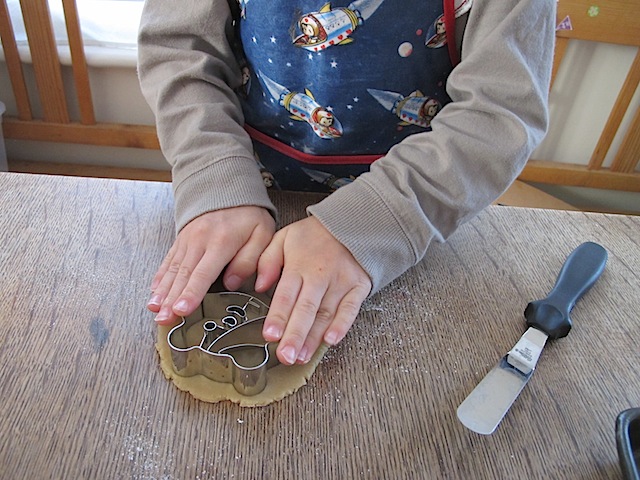 As this was during half term, I had my little assistant helping.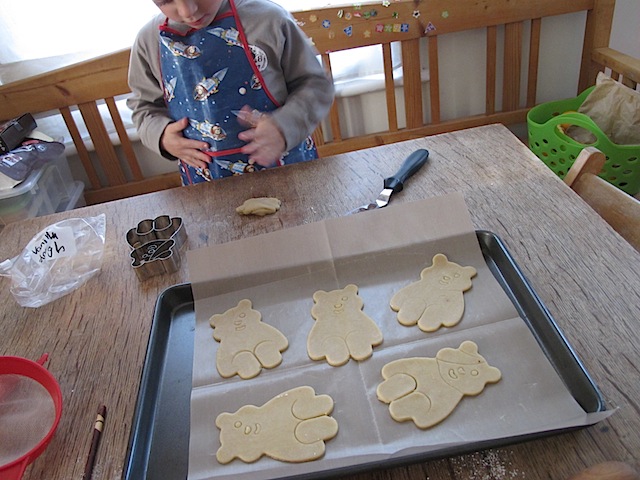 Baking with children
Making decorated cookies is a wonderful activity to do with children as they can help at so many stages; stirring the dough mix, rolling bits of it out, pressing cutters down.
Also because you can stop at various stages and make them a little at a time between other activities without spoiling them. Make the dough one day; roll out and bake another (they even surface being left on the tray several hours if you get interrupted between baking) and keep in a tin until you are ready to decorate them.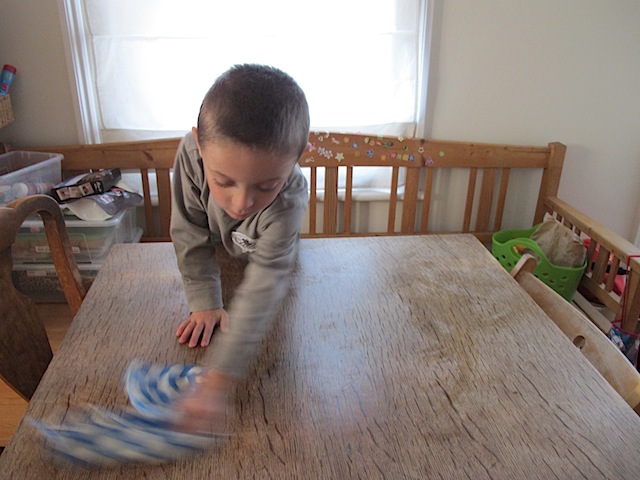 I don't force him to do the cleaning, it's a trait he's inherited from his father.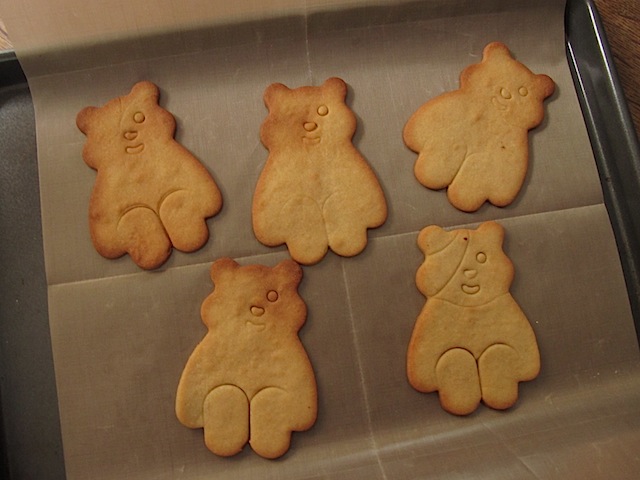 Baking Pudsey Bear biscuits
Baked cookies on reusable silicon sheet. Actually I found on cutting the cookies that the scarves didn't imprint unless you really pressed down hard and when you did that the eyes and noses got punched out and had to be inserted back into the holes.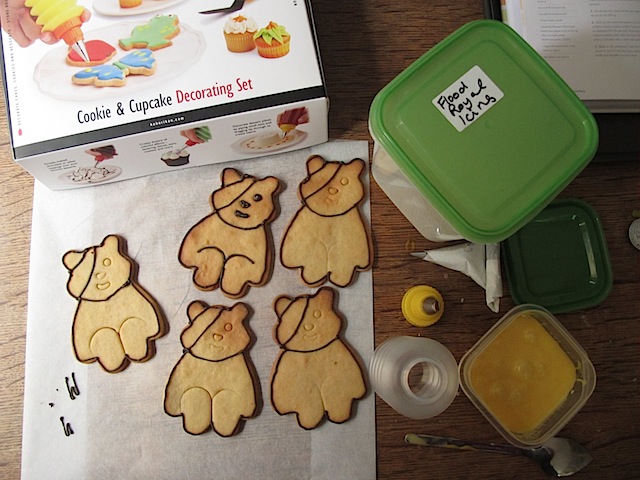 Decorating Pudsey Bear cookies
Another product being tested today; the Kuhn Rikon Cookie & Cupcake Decorating Set which is made up of several squeezy bottles and piping tips.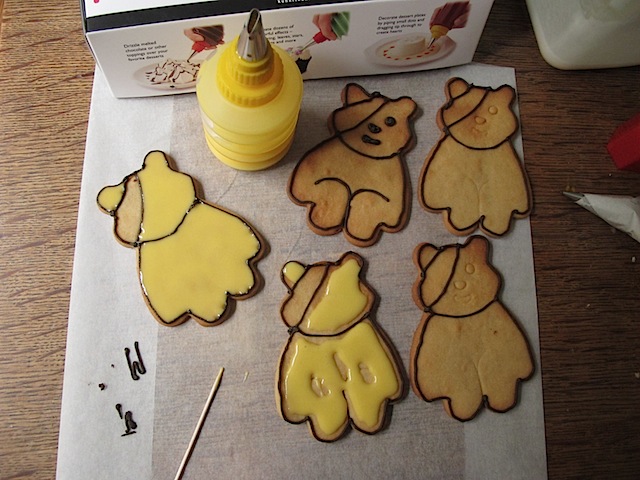 Having not used this set before my verdict is that the squeezy bottles are wonderful for dispensing runny flood icing but that you're better off sticking to standard piping writing nozzles for piping borders and lines.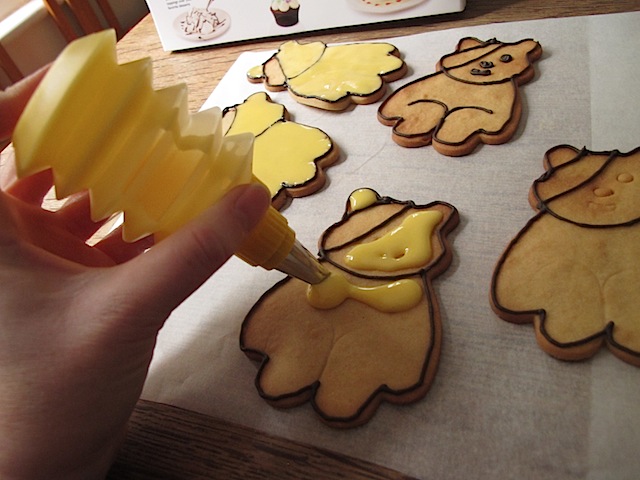 After piping around the borders with stiff brown royal icing, flood consistency royal icing is piped in thick lines in the areas you wish to fill.
Since the Pudsey's have a defined border of brown or black icing, I allow the line icing to dry before filling in with yellow.
Were you piping a cookie where you want the edge to be the same colour you could fill it straightaway.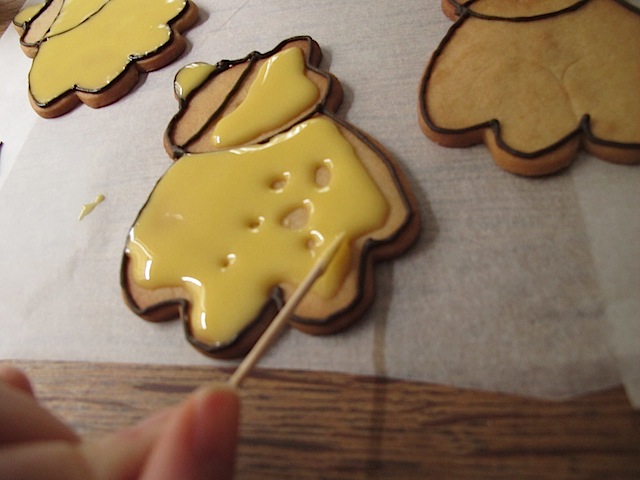 Cocktail sticks are ideal to encourage the wet icing to flow towards the border. Work quickly as your flood icing may dry before you can do this.
It's best to do one cookie at a time rather than all of them at once.
Once the yellow icing is dry you can pipe the faces on top. I left one above without yellow icing as you could omit this bit if you want to save time.
Maximising the number of Pudsey bear cookies you have to sell is after all the most important thing although possibly you could persuade people to part with more money for bears that as so beautifully decorated.
The last stage is to fill several tiny piping bags with no2 writing nozzles with white royal icing for the scarves and red, blue, bright yellow and green for the spots.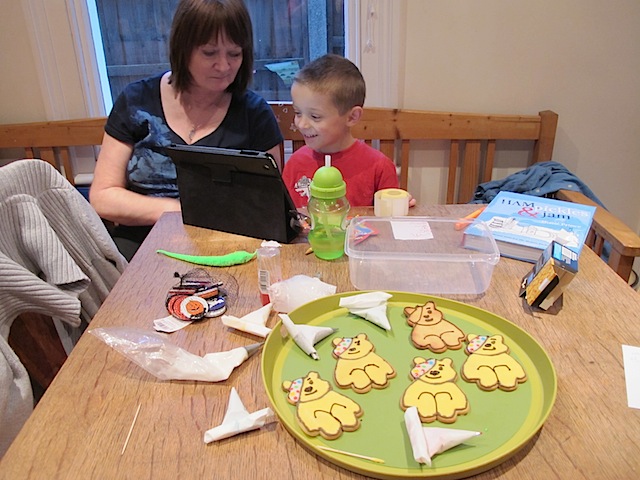 Ted by this point was more interested in playing with my mother's new iPad…
Although it looks like a bit of a faff, piping the scarves with their spots is actually very quick because the areas are so small. With this stage it is ok to work on several of them at a time. And you although there are several colours required, the spots are so dinky that a tablespoon each of the primary colours is plenty. You will need a bit more of the white icing but it's fine to make extra of this and store for another project.
I'm now left wondering what TV memories this year's Children in Need will bring us? There's inevitably a charity single and some celebrities doing something embarassing.
My favourite occasion (although possibly this was on Comic Relief) was Tony Blair being "bovvered" by Catherine Tate's sulky teenager persona Lauren.
What's yours?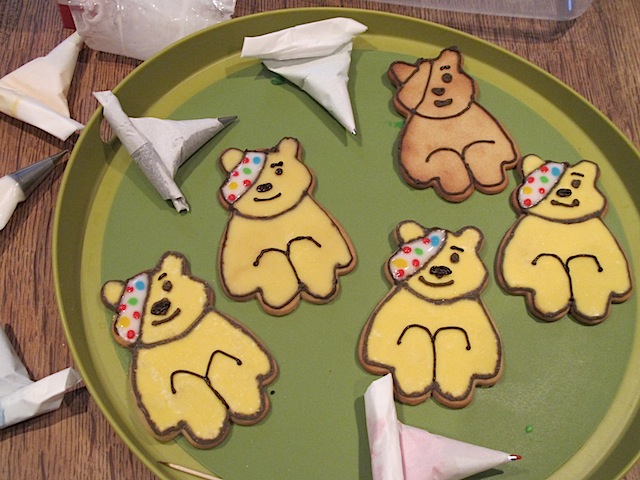 Recipe: Pudsey Bear Biscuits

Ingredients:

One batch plain cookie dough, chilled and ready to roll (see my halloween cookies recipe post)
extra flour for rolling
big batch of royal icing (around 300g worth of icing sugar added to 1 large egg white) divided as follows:

2-3 tbsp dark brown writing icing*
2-3 tbsp white flood icing*
1 tbsp each red, bright yellow, green, blue writing icing
the remainder as custard-y yellow flood icing

extra icing sugar for icing consistency
gel food colourings; yellow, dark brown, red, blue, green

*flood consistency icing should spread easily but not drip, writing icing should be firm and stand in soft peaks.

Equipment:
Pudsey Bear cookie cutter
6 piping bags** with no2 writing tips; for dark brown lines, white scarf, red/bright yellow/green/blue spots
1 squeezy bottle with larger nozzle/tip for flooding with custard yellow royal icing.
cocktail sticks

**I recommend paper home made bags for writing icing; plastic disposable bags or squeezy bottles for flood icing

Makes up to 20 cookies.

1. Preheat the oven to 180c / Gas mark 4.

2. Roll out the dough to 5mm thick, dusting the surface with a little extra flour if necessary. Cut out Pudsey Bear shapes.

3. Bake for around 10 minutes until golden brown. Allow to cool slightly before transferring to a wire rack then leave to cool completely.

4. Fill a piping bag with no2 tip with some brown soft peak icing; use it to pipe lines around the edge of Pudsey and his scarf but leave the eyes/noise/mouth and legs. Allow to dry.

5. Fill a squeezy icing bottle with custard-y yellow flood consistency icing; pipe fat lines of icing inside all the areas on the cookie except for Pudsey's scarf. Allow to dry completely, preferably overnight.

6. When dry you can pipe the eyes/nose/mouth onto Pudsey's face.

7. Get ready to do the scarves by filling five small piping bags with the white, red, bright yellow, green and blue icings. Flood the scarf areas with white icing and immediately pipe coloured spots using the various colours. Leave to dry.
Two other ways you can donate to Children in Need 2011 are:
Buy a wonderful plush Pudsey Bear from Build-a-Bear Workshop. The store has partnered with BBC Children in Need for the fourth year in a row. £5 from the sale of each bear goes to Children in Need. Build-a-Bear Workshop raised £135,000 for the charity last year and hoping to beat this with a new design of bear and clothes.
Secondly, the BBC have set up a Facebook app called Fancy a Spot of Cake? Click through to the Pudsey Bear facebook page to donate sections of this virtual cake. By donating £1, £5, £10 or £20 a user can purchase various items to add to the cake via PayPal.