A sticky saffron and orange polenta cake was one of the earliest things I blogged on Maison Cupcake, on that occasion from Harry Eastwood's Red Velvet Chocolate Heartache book. It's been a few years but the texture of a polenta cake is so distinctive I could taste it when just thinking about it.
This version today is amongst a series of recipes promoting Macmillan's long running "World's Biggest Coffee Morning" which takes place later this month. The official date is 30th September but you can choose another date that's more convenient or lands on a day of the week your attendees would be getting together anyway. I remember enjoying various Macmillan coffee mornings at mother and baby groups when Ted was little.
It's an opportunity to get together with friends and raise some money for a good cause. Last year Macmillan's coffee morning campaign raised £25 million and this year they want to beat their target!
You can get involved by signing up and holding your own event either just with friends or for the public – Macmillan have a map on their website to help you promote it.
Have you ever, or will you be organising a Macmillan Coffee Morning? Tell us all about it in the comments below!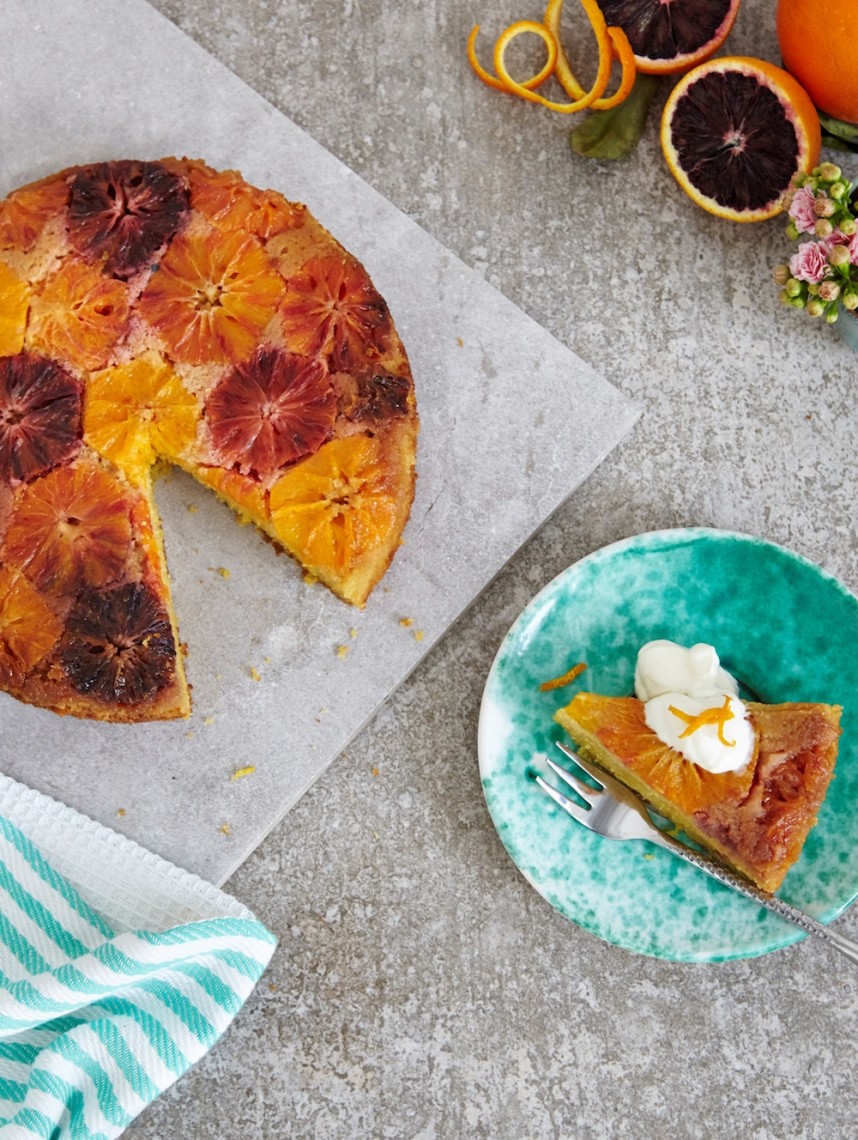 Print Recipe
Blood Orange Polenta Cake (gluten free)
You will need a 23 inch round cake tin.
Ingredients
Syrup & blood orange

45

g

unsalted butter

140

g

light brown sugar

16

ml

lemon juice

3

medium blood oranges

5

cardamom pods

1

sprig of rosemary

For the Cake batter:

200

g

unsalted butter

200

g

light brown sugar

3

eggs

16

ml

vanilla extract

200

g

ground almonds

100

g

coarse polenta

1

zest of orange

1

tsp

orange blossom water

70

g

crème fraiche

3

g

baking powder

gluten free
Instructions
Grease a spring form round tin (23cm), line the bottom and sides with baking paper and grease again.

In a small saucepan over medium heat, melt 45 g butter. Then add the brown sugar and lemon juice, cardamom pods and rosemary sprig. Stir until the sugar melts, about 3 minutes. Remove the aromatics with a spoon and then scrape the syrup into the bottom of the prepared tin

Grate the zest from orange and reserve for the cake batter. Then slice off the tops and bottoms of both oranges. Remove the rind and pith, following the curve of the fruit from top to bottom. Then cut the oranges into 0.5 mm wheels. Arrange the wheels on top of brown sugar mixture in a single, tight layer.

Beat the butter and sugar in a large bowl until light and creamy. Beat in the eggs one after the after, and stir in the vanilla extract.

In a second bowl combine the ground almonds, polenta, orange zest, orange blossom water and baking powder. Stir this into the cake mix.

Pour the batter over the syrup and blood oranges and bake for 40 -50 minutes, until the top is light brown and cake is slightly loose from the sides of the tin.

Allow to cool for 10 minutes. Remove from the tin and carefully turn out onto a plate. Delicately remove the greaseproof from the cake. Serve with crème fraiche, and a grating of orange peel.
Recipe and photography provided by Macmillan.
Macmillan's World's Biggest Coffee Morning takes place on Friday 30th September 2016. For more recipes, or to register to hold a coffee morning and help ensure no-one faces cancer alone, visit http://coffee.macmillan.org.uk/