An Eric Lanlard recipe for savoury fig tart alongside a review of his latest book, Tart it Up.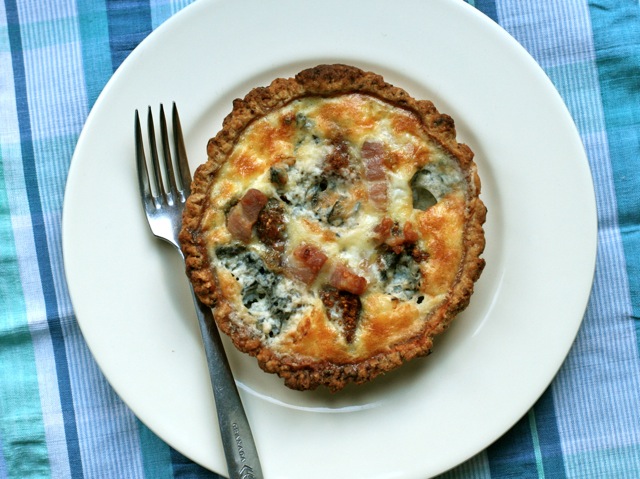 In sharp contrast to his last book, the black PVC bound "Cox Cookies and Cake", Tart It Up sees Eric in ethereal, pared down almost Delia How to Cook mode with this fresh book of sweet and savoury tarts and pies.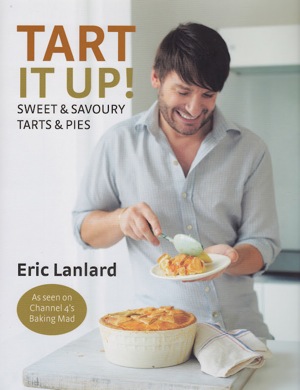 It's a departure from the showy patisserie and glamour puds we know Eric for but still manages to be creative and visually rewarding.  All manner of dough crusted concoctions are featured from calzone to filo and brioche pies.
If you ever thought quiche was restricted to eggs and bacon you'll enjoy the breadth of fillings Eric brings to his tarts such as curried chicken to Belgian endive and Parma ham.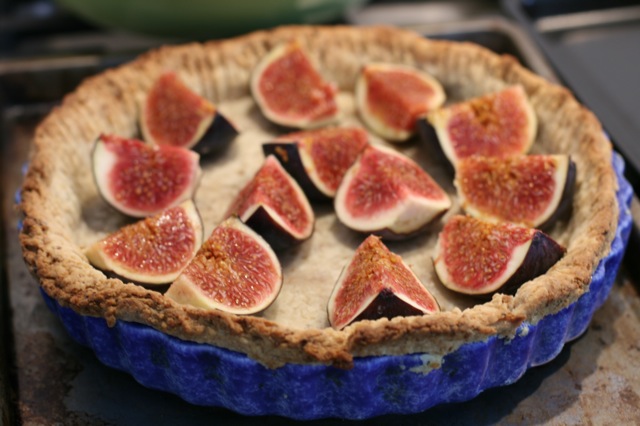 Strawberry "tart royal" gets a topping of spun sugar and the humble tarte tatin is reworked as a savoury heirloom tomato version to stock your picnic basket.
Tucked amongst the pastries are some more obvious favourites like pecan pie and tarte au citron but on the whole Tart It Up is stuffed with creative pastry fillings you'll want to try at home.
Page after page of this book shows food I'd genuinely like to eat, this is my favourite of Eric's books so far and the scope of savoury recipes shows he's not just a sugar star.
I made Eric's fig, lardon and dolcelatte tart, I can see exactly why he says he can't stop making it. The flavour is salty savoury with the texture of fig but less of the sweetness. I did seem to end up with around 40% more pastry than was necessary for the tin size stipulated in the book. Hence I made two smaller tarts alongside the bigger one. It's one of the smaller ones I've shown in the picture at the top. The quantity of liquid was about right however I only needed 4-5 figs rather than the 8 listed in the ingredients – I feel it's important to point this out since figs are not cheap (even if in season at the moment) and someone might end up buying more than they need to make this.  Apart from these details this tart turned out just right.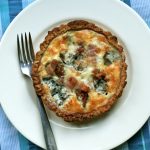 Print Recipe
Fig, lardon and dolcelatte tart
Ingredients
For the pastry

250

g

8oz plain flour, plus extra

for dusting

pinch

of salt

75

g

3oz walnuts, finely chopped

150

g

5oz chilled unsalted butter,

cut into pieces

plus extra for

greasing

1

egg yolk

1

–2 tbsp chilled water

For the filling

8

ripe figs

cut into quarters

2

tsp

olive oil

100

g

3.oz lardons

150

g

5oz mascarpone cheese

2

eggs

beaten

50

ml

2fl oz milk

2

tsp

chopped fresh thyme

plus

extra sprigs for garnish

150

g

5oz dolcelatte cheese,

crumbled

salt and freshly ground black

pepper
Instructions
Lightly grease a 24 x 7cm (9. x 3in), 3cm (1.in) deep tart tin, or a tin

of similar dimensions.

To make the pastry, place the flour, salt and chopped walnuts in a

bowl and rub in the chilled butter until the mixture resembles fine

breadcrumbs. Stir in the egg yolk, then gradually add enough of the

chilled water until the mixture comes together to form a firm

dough – add the water a little at a time, to prevent the mixture

from becoming too sticky.

Roll the dough out on a floured surface and line the tin (see page 18).

Chill in the refrigerator for 30 minutes.

Meanwhile, preheat the oven to 200°C (fan 180°C)/400°F/gas mark 6.

Once chilled, prick the pastry all over with a fork, cover with a sheet

of greaseproof paper and fill the tin with baking beans. Blind bake for

minutes, then remove the paper and beans and bake for a further

minutes, or until the pastry begins to turn golden.

Arrange the figs in circles, to cover the base of the tart tin. Put into the

oven and cook for 10–12 minutes, or until they begin to soften. Heat

the oil in a frying pan and lightly fry the lardons until they just begin

to colour. Remove from the heat and set aside.

Place the mascarpone in a medium-sized bowl and stir to soften, then

add the beaten eggs and milk and stir until you have a smooth mixture.

Season with a little salt and pepper and add the chopped thyme.

Scatter the cooked lardons and the crumbled dolcelatte over the top

of the softened figs, then pour over the mascarpone and egg mixture.

Finally, sprinkle over some small sprigs of thyme and bake in the oven

for 20–25 minutes, or until the filling is set and golden.

I like this tart served at room temperature, with some lightly dressed

salad leaves.
Eric Lanlard recipe reproduced with permission. With thanks to Octopus books for the review copy of Tart it Up.