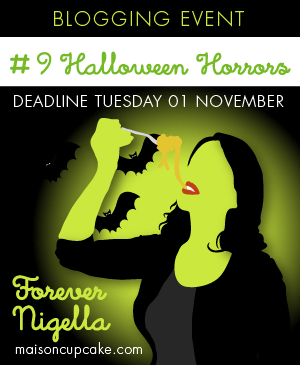 She's back!
I've been touched how many people have tweeted and emailed to ask where Forever Nigella had disappeared to.
The truth is that despite having a stack of volunteers waiting to host, I have been too organise to liaise with everyone to set who does which month, which theme and then crack whip at husband to get a lovely badge designed in time.
A few days stretched into a fortnight and so I've decided to start a bit early and launch Forever Nigella 9: Hallowe'en Horrors. I will be hosting this time round to give future hosts more warning of them taking on the challenge for November and December (and me more time to organise).
So this month you have "sort of" free rein to create any Nigella dish you like. I say "sort of" because the caveat is that you must adapt it in some way to make it suitable for Hallowe'en. I don't want just any old Nigella favourite, beautiful as that may be, I want proper Hallowe'en influenced goodies (and baddies). There MUST be a Hallowe'en twist of some kind – though I'll accept cryptic ones if they're convincing. Standard pumpkin and squash recipes are permitted without plastic skeletons required.
Scary pea soup with cobweb cream? "Eyeballs" in trifle? Cupcakes covered in "blood"?
Go ahead, use your imaginations – we want a line up of Nigella recipes that look really frightening (in a good way please).
The current theme is "Hallowe'en Horrors" runs until midnight November 1st wherever you are. The current host is ME.

A reminder of the rules:

Forever Nigella #9 Hallowe'en Horrors
Challenge: To prepare and blog any Nigella recipe with a Hallowe'en interpretation. You are encouraged to adapt non Hallowe'en Nigella recipes as well as any more obvious ones.
Deadline: November 1st 2011 at midnight wherever you are.
Round up: By the next weekend.

There are:

No rules about how often you must take part
No rules about stuff being secret until certain dates
No rules that everyone cook exactly the same thing
No rules about not being able to submit to any other blog events – just check it doesn't contravene the other guys' rules

But there are 3 rules:
1. Blog your entry by the deadline including:
a) the current Forever Nigella badge
b) a link to the current challenge announcement
c) a link to the official Forever Nigella page at Maison Cupcake:https://maisoncupcake.com/forever-nigella

2. So not to breach Nigella's copyright you must NOT reproduce recipes verbatim as shown in her books. If using an original Nigella recipe, tell us which book it is from and/or where we find it online (see most likely sites below). If you've adapted the recipe in some way i.e. changed at least two ingredients or amended the method then it's ok to publish the a recipe in your post but you MUST write the directions in your own words.

3. Tell us about your post by emailing "sarah AT maisoncupcake DOT com" with:
a) your name
b) URL of your post
c) a photo no more than 300 pixels wide.

Don't forget to tweet your post with the hashtag #forevernigella – I will retweet all those I see!

N.B. Your entry must have been published since the announcement post. You may only submit something from your archives if you republish it as a new post.