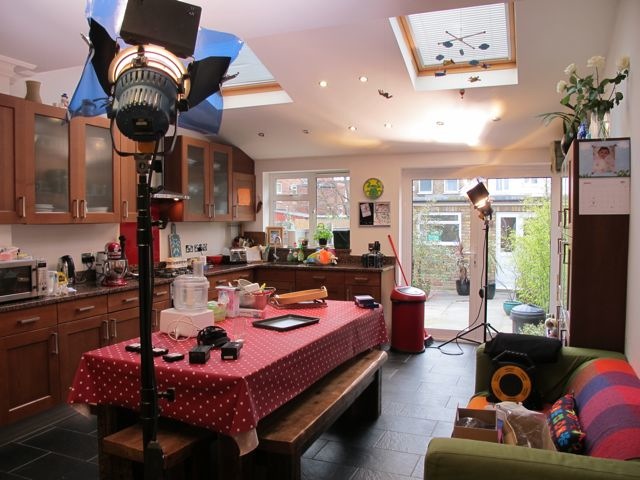 I am inspired by Helen's post to revisit the day, some months ago now, when we made croquembouche in Katie's kitchen.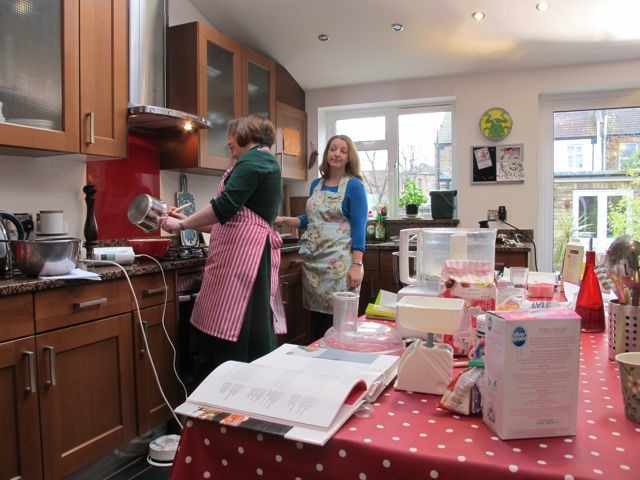 We were filming an episode for a new TV series, the premise of which was a group of friends baking something together who would then receive a masterclass from a celebrity baker how to do it "properly".
Whereas being a contestant in the Great British Bake Off would require extensive travel and time commitments and be hideously competitive, filming a single episode of a friendly little baking show in London seemed a lot more laid back.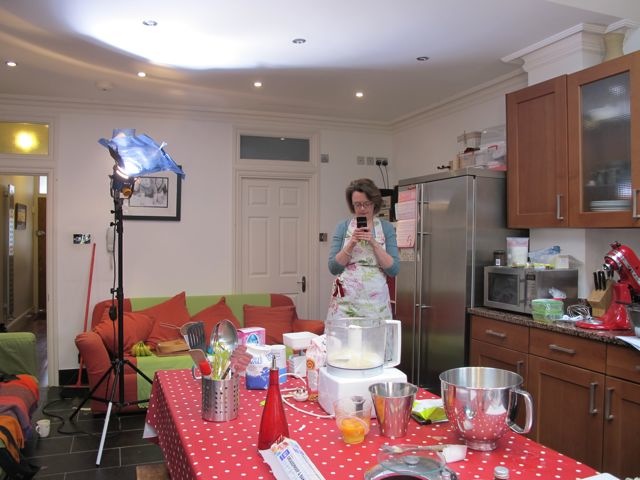 Our theme was "celebration" and we opted for a croquembouche profiterole tower, often used as a wedding or christening cake in France. This required choux buns, creme patissiere and spun sugar. To top it off, we were decorating our masterpiece with home made fondant roses and chocolate macarons.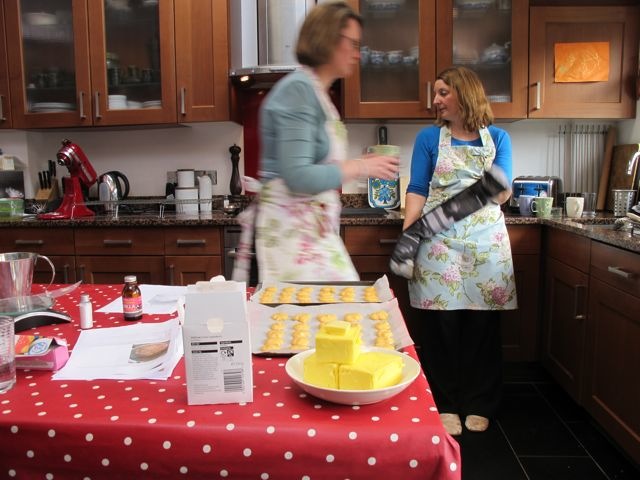 Despite only being a single episode, the run up to filming was not without it's stresses, not the baking, we had all that sussed, but the rescheduling and rescheduling each time requiring new childcare arrangements, husbands booking time off work, parents visiting to collect children at various times, dogs being looked after.
I was glad when it was out the way, no way would I manage to organise all this for 3-4 days at a time over six weeks.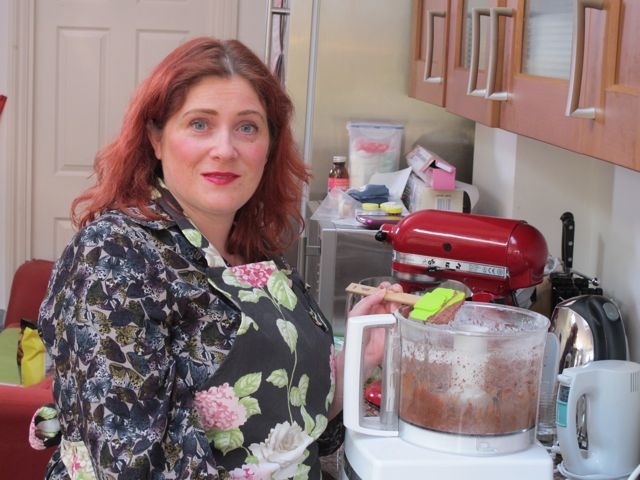 Sadly, for what I may best describe as "surprising" reasons, our episode landed on the cutting room floor and our masterclass with the celebrity never occurred.
We heard other episodes featured teams of people burning simple trays of biscuits so possibly we didn't leave a huge amount of manoeuvre to be shown where we went wrong?
Actually, in the depths of winter, I was highly relieved not to have to travel across town at 6am for another day's filming!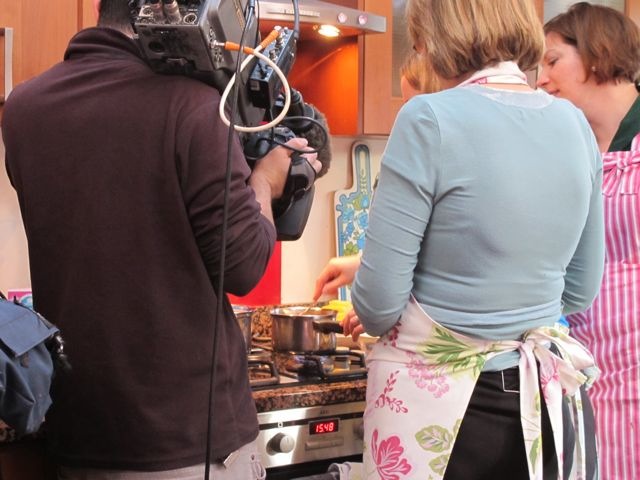 Still, we proved that even with a film crew in the way we were perfectly capable of making a decent croquembouche.
The cameras were not really a problem, being filmed didn't seem that big a deal. It was way more fun than being accosted by the pair off Masterchef.
The difficult part was to keep being asked to say what you'd just said again so that they could film it from a different angle.
So if you're ever watching one of these shows and it comes across as unnatural and artificial, that's the reason why!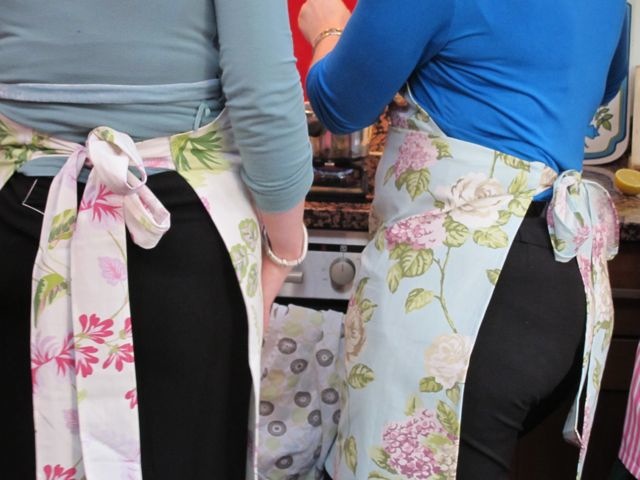 We were very fortunate to be given beautiful aprons by Posh Pinnies. (We organised this ourselves I should add, it was nothing to do with the production).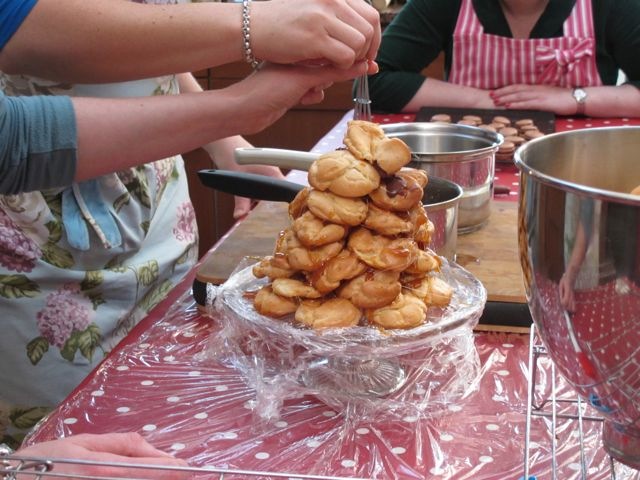 Building the profiterole tower…. from this…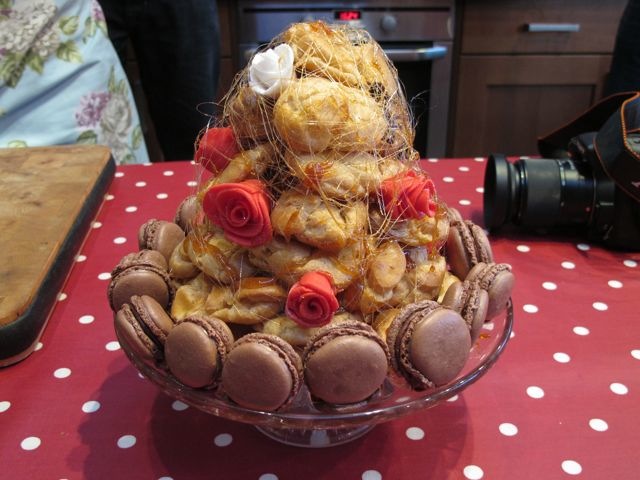 …to this!
And there you have it…. four ladies and a croquembouche!
(Lady number four incase you are wondering is Helen's lovely non-blogging friend Sophie)