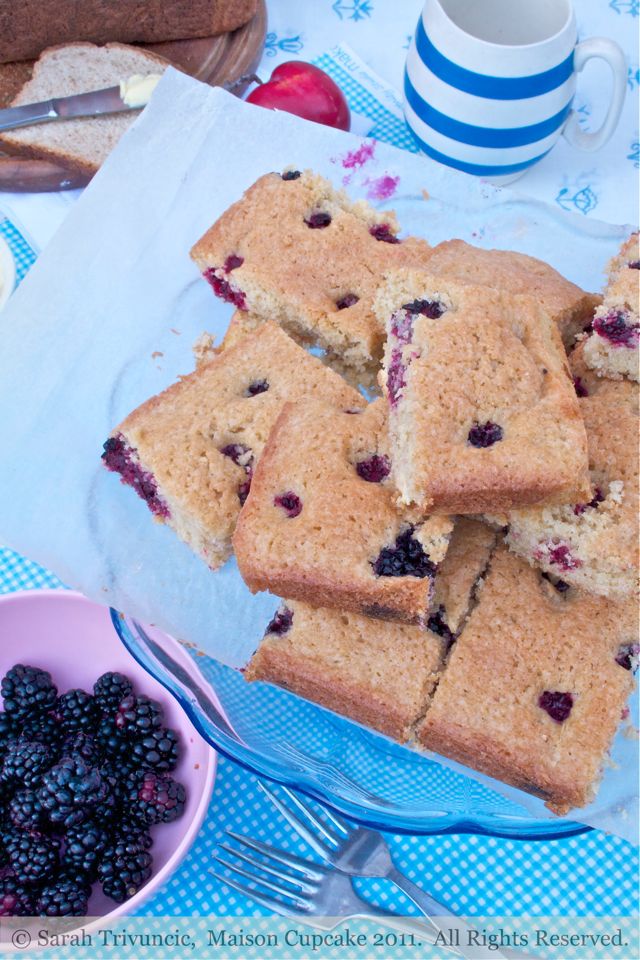 As promised in my review of Leila Lindholm's One More Slice, here is my version of her white chocolate blondies.
Leila frequently gives readers a basic recipe with half a dozen variations – her original blondies were white chocolate but she gave an option with raspberries instead. Since I was making these after a fruitful visit to the blackberry bushes at Walthamstow marshes, I twisted this to be blackberry and white chocolate… oh and I made them with gluten free flour too.
What's not to love?
As well as merging two of Leila's recipe ideas I have also shrunk the quantities given – Leila's original blondie recipe was for three times this quantity of batter which I thought was a bit much unless you're stocking a cake stall. The amount below will still yield a dozen generously sized blondies.
These were so amazing my husband "forced" me to make more to send to his office for colleagues. I think that counts as a Random Bake of Kindness doesn't it?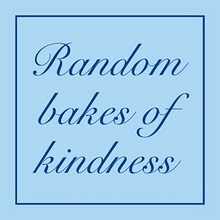 Recipe: Gluten Free Blackberry Blondies

Inspired by Leila's Lindholm's two white chocolate blondie recipes in One More Slice

150g softened butter
70g caster sugar
70g light muscovado sugar
1 tsp vanilla extract
finely grated zest of 1 lemon
2 large eggs
160g gluten free flour blend – such as Dove's Farm
1 tsp baking powder
large pinch of salt
100g white chocolate, chopped into coarse chunks
100g blackberries

You will need a baking tin 8in square lined with baking parchment paper.

1. Preheat the oven to 180c/Gas 4.

2. Using an electric hand mixer, beat the butter and sugars until pale and fluffy. Mix in the vanilla extract and lemon zest before beating in the eggs a little at a time.

3. Sift the flour, salt and baking powder into a large mixing bowl and then fold into the batter along with the chocolate chunks.

4. Pour the batter into the prepared baking tin. Stud the blackberries into the batter spacing evenly.

5. Bake for 20 minutes. Allow to cool before slicing into squares.