These miniature iced coffee soufflés are a light mousse like dessert finished with a hand piped chocolate feather. Recipe by Le Cordon Bleu.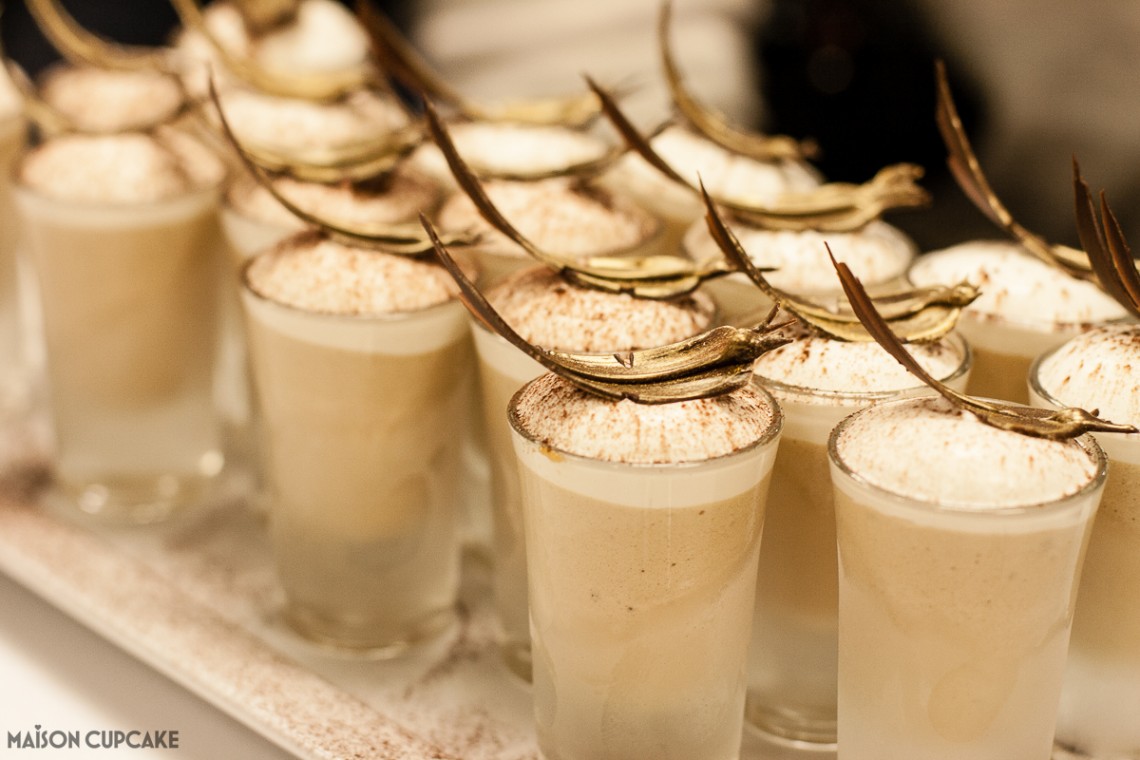 I have only previously made baked goats' cheese soufflés so my curiousity was piqued upon an invite by Great Italian Chefs to an evening where how to make Iced Coffee Soufflés would be demonstrated by Le Cordon Bleu Master Pastry Chef Nicholas Houchet.
If you've been watching Bake Off Crème de la Crème lately you'll know pastry cheffing is a very serious business indeed. Wanting to compare how London's Le Cordon Bleu headquarters in Bloomsbury Square matched up to Leith's and the Raymond Blanc Cookery School I snapped up the opportunity to attend.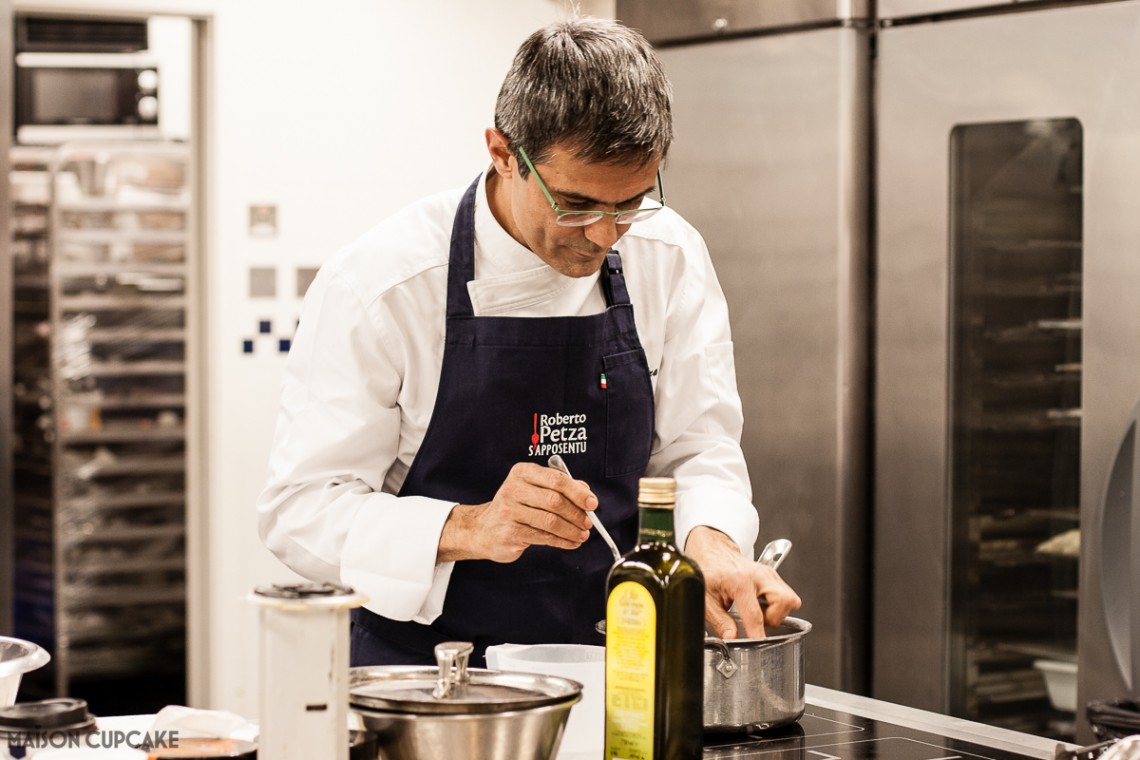 Nevertheless I should point out that the main star of the show was the charming Michelin star chef Roberto Petza of Sardinia's S'Apposentu and he had flown into London especially to represent Great Italian Chefs at this event.
Roberto was cooking Jerusalem artichokes with coffee dressing – and yes you will have noticed a coffee theme to the menu as the evening's sponsor was Italian coffee brand Lavazza.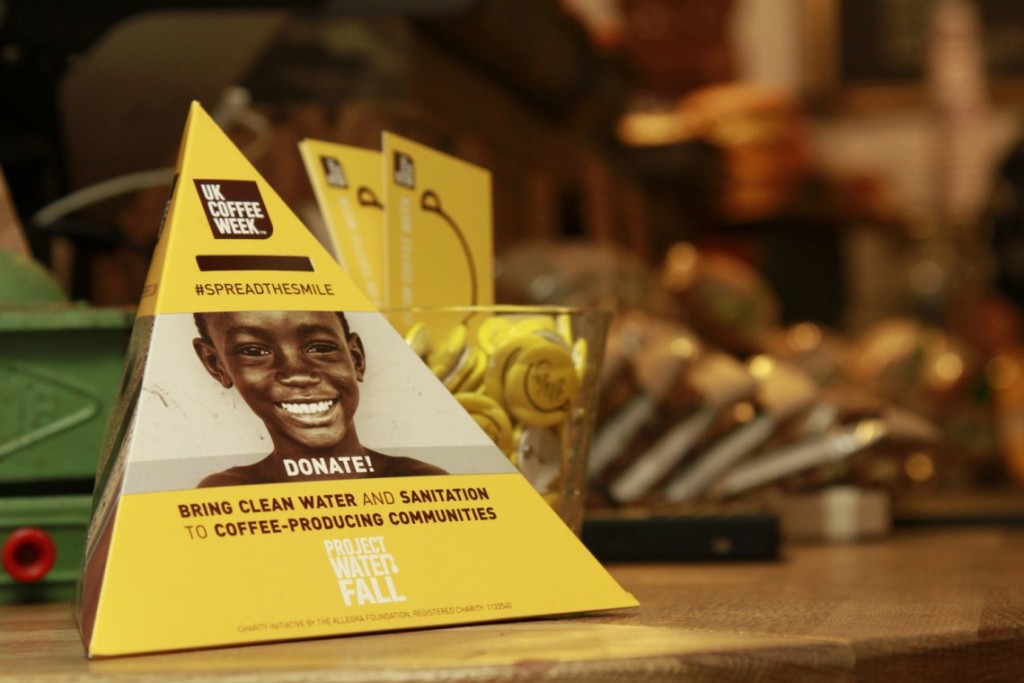 Fittingly, Lavazza are also friends of this week's UK Coffee Week – an initiative celebrating the coffee industry and raising money to improve the quality of drinking water and sanitation in countries from where coffee is grown. Find out which coffee shops are taking part and donating to Project Waterfall on this map.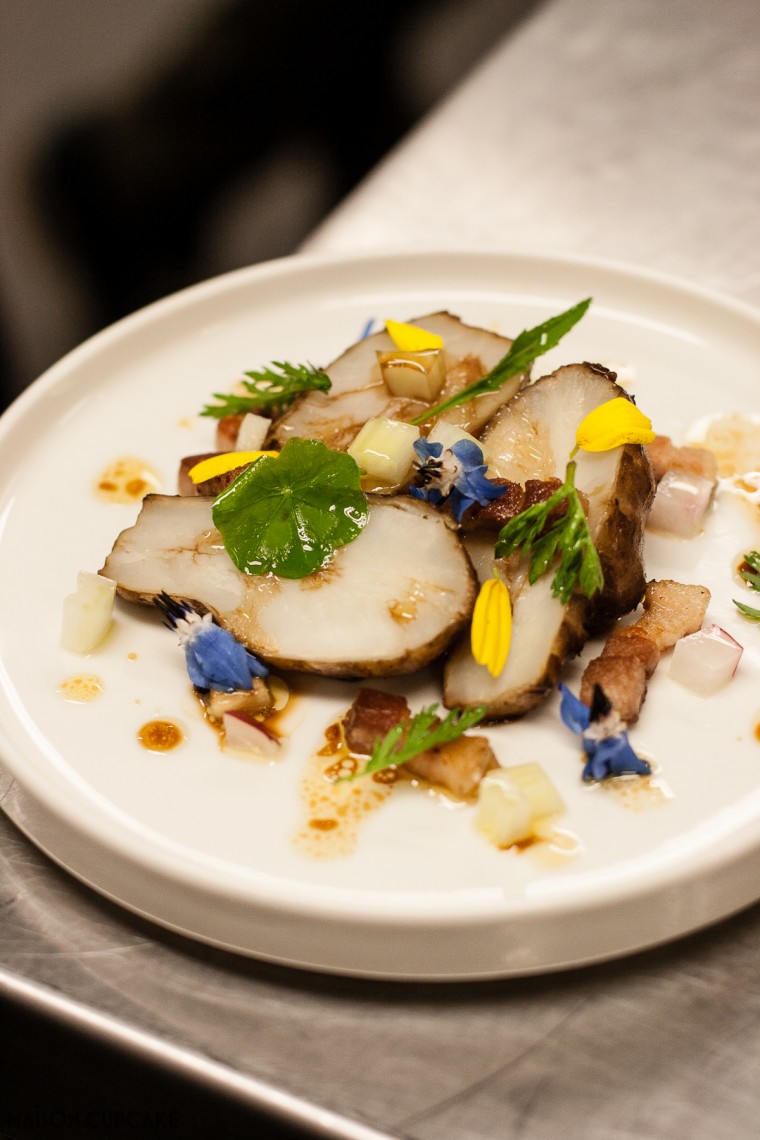 But back to the cooking. Jerusulem artichokes are not something I've cooked that often – they're not typical supermarket veg unless you live somewhere upmarket. Roberto's method cooking them pretty much sweated them in the pan with the lid on for around 45 minutes. No boiling water involved but there was some pancetta adding a bacon tang and then the whole thing was dressed up with edible flowers and chopped radish, shallots and fennel.
I swear I just threw this at the plate. But it looks similar enough to the recipe card photo not to embarrass me!
Whilst our Jerusalem artichokes were cooking and everyone chopped their vegetables and made their coffee dressings, Roberto swept around Le Cordon Bleu's training kitchen attentively checking everyone's pans. So we could say this was a joint effort.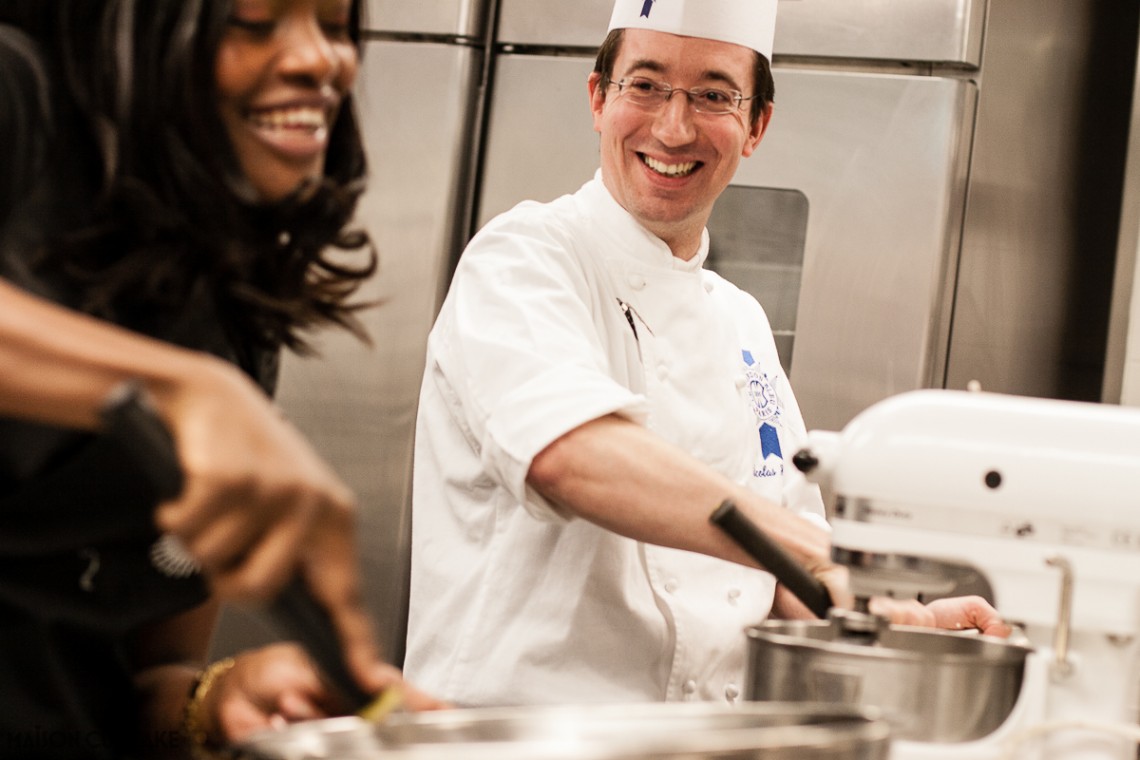 Moving on to preparing that iced coffee soufflé, chef Nicholas enlisted some help from a volunteer and demonstrated the iced coffee soufflé dessert. 
Here he is making the Italian meringue. You need to make it verrrry fluffy. (Do click and get the sound for the full effect!)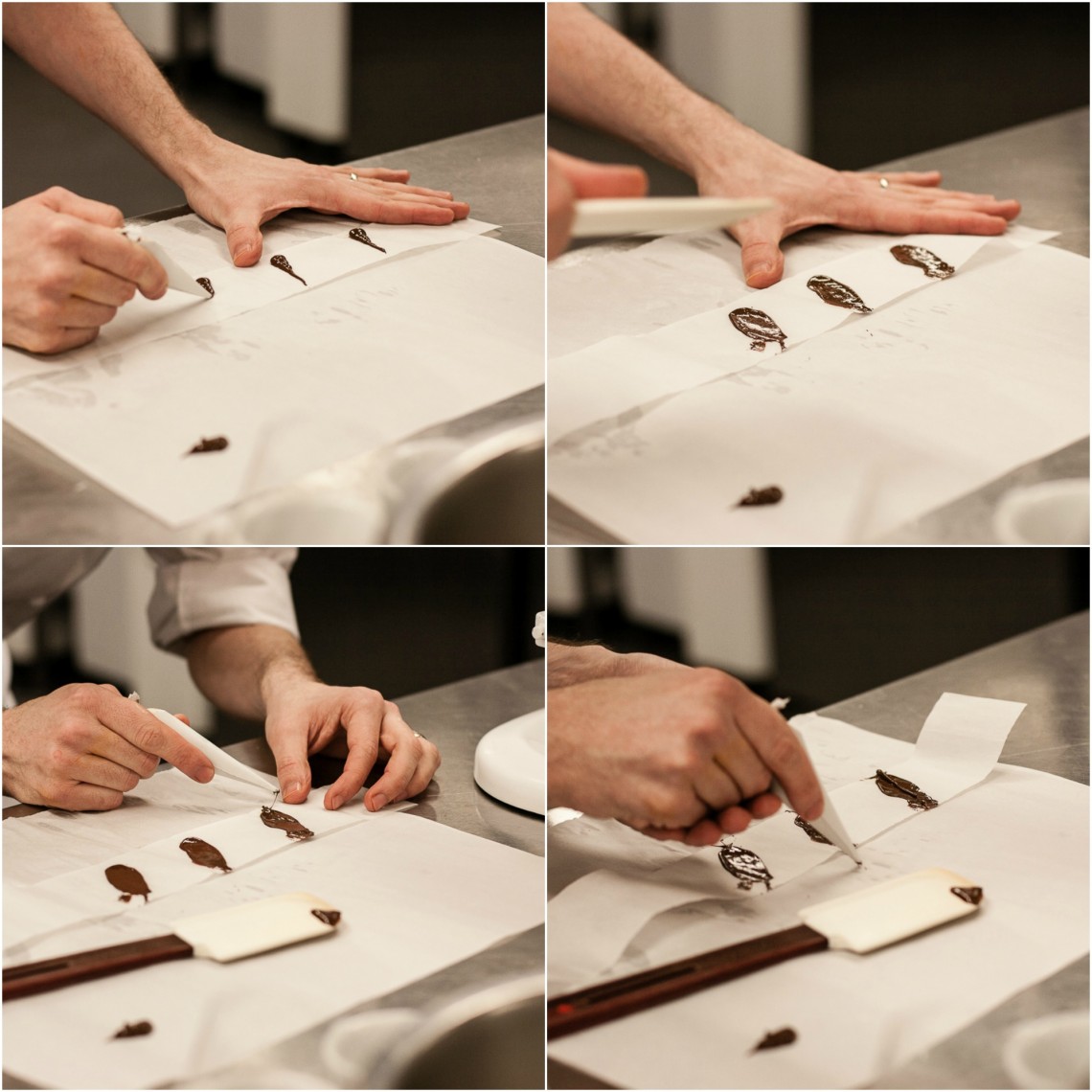 And he showed us how to pipe chocolate feathers for the all important finishing touch. I've noticed on Bake Off Créme de la Créme that those finishing touches are what turns a classic recipe into a showstopper. I need to brush up on my finishing touches!
He'd also treated us by making some dark chocolate truffles with orange to taste alongside. Oh to bash out stuff this elegant! I merrily perused Le Cordon Bleu's brochure on the tube home – their London alumni include Peggy Porschen, Luiz Hara and even reality show star John Whaite who attended to polish up his pastry skills after winning the Great British Bake Off.
For anyone who has been sat on the edge of their seat watching the high end pastry techniques in Bake Off Crème de la Crème, Le Cordon Bleu is the ultimate cookery school to train in this field.
Their Diplôme de Pâtisserie with Culinary Management and an internship pathway takes 15 months involving 1000+ hours' training. Or more accessibly there are half day and one day courses such as chocolate workshops or artisan Italian bread costing in the region of £175 per day.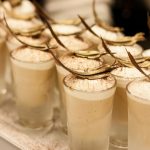 Print Recipe
Iced Coffee Souffles at Le Cordon Bleu London
If you like smooth and creamy frozen treats, this delightful iced coffee soufflé will please your taste buds. As demonstrated by Le Cordon Bleu Master Pastry Chef Nicolas Houchet.
Ingredients
For the Coffee-flavoured sabayon:

6

egg yolks

100

g

sugar

80

ml

water

20

g

Lavazza Kafa Forest Ground Coffee

3

gelatine leaves

6g, soaked in cold water and squeezed to remove excess water just before adding

450

ml

whipping cream

For the Italian meringue:

100

g

sugar

40

ml

water

3

egg whites

For the garnish

150

ml

whipping cream

whipped

18

chocolate-covered coffee beans

Unsweetened cocoa powder

You will need:

Cafetiere

6

x 125 ml ramekins
Instructions
Wrap 6 ramekins with a double layer of baking paper and secure with tape or string.

To make the sabayon, beat the whipping cream until it forms soft peaks and reserve in the fridge. Heat the water to 95°C and infuse the coffee in a small cafetiere for 10 minutes, then strain into a mug or bowl and set aside.

Combine the eggs and sugar in a bowl and whisk until pale and thick. Add the coffee and place over a bain marie, whisk until thick and creamy. Add the gelatine and whisk again until cool.

For the Italian meringue, heat together the sugar and water in a saucepan until it reaches 118°C. Meanwhile, whisk the egg whites in a very clean, dry bowl until they start to form soft peaks. Gradually pour the cooked sugar syrup onto the egg whites, whisking continuously until the meringue is cool, smooth and glossy.

Gently mix the Italian meringue with the sabayon and fold through the whipped cream. Divide evenly between the ramekins and smooth the tops. Transfer to the freezer and leave to set for at least 2 hours.

To serve, remove the paper collar from each ramekin, dust with cocoa powder and garnish with chocolate coffee beans. Serve with whipped cream.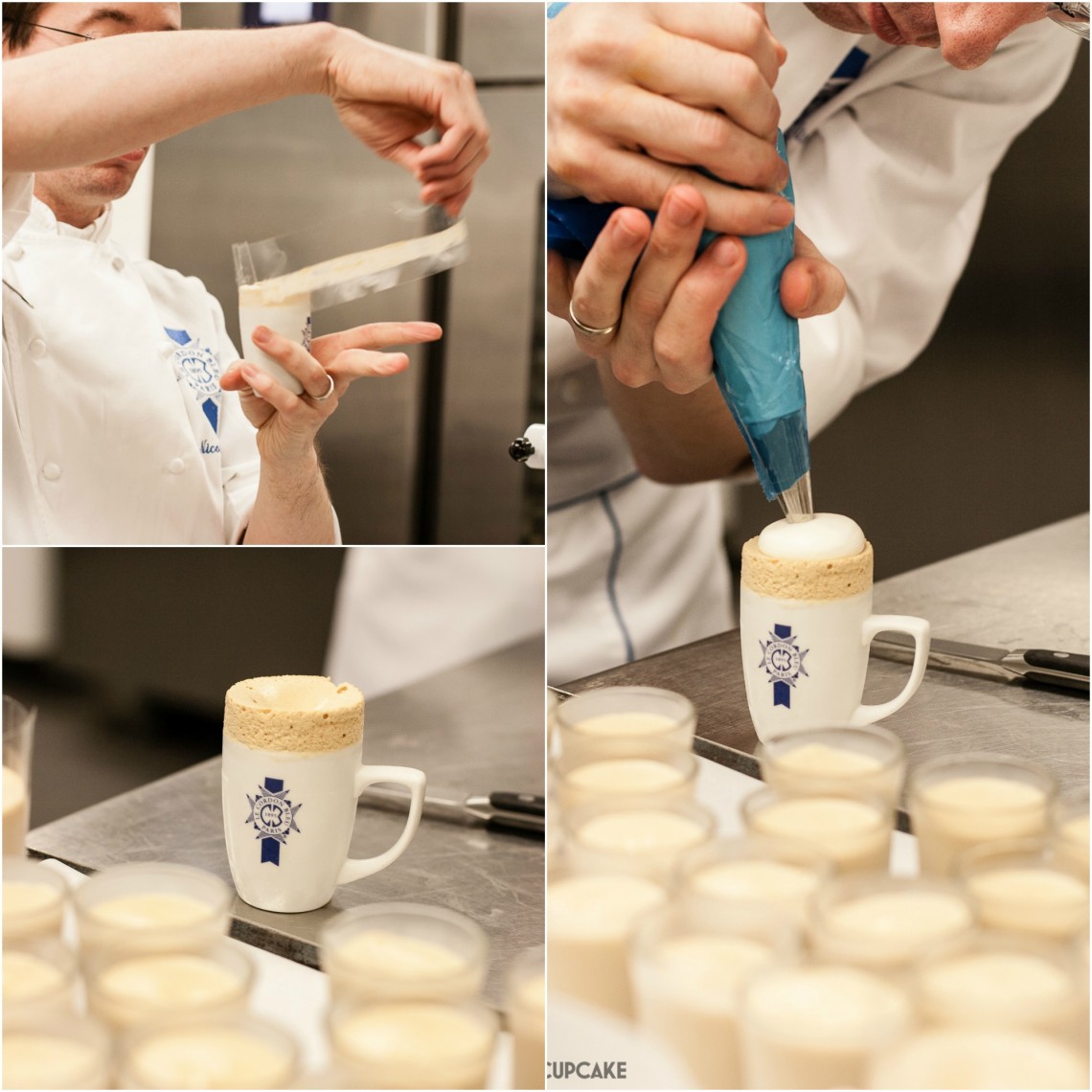 You can follow everyone featured on Twitter #CookSchoolGIC @GITLChefs @LeCordonBleuLDN @LavazzaUK. 
Learn more about Roberto Petza's restaurant at S'Apossentu. If you fancy checking out Le Cordon Bleu's various courses from their short courses for gourmet enthusiasts to a whole year's Grand Diplôme then visit Cordonbleu.co.uk. Thank you to Great Italian Chefs for inviting me to this event.