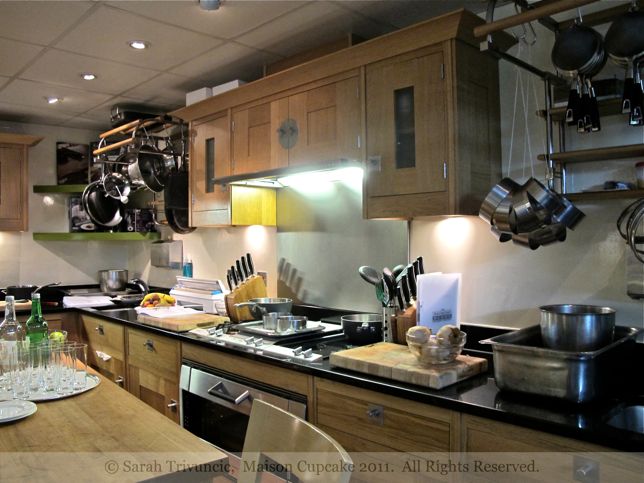 After a hiatus caused by each of my family getting flu in turn, this post is part 4 in my series about Le Manoir aux Quat' Saisons, Raymond Blanc's Oxfordshire hotel and cookery school. Scroll down to the bottom of this post for a list of other posts in this series covering the accommodation, dinner, breakfast and garden at Le Manoir. Today sees the first half of the patisserie class at Raymond Blanc Cookery School and you can see the results of our finished dishes in tomorrow's post.
8.45am feels like a very early start when you've been up late the night before enjoying an exquisite ten course meal.
Nevertheless, attending the Raymond Blanc Cookery School one day patisserie course was my raison d'être for being at Le Manoir.
With a heavy schedule of dishes to cram in by 4.30pm, I was up early to meet my seven fellow class mates to don our RB chef's whites and aprons.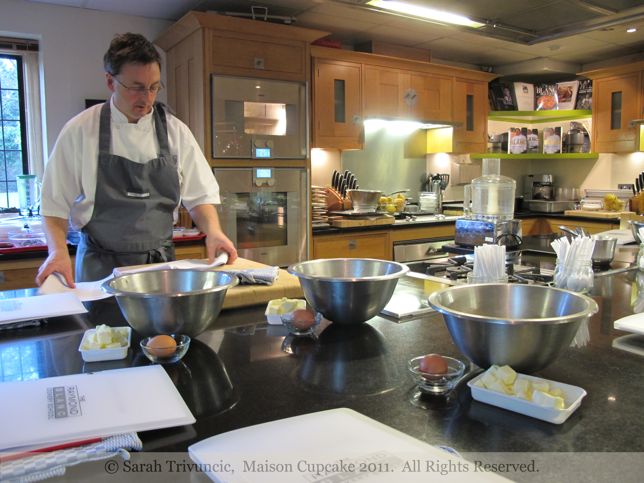 Our teacher for the day is cookery school head tutor Mark Peregrine (pictured above) who began his culinary career at the original Le Manoir when it was a little restaurant in Oxford before relocating to the estate at Great Milton.
Mark trained with Raymond for five years and after gaining a wealth of experience in patisserie over the past two decades, he has recently come back to work for Raymond where he started. Mark is accompanied by co-tutors Steve and Emily who have each worked at Le Manoir for several years.
Other courses at Le Manoir include bread making, chocolate, fish and shellfish and seasonal dinner parties. Some courses are taught by Le Manoir's head pastry chef Benoit Blin and I understand that Raymond himself puts in surprise appearances when his schedule allows.
The Raymond Blanc Cookery School is in a wing away from the main house and restaurant alongside a second professional kitchen used to cater for meals taken in the private dining room at Le Manoir.
I had imagined a vast clinical white kitchen for the cookery school but the facilities are quite the opposite – a homely room approximately 25 feet square that might easily be someone's mother's kitchen (admittedly someone's mother fortunate enough to have Smallbone of Devizes cabinets and Gaggenau appliances). It has windows both to outside and the professional kitchen next door.
At the start of the day, we're surrounded by endless trays laid out with prepped ingredients for the five desserts and cakes we will be making. Worktop space feels in short supply but it adds to that cooking at home feeling when your entire kitchen is taken over by whatever you're engrossed in doing.
We receive a binder filled with the day's recipes – some dishes require two or three components so we get to watch and follow a broad range of techniques ranging from pastry and sponge cake to ganache and ice cream. The first steps of some dishes are demonstrated for us by Mark before we pick up the baton and finish them ourselves.
It's a structure that works really well as you alternate perching on your stool watching a demonstration and then hopping down to follow a few steps yourself before "having a rest" during the next demo. The small space also has an advantage for helping to pack content into the course – there's no dead time waiting for people to drift backwards and forwards from work stations, instead you pretty much carry on with what you're doing and sit down to watch the next demo as you've finished. There's around a fifty fifty split between sections that y0u watch and those you do yourself.
Grinding a base of butter, sugar, almonds and cocoa for marquise and chocolate crumble is one of the first tasks – Mark talks us through making a large batch of the crumble base in the Magimix and then we compress it down into presentation rings before it gets baked for a few minutes.
If I recall correctly, the dish above is a mix for cocoa sorbet waiting to be chilled before going in the ice cream maker. A bewildering turnover of bowls of sweet syrups and creams get passed around to taste using the endless supply of disposable plastic spoons in front of us. Going easy on breakfast is now looking very sensible indeed.
Another component demonstrated early on is DIY vanilla extract. This syrup comprises boiled vanilla pods, water and sugar that are liquidised and can be kept in a clean kilner jar and stored in the refrigerator for several weeks. It doesn't look pretty (above left) but it smells and tastes vibrantly of vanilla.
Above right is the chocolate marquise cream which has to be cooled before it can be poured into the rings of crumble and chilled to set.
Next up is a lemon and butterscotch sauce which will be used both to drizzle and coat hazelnuts that adorn the marquise later on. Whilst hazelnuts are toasting, Mark is doing a demo of crème anglais which forms the base of ice cream.
Mark makes two batches of toasted hazelnuts, the ones that don't get covered in the sauce are finely ground until they turn into a Nutella-like paste which is mixed with crème anglais and churned into hazelnut ice cream.
Meanwhile we are preparing shortcrust pastry by hand, after the dough has rested we roll it out learning two nifty tricks; rolling between sheets of cling film helps roll a thin base without needing to use any flour and then a small ball of pastry wrapped in film is used to gently push pastry into the corners of the tin without any risk of tearing it.
The pastry base is for our Pear Tart Bourdaloue which is filled with sliced poached pears and almond frangipane cream which can be made with poire william or other eau de vie.
Whilst this bakes in the oven, we get a bird's eye view of the professional kitchen outside plating up for the function taking place in the nearby private dining room. A line of seven or eight staff are each handing plates down a production line that culminates in the careful positioning of a garnish and a nod from the head waiter before someone takes it away. It's a near military operation conducted in utmost calm – quite a contradiction to TV cookery shows with stressed out staff and swearing chefs. We are told such behaviour is never tolerated at Le Manoir.
It's also time for us to break for lunch – a buffet of salads and cured meats prepared by Steve and Emily whilst we've been doing the course.
Tomorrow's post will conclude with the afternoon's results of all five dishes on the course:
Marquise and chocolate crumble with toasted hazelnuts and lemon butterscotch sauce alongside hazelnut ice cream
Pear Tart Bourdaloue
Coffee Macarons filled with liquorice ganache
Le Manoir's famous lemon drizzle cake
Pistachio soufflé with bitter cocoa sorbet
Come back tomorrow to see the results!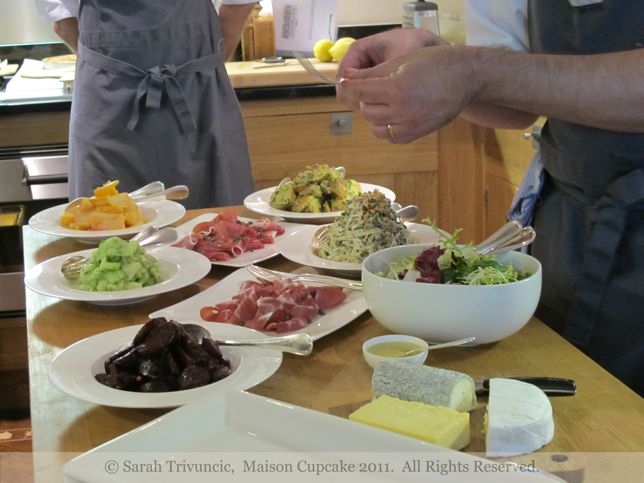 Here is a full list of my series of posts about Le Manoir. I am adding links through to the other posts in the series as they are published:

Le Manoir aux Quat' Saisons Part 1: Accommodation

Le Manoir aux Quat' Saisons Part 2: Dinner

Le Manoir aux Quat' Saisons Part 3: Breakfast

Part 5: Raymond Blanc Cookery School Patisserie Class – afternoon

Part 6: Postcard from: The Garden at Le Manoir aux Quat' Saisons

I was a guest of Le Manoir aux Quat' Saisons and The Raymond Blanc Cookery School.