January is not usually a month known for pleasant surprises. Blinking with disbelief at my inbox, I received an invitation to stay overnight and take the one day patisserie class at Le Manoir aux Quat' Saisons, home to the Raymond Blanc Cookery School. "Yes… I think I'm free that day…!"

Explaining to my husband the full significance of this visit, I told him Le Manoir was part of the prestigious Relais & Chateaux group and would therefore be at least as glamorous as our honeymoon destination, Villa Gallici in Aix en Provence. He quickly agreed to book a day off.
So weeks later, after sitting making "ooh" "aah" sighs over the 300 photos I took in just under 24 hours, I'm ready to tell you about my visit. One cannot possibly justify a trip like this in a single blog post and I struggled to cram it into two.
Hence today I had the bright idea of bringing you a daily extravaganza that will keep me awake into the small hours this week; a six course blow out covering the accommodation, the dinner, breakfast, the cookery school in 2 parts and finally the garden.
Indulgent. Yes. I just can't help myself, for it was, as the French say, formidable.
A dark evening is not the best time to arrive but after safely despatching Ted with his grandparents nearby, we were guided by my mother's old sat nav through the dark lanes of Oxfordshire to Le Manoir. There were no obvious signs from the M40 southbound exit and I fear without technology we might have ended up in High Wycombe.
No mistaking though, the beautifully lit entrance gates. Two staff appeared from nowhere like the shopkeeper in Mr Ben, one to take our bags and one to valet park our (washed) car.
Le Manoir was opened by Raymond Blanc in 1984 and has a worldwide reputation for its gastronomie. Today it has 32 individual rooms and suites with a restaurant that has held its 2 Michelin stars for an impressive 27 years.
Appropriately, given our love of Provence, we were welcomed to the Lavande suite on the first floor of the original house. Our suite comprised a sitting area with oak floors, purple silk velvet sofa and an open wood burning fireplace; a bedroom with windows on the garden and a large bathroom.
The other accommodation ranges from mere "superior rooms" to deluxe rooms, junior suites, suites, garden suites, the dove cote and the piéce de résistance, the Blanc de Blanc suite decorated in shades of white with its own private garden.
Awaiting us after our journey was a half bottle of Le Manoir champagne on ice, a long fruit platter and a box of Le Manoir truffles. There was also a decanter of Madeira, bottles of mineral water and a CD player. That's not a violin you see above though, it's a resin sculpture.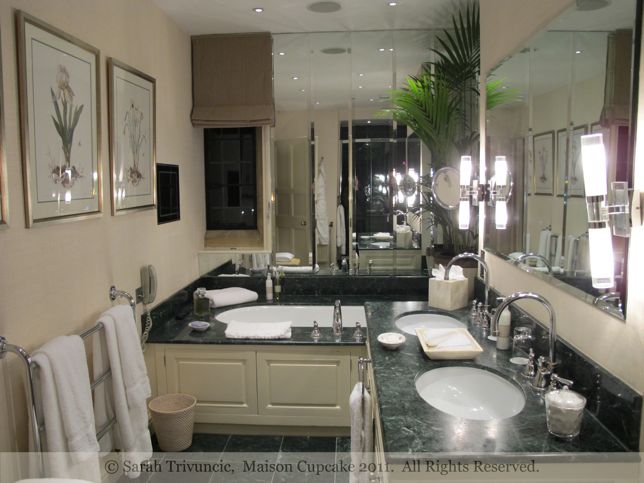 In total there were three flat screen televisions including one above the bath.
The bathroom was movie star fabulous with marble surfaces and high mirrors – it's always a joy to put make up on with such great lighting. There were bundles of toiletries in full size bottles (a set each by the bath and the huge shower), not the stingy 75ml efforts you get in most places. Elegant orchids, fluffy Savon de Marseille towels, thick towelling robes and plenty of towels on the heated radiator. Even the bin had a little mat in bottom with the hotel's name on it.
Not quite a walk in wardrobe, but we did have an enormous cupboard with silk padded coat hangers, a safe (for my tiara, heh) and a bamboo basket to put your shoes in if you wanted them to be cleaned. No plastic tag for the door handle, if you require your room serviced, instead there are "stop" and "go" style red or green velvet bows to display.
There is a lovely attention to detail with all accessories around the room; a swathe of magazines on the coffee table (including one with Monsieur Blanc on the top, well it was a current issue so I don't know how often they manage this), a dish of sugared almonds that with hindsight I should have brought home to decorate my next croquembouche. A giant sewing kit on the window sill that looks like a padded box, hardback coffee table books to read. By the bedside is a chunky little traditional alarm clock, the pen you see in the photo below is one of two in the room. These were no ordinary corporate branded pens, they are the exact size, weight and dimensions as Mont Blanc ballpoints. Pas coincidence. Well, un Bic wouldn't do here would it.
My sole criticism of the room would be that the CD selection was very narrow. There were 4 classical discs and a modern one by The Fratellis. I think an easy listening album or some jazz would have been welcome here but honestly I would struggle to find anything else that was not picture perfect.
Sadly, our late arrival meant we only had 90 minutes before needing to go downstairs for dinner. I will tell you all about that tomorrow.
Each day this week I will be publishing a series of posts about Le Manoir and will add links through to this posts as they are published:
Le Manoir aux Quat' Saisons Part 2: Dinner
Le Manoir aux Quat' Saisons Part 3: Breakfast
Raymond Blanc Cookery School Patisserie Class Part 1
Raymond Blanc Cookery School Patisserie Class Part 2
Postcard from: The Garden at Le Manoir aux Quat' Saisons
I was a guest of Le Manoir aux Quat' Saisons and The Raymond Blanc Cookery School.
Top image credit: Le Manoir