Today's post concludes my recent series about Le Manoir aux Quat' Saisons, Raymond Blanc's Oxfordshire hotel and cookery school. Scroll down to the bottom of this post for a list of other posts in this series covering the accommodation, dinner, breakfast and the patisserie class at Raymond Blanc Cookery School.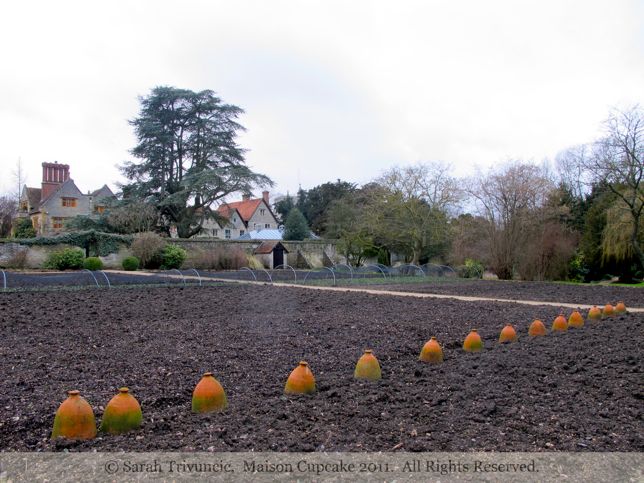 A stroll around the garden was just what we needed to recharge our batteries mid afternoon during the Raymond Blanc Cookery School patisserie class.
Since I'm not remotely a gardener, I won't be giving you insightful details about plants but instead a bird's eye view of the walk we enjoyed during our half hour break.
The gardens at Le Manoir cover provide an idyllic backdrop to the hotel and produce many herbs and vegetables that will be used in the restaurant.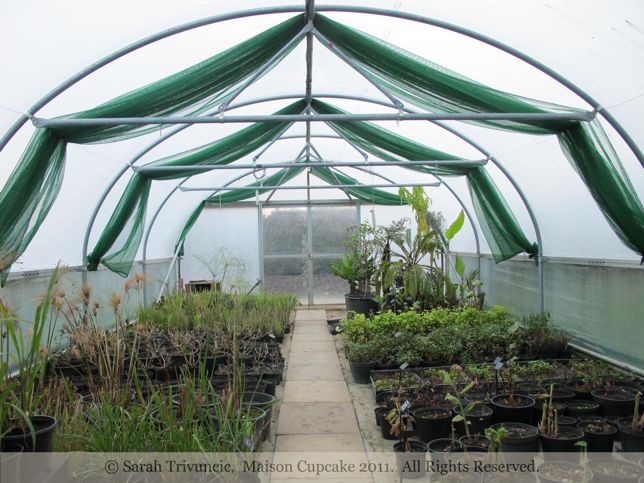 Even during January the greenhouses were filled with interesting herbs and plants used in the kitchens at Le Manoir. We were also invited to taste a few!
Throughout the garden, vegetables are harvested all year round and there is even an area for growing mushrooms.
But there is also plenty of space for peace and quiet, notably a Japanese garden with a lake. The grounds are dotted with bronze statues ranging from peacocks and a scarecrow to an effigy of Le Manoir's characterful florist and a little boy playing cricket. In the depths of winter when few bright plants are to be seen, these figures give the garden personality.
The gardens are open to the public, you don't have to be staying in the hotel or attending the cookery school to visit. Although it would be a shame not to pop in for afternoon tea.
Sincere thanks to Le Manoir aux Quat' Saisons for kindly inviting me to stay and take part in their patisserie class at the Raymond Blanc Cookery School.

I do hope you've all enjoyed this series as much as I enjoyed my trip and putting all of these posts together.

You may also like to read:

Le Manoir aux Quat' Saisons Part 1: The room

Le Manoir aux Quat' Saisons Part 2: Dinner

Le Manoir aux Quat' Saisons Part 3: Breakfast

Part 4: Raymond Blanc Cookery School Patisserie – morning