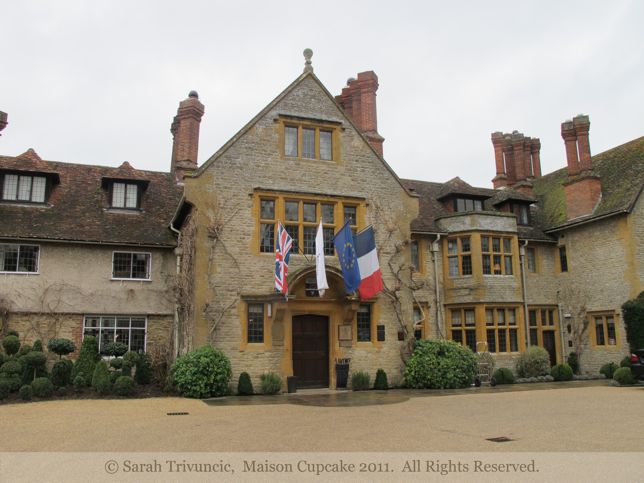 This post continues my current series about Le Manoir aux Quat' Saisons, Raymond Blanc's Oxfordshire hotel and cookery school. Scroll down to the bottom of this post for a list of other posts in this series covering the accommodation, breakfast and the patisserie class at Raymond Blanc Cookery School.

Shoes flipped off, champagne glass in hand to gaze around at our beautiful room, it felt a pity to have to rush downstairs for 7.30 for dinner at Le Manoir aux Quat' Saisons.
We'd already pushed our booking back 30 minutes to give ourselves more time to relax. There's an open fire begging to be lit. My husband, firebug that he is, has been tinkering at the basket of wood lamenting why we don't light fires at home. "No butler." I reply.
Four hours later, on climbing the stairs to bed, I understood why we'd been booked in to dine so early.
Seated in the lounge, it looks like the restaurant is very busy, even for a Monday in January. Despite not eating for 8 hours, I didn't want to peak too soon and resisted the popcorn and olives. A tile bearing five amuses bouches gave a flavour of things to come, however bear with me when I say we held back from eating these for our menu of choice, the découverte bore 9 courses. Well, actually it was 10 if you have cheese.
The sommelier offered us a range of wines paired with the different courses. Sensing danger in taking up this offer immediately before a day at the Cookery School, we stuck to Le Manoir house champagne throughout our meal (which is a bargain compared to some of the superior wines on the list).
The menu découverte is Raymond Blanc's "voyage of discovery with new flavours and textures; all of these matched with lightness, seasonality and best produce." British produce from Cornish crab to Goosenargh druck is well represented although the style of the menu is still very French.
The 9 courses are broken down into 3 starters, 3 mains, cheese if you wish and 3 desserts. I'm not someone to sit in restaurants with a notebook – I felt self conscious enough trying to be discreet with a camera.
After choosing from 6 types of fresh bread (we had beer bread and sour dough), our first course was salad of pot-caught Cornish wild crab, mango and oscietra caviar. An overture to a lengthy menu, this dish was very light and subtle in flavour. I did find the decorative charger it was served on a bit distracting.
Next was confit of "Landais" duck liver with rhubarb compote and sour dough toast. The flavour of the confit soars after the sea freshness of the first, it's like a piece of classical music starting to bring in more instruments.
The final starter course is a salad of grilled wild hand-line Cornish MSC mackerel and pickled radish with a Braeburn apple sauce streaked alongside. These are simple components but seem to come together with deceptive effortlessness.
The first of the main courses was one of my favourites; ravioli standing like a top hat surrounded by poultry jus and filled with spinach and a quail's egg. Gravy is not something I'd normally associate with egg dishes but it worked spectacularly well here with the yolk oozing out of the egg inside the ravioli.
Pan-fried Cornish line-caught sea bass fillet was next, accompanied by a large wild creel-caught Scottish langoustine and on top of smoky mashed potato and star anis jus. Aniseed is not one of my favourite flavours but here I loved it, especially against the langoustine.
"Melt in the mouth" is such a cliché but I struggle to improve on it to convey the smoothness of the roasted free-range Goosnargh duck breast served with turnip gratin, caramelised chicory, clementine curd and delicate jasmine tea sauce. I'd not expect tea flavour to stand up against duck but it does and the turnip gratin was a much lighter choice than potatoes.
A little break now to learn about cheese. We hadn't expected to choose the cheese trolley but once I'd seen it wheeled to an adjacent table and partially overhead the enthusiastic waiter describing its contents I was determined that we should get a front row seat at the cheese lecture too. Passing over those amuse bouches earlier on is paying off now!
I managed to make the cheese lecture last twice as long by asking lots of questions which seemed to amuse the diners at the next table. The cheeses selected were presented in a fan shape going from mild to stronger with quince, grapes and walnuts.
The cheeses were:
Bleu de Gex
Selle sur chere
Comté
Celtic Promise (a Welsh cheese)
Brillant Savarin
Pomme Calva (Camembert and Calvados)
Brie de Meaux
My favourite was the Celtic Promise, an orange rind cheese with texture similar to Gouda but a much more sophisticated flavour. The waiter agreed it was an excellent cheese although he felt they needed to "work on the rind".
The service throughout our meal and indeed our entire stay was faultless.
The cheeses had been so marvellous we had forgotten there were still 3 puddings to come!
First pudding course was an exotic fruit raviole with kaffir lime leaf and coconut jus. Less is more with the presentation of this dish, at a point in the meal where we were starting to feel full, this course was the culinary equivalent of standing under a cold sprinkler on a hot day; blissfully cooling and refreshing us to make it to the finish line.
At this point we discussed asking the waiter to bring one each of the last 2 courses so that we may share them instead as I was struggling. "After all these courses," my husband said convincingly, "one more won't make much difference."
So the 9th dish was almondine covered in pear pieces and pear sorbet in a ginger sauce with caramel croustillant and a wafer thin translucent slice of pear standing on top. The coldness of the pear bouncing off the caramel-ly crunchy base made a fantastic contrast in both texture and flavour.
Finally, could we handle a chocolat marquise with Tonda hazelnut and lemon butterscotch sauce? Oh yes. It arrives with butterfly wings of caramel and gilded with gold leaf as if to crown the glory of all we've just had. This final dessert was more mellow than the previous one but the citrus addition to the sauce still gave it a kick.
We adjourned back to the now empty lounge, in front of a roaring fire as if to make up for the one we'd not had time to light upstairs.
An encore of petit fours joined my blue Darjeeling tea (not blue you'll note but extremely refreshing to this non tea-drinker). Despite everything I did squeeze in a couple of petit fours. One of them was a miniature choc ice, you don't expect me to let a miniature choc ice to melt in front of a hot fire surely?
The second was part greed, part curiousity, a pistachio macaron – one has to compare Le Manoir macarons with one's own after all…
Each day this week I will be publishing a series of posts about Le Manoir and will add links through to this posts as they are published:

Le Manoir aux Quat' Saisons Part 1: Dinner

Le Manoir aux Quat' Saisons Part 3: Breakfast

Raymond Blanc Cookery School Patisserie Class Part 1

Raymond Blanc Cookery School Patisserie Class Part 2

Postcard from: The Garden at Le Manoir aux Quat' Saisons

I was a guest of Le Manoir aux Quat' Saisons and The Raymond Blanc Cookery School.
Look. I'm even showing you the loo. The temptation to drag the husband in there and say "Look! I want a mirror and a dressing table like this!" was considerable.