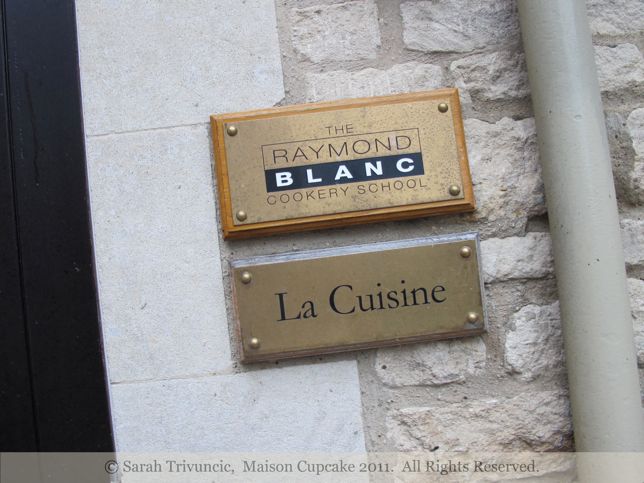 This post is part 5 in my series of 6 about Le Manoir aux Quat' Saisons, Raymond Blanc's Oxfordshire hotel and cookery school. Scroll down to the bottom of this post for a list of other posts in this series covering the accommodation, dinner, breakfast and garden at Le Manoir. Today sees the second half of the patisserie class at Raymond Blanc Cookery School and at the weekend the series will conclude with an amble around Le Manoir's famous kitchen garden.
Today it's the second half of the one day patisserie course – click back to yesterday's post if you haven't yet seen what we did in the morning.

It's lunchtime and four out of five of our dishes on the Raymond Blanc Cookery School one day patisserie class are in progress:
Pear tart bourdaloue – in the oven
Le Manoir lemon drizzle cake (batter shown above) – due to bake whilst we tour the garden
Marquise and chocolate crumble with hazelnut ice cream – both chilling!
Lemon and butterscotch sauce with toasted hazelnuts (to go with the marquise) – finished
Cocoa sorbet – demo'ed and then magic wand waved, "here's one we made earlier"
Still to come:
Pistachio soufflés (to be served with the cocoa sorbet)
Coffee macarons with liquorice ganache
Drizzle the drizzle on the lemon drizzle cake
Frenzied waving about of blow torches – I'm easily pleased aren't I?
Whilst we perch on our stools with our buffet lunch and a glass of wine, head tutor Mark Peregrine demonstrates the speed and ease of making pistachio soufflé promising it will be ready for us to eat as dessert.
I merely watched this being done whilst enjoying golden beetroot salad and cheeses from Le Manoir's extensive trolley but I took lots of pictures so you can see how they were assembled step by step:
Dishes greased and lined with sugar and chocolate flakes, a pastry cream is combined with pistachio paste and whisked egg whites…
A chunk of chocolate is popped between two layers of the soufflé mix…
Then it's levelled off and tidied up with a small palette knife. A trio of pistachio nubs to decorate.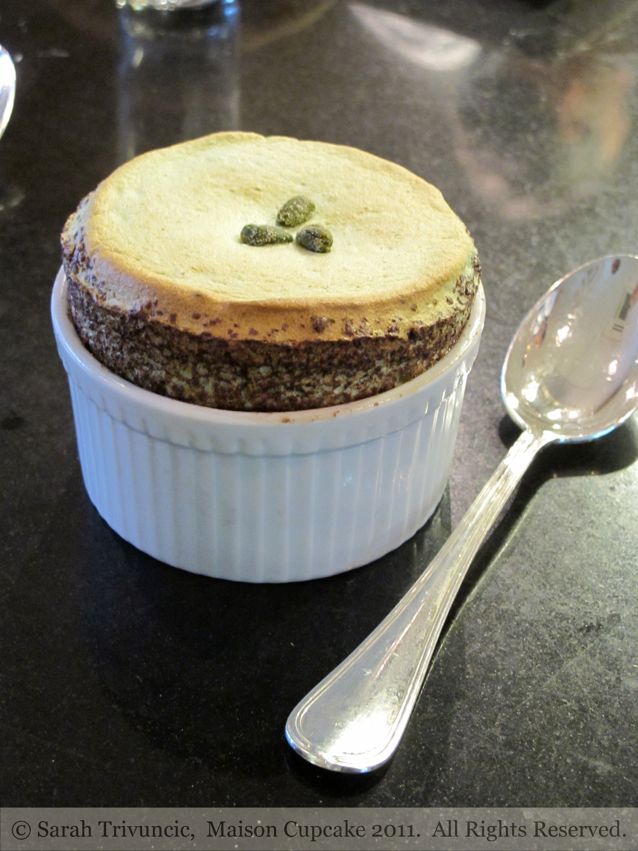 Et voilà as Raymond would say on his BBC show Kitchen Secrets. Counting how many times he says voilà per show seems to be an endearing little trend on Twitter.
True to Mark's promise we did indeed eat these beauties for dessert – just eight short minutes required to bake.
Everything is starting to come together now, pear tart bourdaloue emerges from the oven. A final flourish with the blow torch gives them an even colour – don't bother with mini cook's blow torches, Mark says. Big ones from Homebase are what you need. Just watch where you point it in the kitchen unless you fancy redecorating.
The lemon drizzle loaves are cooked too and we take it in turns to paste them with a sugary lemon syrup that sets to give that satisfying crust of icing.
The final recipe is liquorice macarons. These are actually coffee shells with liquorice ganache. Neither of these flavours are favourites of mine but I do love making macarons as regular readers will know.
Mark is also using the Italian method which I first used at the Waitrose Cookery School. It seems that the more stable Italian method is fail safe for the classroom and has the added advantage of not needing to be sat around for 20-30 mins drying out. After Mark has piped two lines of shells, we each have a turn piping.
I also noted that Raymond used the Italian meringue method when he made macarons in the patisserie episode of Kitchen Secrets.
As an aside, I'm still doing the sugar thermometer-free French meringue method at home (but that's mainly because of an unfortunate incident with a sugar thermometer from high street retailer Robert Dyas and an online minion responding that they didn't refund products that break before you even take them out of their ridiculously constrictive packaging. I was going to tackle them on this in store then have a rant about it if still not resolved but, sigh, life is too short. I'll just mention it in passing here alongside a post that will hopefully get googled a lot. Not that I'm bitter or anything…)
More blow torch waving was required to free the metal presentation rings from around the chilled marquise desserts. I can't tell you how much fun I had with the blow torch. I really want one for at home.
Some finishing touches to the marquise to add the lemon and butterscotch sauce and dot with the caramelised nuts. We were able to take home a whole pear tart bourdaloue and marquise chocolate dessert as well as trying a slice of each with coffee. The marquise is served with an artful quenelle of hazelnut ice cream.
The huge lemon drizzle cakes get chopped in half for us and after pairing up coffee shells and piping ganache, we also fill our cardboard boxes with a bundle of macarons too.
Remember how I said I didn't care much for coffee or liquorice? I take it all back. These were incredible, such a sophisticated flavour. I would never have combined these two together before but it really really works.
So by 4.30pm I was armed with two large boxes of cake and desserts and very sad to check out of Le Manoir after just under 24 hours. Granted many of the staff would have known I was writing a review but I can confidently say that the attention to detail and level of service is second to none that I've experienced in the UK and more than matched my other Relais & Chateaux touchstone, Villa Gallici of Aix-en-Provence.
What you cannot fake though, is the staff's affection for Raymond, their passion for working at Le Manoir and how happy they are working as a team.
I had been sceptical before attending Raymond Blanc Cookery School that at £335 per day, whether I would deem it good value for money compared to other courses costing around £200 per day. I came away feeling that I'd been given the instruction to make not only a broad range of dessert dishes but also the confidence to produce things in quick succession and tips to make things turn out with a more professional presentation.
The one day patisserie course is extremely well structured, not one second is wasted and you come away with four dishes to take home, see and use about twelve components of dishes and get lunch, plenty of dessert and a guided tour of Le Manoir garden all inside seven hours.
All I need now to turn out five top class patisserie dishes in one day is a commis chef to prep all my ingredients at home and do all the washing up. Any volunteers?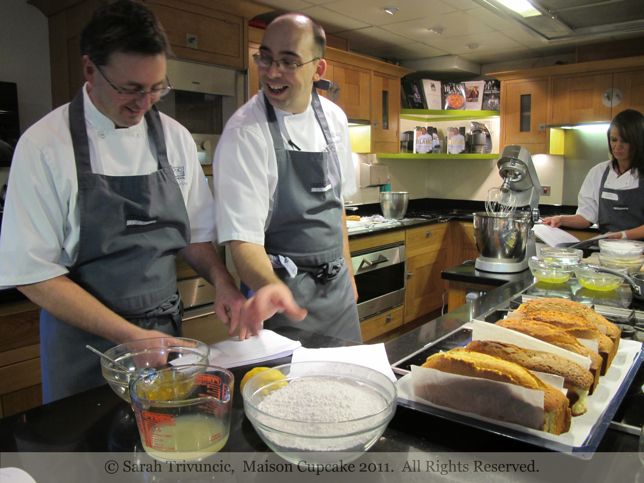 Here is a full list of my series of posts about Le Manoir. I am adding links through to the other posts in the series as they are published:

Le Manoir aux Quat' Saisons Part 1: Accommodation

Le Manoir aux Quat' Saisons Part 2: Dinner

Le Manoir aux Quat' Saisons Part 3: Breakfast

Part 4: Raymond Blanc Cookery School Patisserie Class – morning

Part 6: Postcard from: The Garden at Le Manoir aux Quat' Saisons

I was a guest of Le Manoir aux Quat' Saisons and The Raymond Blanc Cookery School.