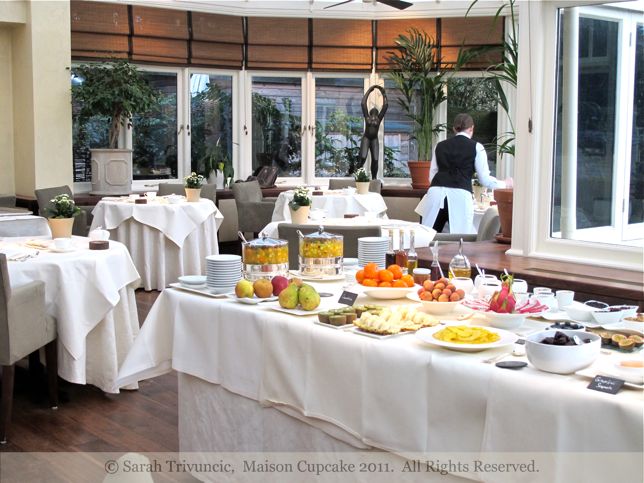 This post continues my current series about Le Manoir aux Quat' Saisons, Raymond Blanc's Oxfordshire hotel and cookery school. Scroll down to the bottom of this post for a list of other posts in this series covering the accommodation, dinner and the patisserie class at Raymond Blanc Cookery School.
Truth be told, I didn't sleep fantastically well during my night at Le Manoir. This was in no way a reflection of the room or bed but more that I'd just eaten a big meal and was very excited about the patisserie course to follow in the morning.
On awakening, I was able to take my first look at the grounds in daylight. The views above are from our windows.
I still feeling too full from the previous evening to make the most of breakfast but made a point of going downstairs rather than having room service.
There's plenty to choose from on the buffet without needing to order from the a la carte breakfast menu but should you make this choice, options include traditional English breakfast, eggs florentine or benedict, kippers, spinach and herb omelette or wild Scottish line-caught haddock and poached eggs.
The breakfast buffet table is presented with white crockery and handwritten little slate signs naming each item. In daytime the blinds are raised to show the garden through large windows.
I delighted in the range of breakfast items available however felt only able to pick at a little yogurt, a home made raisin pastry and a sliver of homemade bread with jam.
The freshly baked croissants and pains au chocolat were on a wicker tray. I took a long gaze at them even though unable to eat much. As someone who window shops for baked goods the way other women do handbags, it was a pleasure to see such fine breads and pastries close up without a pane of glass in the way or a shop assistant waiting for me to buy them.
There were organic fruits, coconut, nuts and seeds; a wide range of fresh fruits including less obvious things such as lychees, dragon fruit (shown above), passionfruit halves, cut pineapple and kiwi. In addition there were 2 types of cubed fruit salad served in juice.
A range of cheeses (varied, although smaller than the previous night) and cured meats made up the cold savoury selection.
Sweeteners included maple syrup, acacia and manuka honeys. I don't recall any cereals and can't see them in my pictures so can't say for sure whether there were any although I did see a silver pot of organic bircher muesli (shown above).
It's a sad irony that this was the grandest breakfast I'd ever seen but that I was unable to relish in it fully. My husband did slightly better than me but a downside of my having to be up bright and breezy for the patisserie course was that we didn't get to languish in bed longer and be in a better frame of mind for breakfast.
Therefore, I heartily recommend that if you are coinciding a cookery class with a stay at Le Manoir, that you do things the opposite way round to me; do all your hard work first and then have your dinner, sleep well and take a longer lie in before making the most of this sumptuous breakfast!
Each day this week I will be publishing a series of posts about Le Manoir and will add links through to this posts as they are published:

Le Manoir aux Quat' Saisons Part 1: Room

Le Manoir aux Quat' Saisons Part 2: Dinner

Raymond Blanc Cookery School Patisserie Class Part 1

Raymond Blanc Cookery School Patisserie Class Part 2

Postcard from: The Garden at Le Manoir aux Quat' Saisons

I was a guest of Le Manoir aux Quat' Saisons and The Raymond Blanc Cookery School.
After breakfast, I rushed back upstairs to take a final look at our suite… so brief a stay, but so memorable.