Unveiling the "naked" wedding cake. Suddenly sugarpaste seems such an old maid.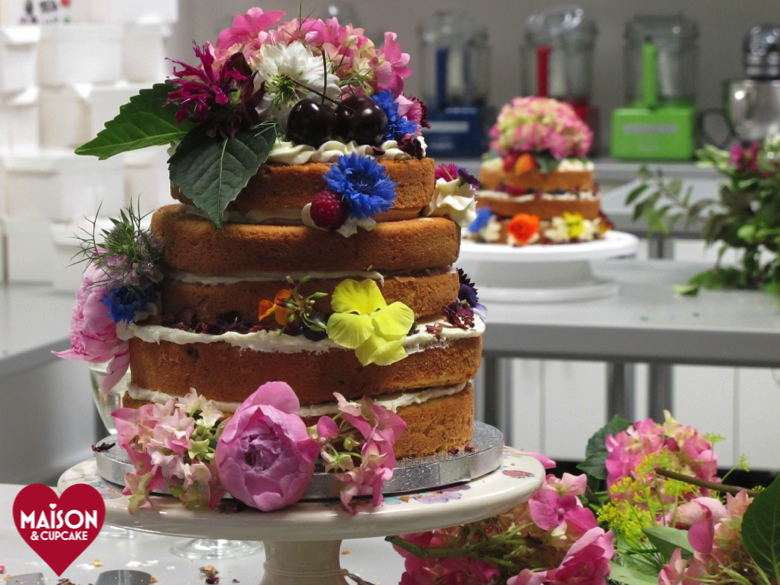 The home spun, home crafted craze is reaching its zenith. I have just attended a day's Christmas in July media launches and clearly home made is hotter than well, July. Since the credit crunch forced us to make do and mend, our inner craft bugs have been crawling all over trends that are achieveable, affordable and preferably immediately available. Hence any crafted look that ticks these boxes is perfect for the dextrously challenged and time poor alike. This year's Christmas in July shows previewed decorations and cards to be sold by mainstream retailers. Many look so homemade that the only way this trend can go is buying things that look like children made them. Perfect for anyone who works but wants to look like they stayed up all night appliqueing socks and stamping patterns on brown wrapping paper.
For wedding cakes this translates as easy cake easily decorated. It doesn't come much easier than Victoria sponge quickly slapped with buttercream and real flowers artfully pushed into the crumb. Why spend 24 hours crafting sugarcrafted roses when you can plonk the better looking real thing on the cake in seconds? Noone enjoys eating sugar flowers anyway. After attending a Peggy Porschen Academy class I kept my beautiful but brittle blooms – Miss Haversham style – in a box for 18 months before tearfully throwing them away). Cake maker to the stars, Lily Vanilli, was showing us how to make naked wedding cakes at this Pinterest community event attended by Pinterest users.  If your technical baking abilities only stretch to Victoria sponge and buttercream then this is a look for you. Think floristry rather than cake decorating.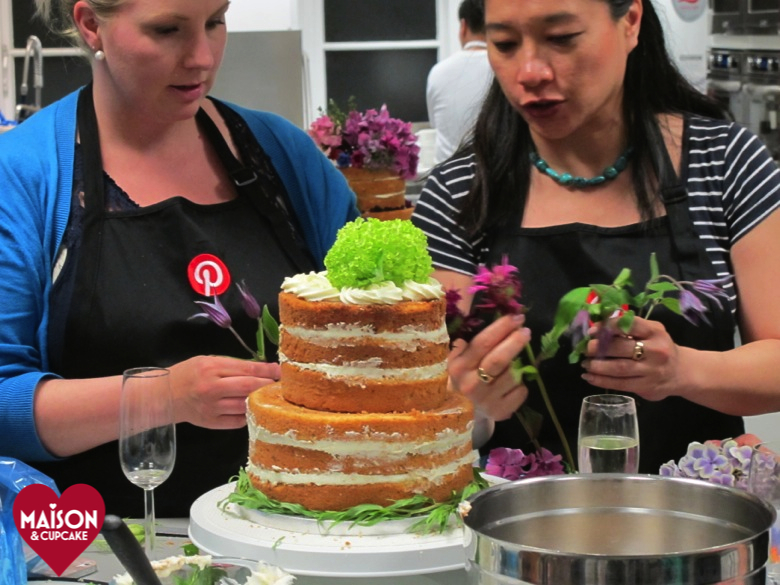 Tips making or buying naked wedding cakes
Have an overall colour scheme
Mix and match the size and texture of floral and fruit decorations
If the cake needs to travel it needs dowelling rods to keep the layers secure
Non edible decoration must be removed before serving. Check which flowers are edible and which aren't.
Make use of seasonal flowers and fruits
Combine freeform buttercream piping with natural decoration
Scatter dried petals confetti style around the edge
Flowers stuck into cake won't stay as fresh as those in oasis so the cake needs to be decorated as late as possible. So although this style of cake is suitable for budget weddings, the actual decoration needs to be delegated to someone other than the bride!
Nosegays and nasturtiums destroyed during the evening were supplied by Liberty. This was part of their  launch for a new homewares and gift range Flowers by Liberty celebrating floral Liberty prints. It was also an opportunity to me to hang out with blogging friends May, Andrea (both in main picture above) and Sarah of Taming Twins.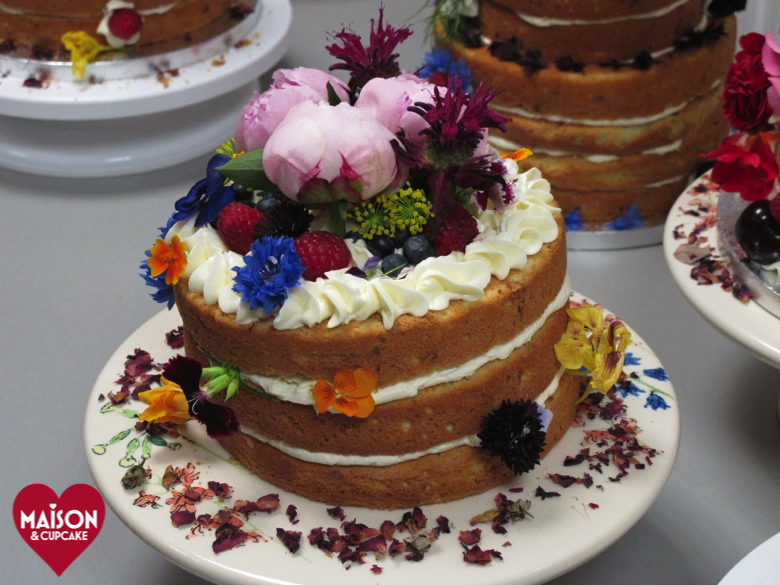 Our cakes were lined up village fete style for Lily to judge. I must admit I was sceptical about this look but after seeing our line up of naked wedding cakes I was a total convert! Click on any of the thumbnail pictures in this post to bring up a full size slideshow to click through and admire!
Lily Vanilli will be one of the star bakers appearing at this year's Cake and Bake Show at London's Earl's Court on 3-5 October.