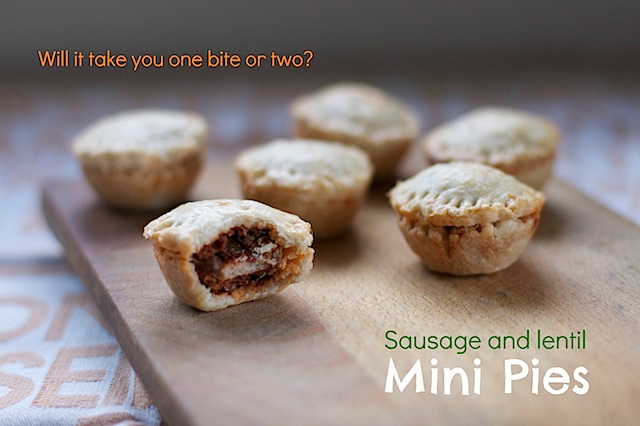 Ever since I made my steak and kidney mini pies in a 12 hole cupcake tin, I've been wondering if I could go smaller.
A home made bite size snack pie.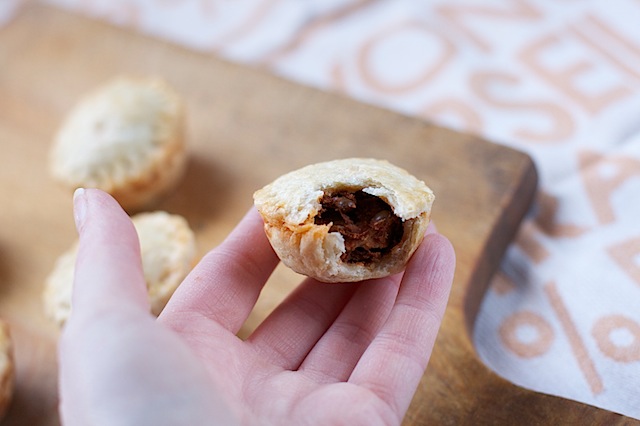 We see mini pies in supermarket party canape ranges often but rarely would we make them this small at home.
My main concern was whether I'd end up with too high a ratio of pastry to filling.
Fortunately my fears were unfounded. Each pie holds a spoonful of squidgy filing and a disc of sausage.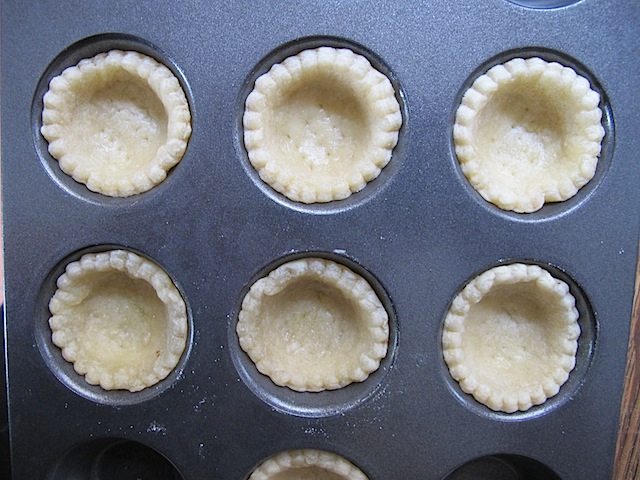 Cut out your pastry bases, prick the pastry with a fork.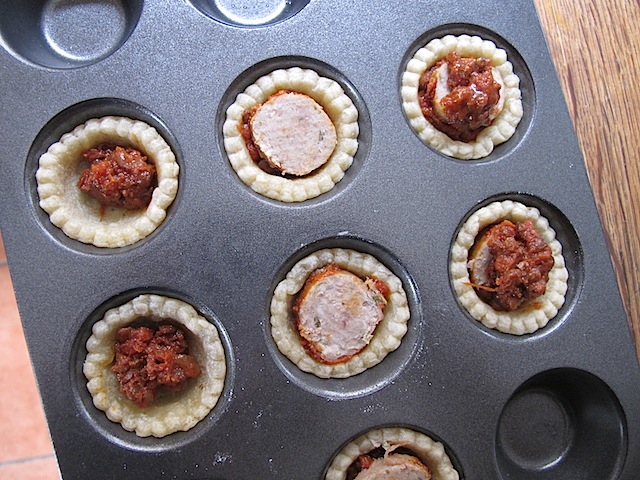 From left to right you can see I filled them with some braised lentil and tomato, the sausage and more lentil tomato mix on top.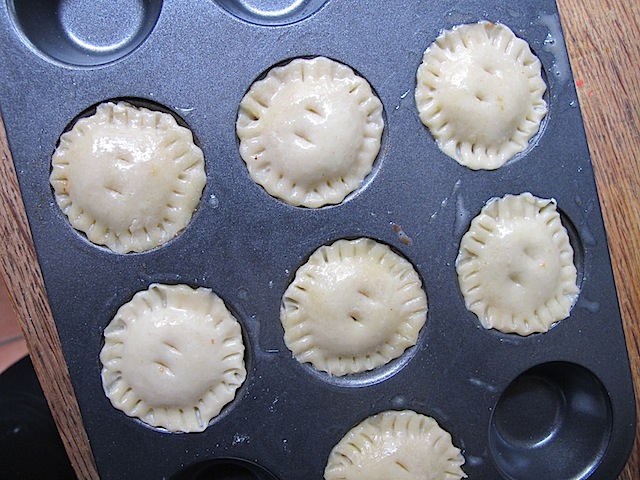 Finally put their lids on and poke little holes with a knife to let steam out.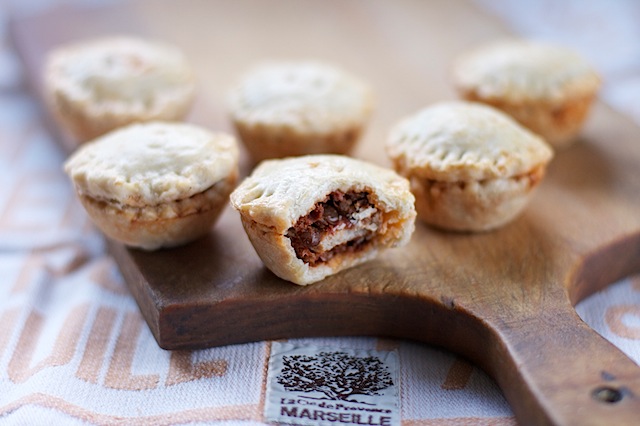 Bake for 15-20 minutes at 180c / Gas 4. You can follow the basic principles for the pastry from my steak and kidney mini pies.
We were delighted with the results. I could happily fill my fridge with these but the temptation to snack on them all day would be immense.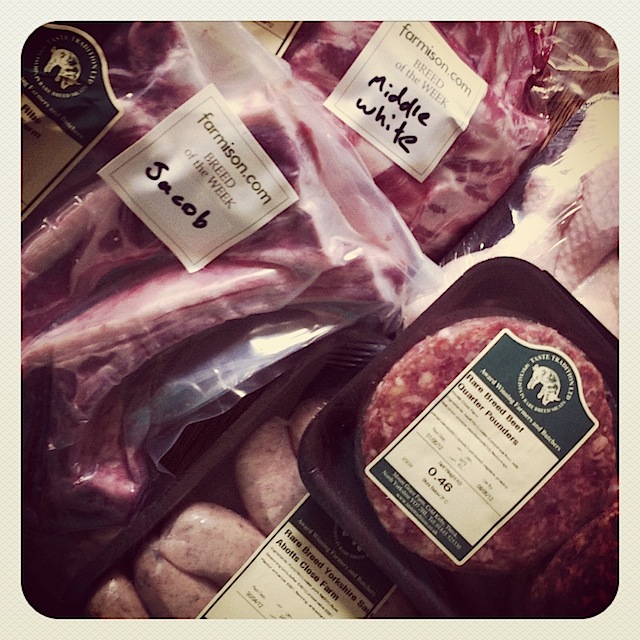 Our sausages on this occasion came from a meat box delivery from Farmison.com.
Farmison is an online delivery service offering British produce directly from farmers who also supply award winning restaurants such as Heston Blumenthal's Fat Duck and Raymon Blanc's Le Manoir aux Quat'Saisons.
Boxes and hampers include monthly meat selections, large roasting joints, steaks, cheeses and seasonal greengrocery. Selecting from over 75 British suppliers including over 30 butchery farms, Farmison claims to offer access to more rare and native breeds than any other retailer.
The meat box we received would normally cost around £55 and contained burgers, sausages, spare ribs, lamb chops and chicken drumsticks.
Probably the quantity of meat worked out cheaper than my local butcher however it works out costlier than the supermarket.
You get what you pay for though and the substance and flavour of most items in the box were noticeably more impressive than things we'd normally grab from Sainsbury's.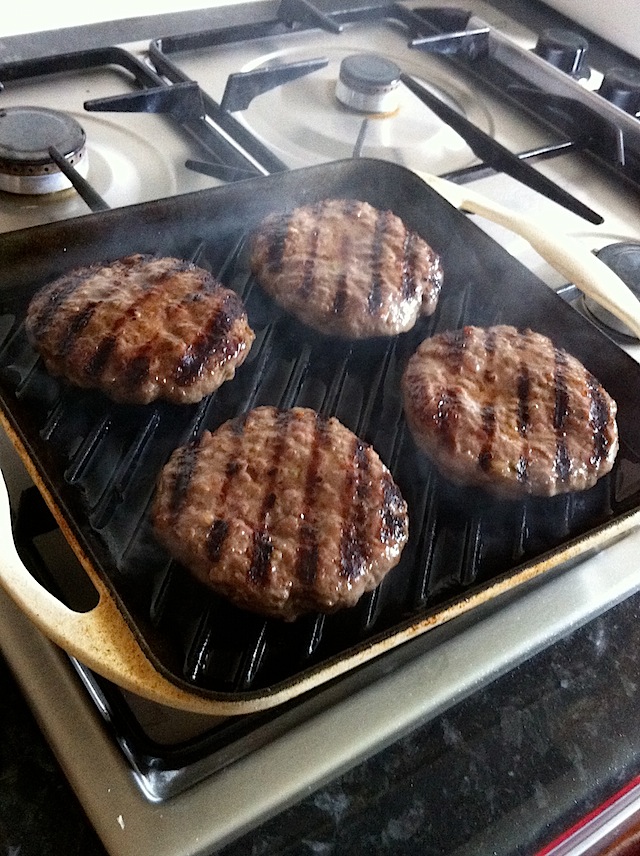 Neither meat cookery nor meat photography are my strongpoints hence I will summarise our experience below.
We cooked the spare ribs in roasting bags. Now I know this below looks like something from a murder scene but rest assured it was our dinner.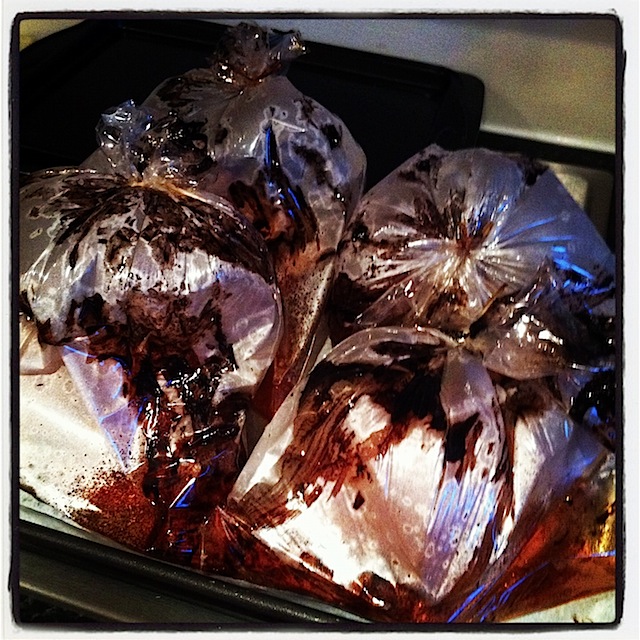 Farmison.com Meat Box Review

Pros
Excellent quality meat. Initially I was disheartened that we'd got cheap cuts such as chicken drumsticks alongside burgers and sausages. However the drumsticks were excellent, the best I could remember having in ages.

Generous quantity. With meat that seemed more filling and substantial, we had enough for 4 people to eat for around ten days.

Well packaged. Everything was sealed up effectively and all items had a week before their use by dates were up.

If you no longer have a good local butcher and are disillusioned by supermarket meat then online delivery is worth using.

Cons
The ribs were inferior to ones I've enjoyed elsewhere lately. Check out the ribs in my All Star Lanes review for instance. It may be how I cooked them but in any case there was far less meat than ones from my local Chinese takeaway.

Packaging. If I were going to order these boxes regularly I'd end up with a steady stream of packaging to dispose of. I seem to spend my life dismantling cardboard boxes so this does not appeal. Farmison uses boxes made from 60% recycled material and they're fully recyclable afterwards. Nevertheless there is still the annoyance factor of getting rid of boxes which could be alleviated if Farmison took boxes away for you (but then you'd still have a big box hanging about and few people have the luxury of space to accommodate this unless they have a garage, shed or cellar).

Delivery. You need to be home to receive the boxes and put the contents in the fridge. Could be tricky for office workers.

My local butcher is losing out if I order online. Farmison won't give me the friendly personal advice available from Mick at Walthamstow Village's East London Sausage Company. Admittedly I do still buy meat in supermarkets as well and the same principle applies to them.

Verdict

The Farmison.com meat box offers better quality and value than the supermarket but if you're fortunate enough to still have a local butcher I think you should carry on using them.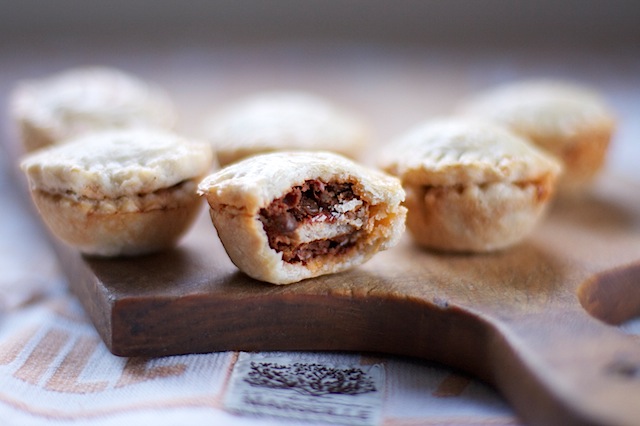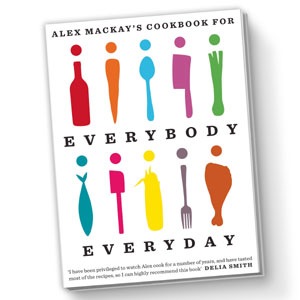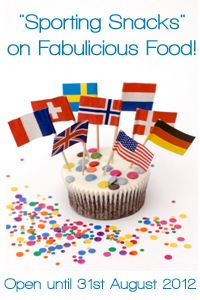 The braised lentil and tomato filling in these pies was taken from Alex Mackay's latest book "Everybody Everyday" which I will tell you more about in my next book round up.
I am sending these pies to Ren at Fabulicious Food for her Sporting Snacks event which is open until August 31st so there's plenty of time for you to take part too.
With thanks to Farmison for the meat box and Bloomsbury for the Alex Mackay review copy.