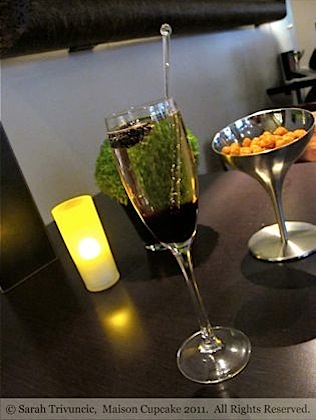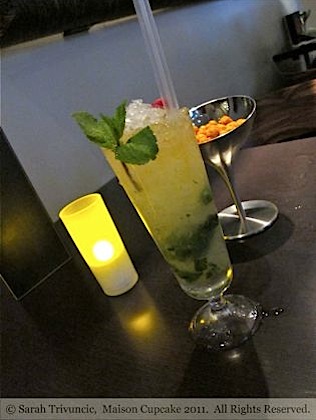 Radisson Edwardian is a well established four star hotel chain with around ten London hotels and a scattering elsewhere. Since I live in London this is probably the reason I have not stayed or eaten in one before so I was pleased to be invited to dinner at their Bloomsbury branch with Michelle Greedy Gourmet and wine educator Kelly Bayliffe of Tastour.
Whilst waiting in the bar we enjoyed cocktails – my Kir Royale (above left) and Michelle's Mojito (above right) – with spicy nuts to tempt our appetites. A large space without carpets or much soft furnishing, it was noisy and surprisingly dark for 7pm.
The bar area looked stylish enough but there was a clinical impersonality to the decor. Modern doesn't have to be like this, Malmaison achieves an urban contemporary feel with far more warmth.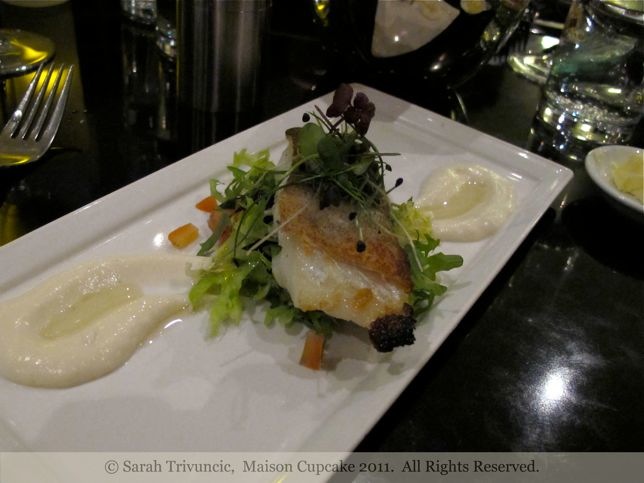 My starter, roasted home-salted cod with cauliflower puree and vanilla oil – the vanilla flavour didn't make much impact but the cod skin was pleasingly crispy and I enjoyed the cauliflower puree alongside. A great first course.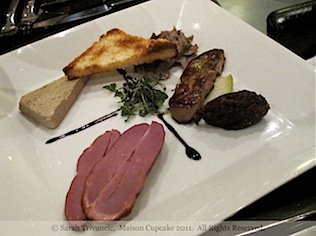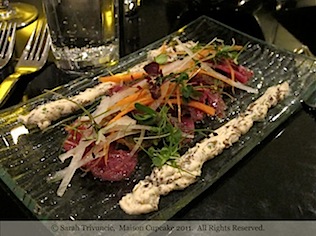 The others had (above left) a duck platter of smoked breast meat, duck confit, seared foie gras, duck liver parfait and fig chutney and marinated fillet of beef with horseradish rosti and mushroom cream (above right).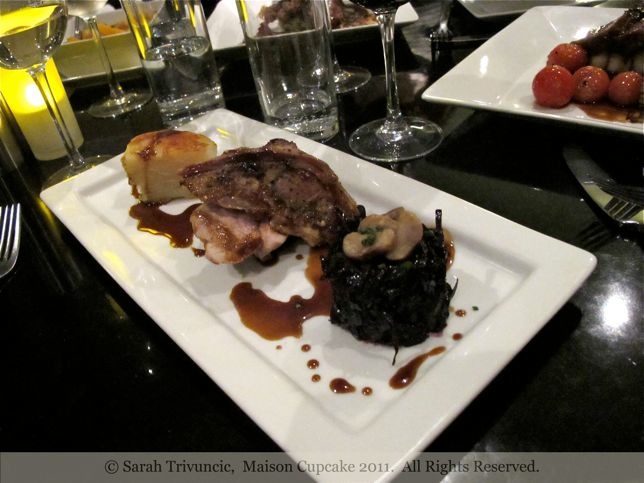 Roast pheasant for mains with braised red cabbage, black pudding and chestnuts, gratin dauphinoise and game jus.
To be honest, the prospect of black pudding hooked me in here. Also, dauphinoise is my favourite way to serve potato.
Neither disappointed although the pheasant was pale and not very gamey.
Nevertheless I enjoyed the dish, especially the presentation with three little stacks in a row.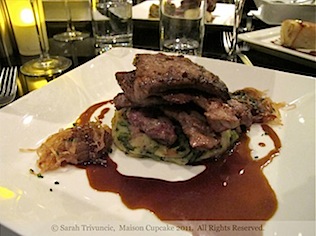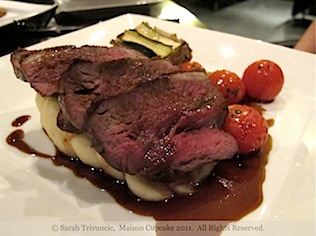 My companions had pan fried calves' liver with bubble and squeak, smoked bacon, caramelised shallots and Madeira sauce (above left) and roast rump of lamb with courgettes, artichokes and thyme with slow roast potatoes (above right).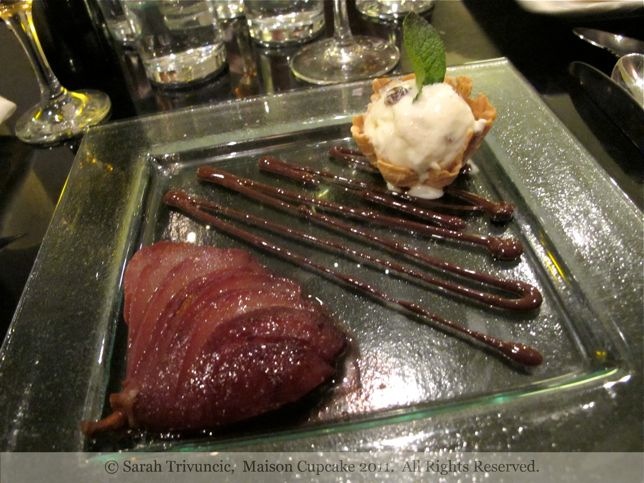 Sadly dessert was an insubstantial let down: spiced pear with dark chocolate cinnamon sauce and rum and raisin ice cream was my selection from five uninspiring choices.
On paper it sounds a mish mash and in reality it was worse than the description; predictable pear, scant streaks of sauce and boring faintly flavoured ice cream in a crusty bog standard ice cream cone.
Just not good enough.
Plus I hate clear glass plates, especially when textured. They're like nails down a blackboard to me but obviously that's a personal reaction.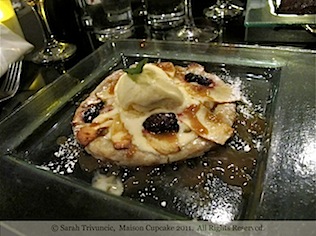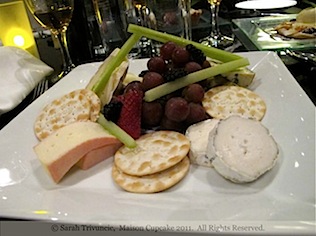 Michelle had apple and blackberry tarte tatin with calvados ice cream (are far more thoughtfully put together combination) and Kelly the cheese. The plate was a good selection of cheese including Stinking Bishop although I found the presentation untidy.
Overall this wasn't a bad meal but there wasn't anything in it that had much wow factor either. I'd eat there again but it's not somewhere I'd get excited about.
For another angle see Michelle's review here.
Pros:

Convenient if you're too tired to walk anywhere else after travelling all day
Good value for central London, starters averaged at £8.50 each, mains between £11.50 and £18.50 and desserts were mostly £6.50.
Good cheese board but the biscuits could be more interesting.
Mini cheese cake served with coffee is a nice touch.

Cons:

Our table wasn't ready for the time we were booked
A few peculiar flavour combinations – especially for dessert
That naff ice cream cone – fine on the pier but not for dinner please
Dark and echoey interior

Verdict:

If you were travelling on business and London wasn't familiar territory, downstairs in the Bloomsbury restaurant would give you a perfectly reasonable, and good value, if not exactly memorable meal. But with Covent Garden and Soho on the doorstep, tourists or anyone prepared to do a little research in advance would be better served by going somewhere more individual nearby.

With thanks to Radisson Edwardian.

Radisson Edwardian Bloomsbury Street, 9-13 Bloomsbury Street, London WC1B 3QD, 020 7636 5601.