Sooty, Sweep and Soo were the stars of Ted's Sooty birthday cake this year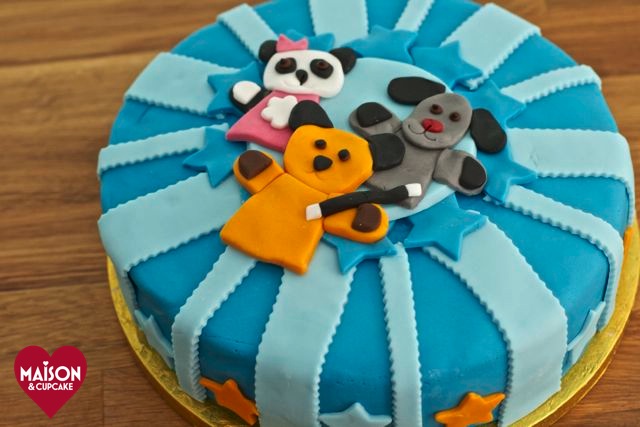 This year I contracted out birthday party hassles in the form of a Pizza Express kids pizza decorating party and I congratulated myself for not having to deal with a dozen seven year olds rampaging through my house wrecking the place.
Whilst none of them are actually naughty, they do go through the toy cupboard like locusts (yes even everything that's hidden away) and last year I vowed never again. Better still I'd hold the party straight after school so we'd have the weekend to recover.
What I'd not factored in however was that by not holding the party on Ted's actual birthday, I had to a) make a cake twice and b) hold a gin inducing playdate on the day anway.
The first cake was a straightforward vanilla buttercream ruffle cake covered in smarties but admittedly I did decorate it in the space of 15 minutes at approximately 2.50pm. But for the actual party I had built Ted up into expecting a full scale Sooty birthday cake and then realised I needed to deliver this whether it was convenient that day or not. The reason I don't so cakes commercially is because I can't bear them needing to be done so last minute so that they're fresh. Inevitably I'd end up decorating them at 3am and there's nothing more depressing (in my view) to working in the early hours when you'd sooner be tucked up upstairs with the husband.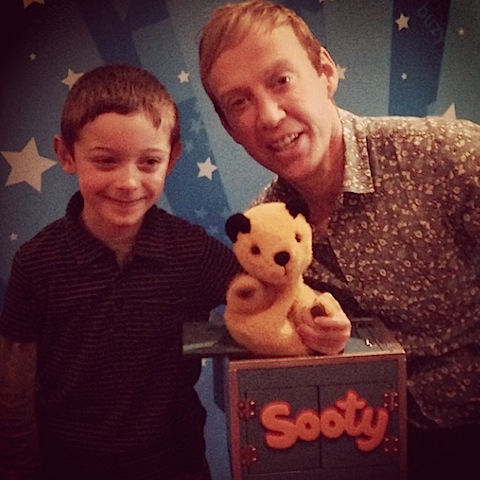 Ted has been well nigh obsessed with Sooty since around February this year. Mercifully the main obsession has faded slightly, but for a good two months I was subjected to hours of it at a time – particularly the 1980s episodes with Matthew Corbett (all on YouTube).
In April I took Ted to see The Sooty Show live on stage at the Wimbledon Theatre and was very impressed that all children had the opportunity to have their photo taken with Sooty and Richard after the show. So the Sooty birthday cake has been on order for quite some time.
Making the Sooty Birthday Cake
The sponge cake was a 9inch version of Mary Berry's Victoria sandwich from Mary Berry's Baking Bible – although her recipe gives 3 sizes, the largest is 8inches hence I have a sheet of paper inside the book scaling up the ingredients. The sponges were sandwiched together with lemon curd and lemon buttercream and the whole cake had a buttercream layer underneath the sugar paste. If you scaled up this vanilla cupcakes recipe from the early days of this site x 3 and used lemon extract rather than vanilla you'd be on the right track how much cake/buttercream to make.
As with most of my cakes a minimum of equipment was used, the ribbon effect on the stripes was created with a pastry wheel. The orange, red (Sweep's nose) and black sugar pastes were bought whereas the pink, blues and grey were mixed with Wilton gel food colouring.  Roughly 1.5kg of sugar paste were required to cover and decorate the cake although I mixed 1kg of the darker blue and then after covering the base layer, I added some of the off cuts to more white to make a paler version in the same hue for the stripes. Very small quantities were required of the other colours – a couple of ping pong balls' worth of orange, half this for black, grey and pink, a few peas' worth for red and brown. I squidge some chocolate writing icing for the characters' pupils but in hindsight a wiggle with a cocktail stick might have sufficed.
Apart from some basic shape cutters such as stars and ovals, shapes were formed by hand and trimmed with a kitchen knife. The characters' bodies are squares with vertical sides trimmed towards top; the arms and paw pads are ovals with ends sliced off. The eyes are flatted little balls of paste. Soo's bow and the wand pieces were trimmed with a knife. Everything is stuck down with a brush of water – that's ok if you're eating it immediately but if the cake is to be stored, boiled water should be used or alcohol if the cake isn't for children. If you can manage Play Doh you can manage this, it just takes a little planning.
Predictably the Sooty birthday cake wasn't met with the same hysteria as an episode of Sooty. Ted's verdict was "yes it's good" and my husband said "nice". Sigh. Maybe I'll just order one form Waitrose next time.
Some of Ted's previous birthday cakes:
…and you might also enjoy this Emergency Trifle.