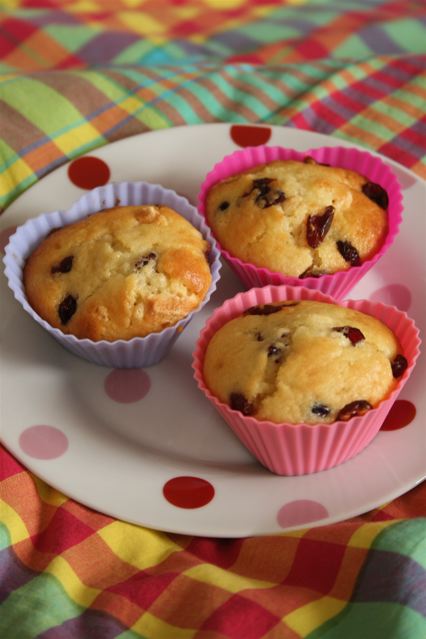 Apparently some of you enjoy it when I share my failures here.  Normally these are culinary disasters involving macarons and lurid pink icing for caterpillar cakes but today I thought I'd give you a laugh at my first tragic attempt to send a valentines card back in 1989. More dog's breakfast than valentines breakfast.


We were preparing for GCSE French exam in the 5th year. There was an extra pupil sitting the exam: a third year who learnt the language from his native speaking mother, the manageress of the local branch of Benetton. Well, with one bat of his dark eyelashes and hearing the perfect French complete with purring accent the age gap didn't matter one jot. I was in the embarassing position of having a total crush on a kid two years younger. 


Much flirting began over copies of Record Mirror in the school library. I ended up confessing to my best friend Beccy. Whilst stalking the boy's mother and unfolding lots of colourful jumpers we decided that that best course of action was to send a valentines card. Only we didn't know where he lived and this was before the days of 192.com.


So I had to fess up to another friend who was in the same year group to see if she could find out, carefully, diplomatically, without making it obvious like "Oy where do you live because one of the fifth years fancies you."  The best she managed was a description of his house and the street, a main bus route.  We caught the bus, peered out of the window and worked out with some confidence which number house it was.


An elaborate poem was written. It had sixteen lines but I can't remember it apart from the last two lines which were "Could this be from someone you know, Guess who it is that loves you Bruno?" (This was his name. I was going to use asterisks but it looked silly and you can't see that it rhymed. What the heck, he'll never read this.) The card was posted.
And after that? The flirting in the library continued but was reciprocated no more, no less than previously. The two trusted friends both agreed that it was impossible to tell whether he could tell I'd sent him the card or not but it did look like he fancied me back.


Immediately before the end of term, I plucked up the courage to ask him out, to the ice rink (you may have already read of my Torvill and Dean obsession). Over the phone. His mother answered. She called him to the phone. He didn't want to go ice skating with me. That was that. I went back to my bedroom and sobbed listening to Blondie (deeply unfashionable at the time).


We later found out that actually he didn't live in that house.  He'd never received the card.  But somebody obviously had. I often wonder what happened over the cornflakes there, some woman saying to her confused husband "Is that what she calls you?!"
But back to the culinary disaster. Today I bring you my latest mad experiment of making miniature muffins in a silicon heart shaped ice cube mould.  Fortunately said miniature muffins were so tiny that I had plenty of mix left over to make half a dozen of the normal size muffins above in sensible heart shaped silicon cases.
But you're not interested in those. You want to see the ones that were a mess.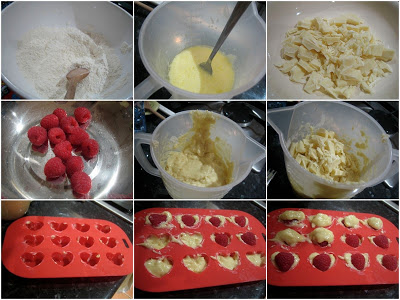 Standard muffin making process; mix the dry ingredients together, mix the wet ingredients with each other and then combine the two but leaving the mix still lumpy. I added the white chocolate but kept the raspberries to pop in one by one between blobs of batter.  Would the ice cube mould melt in the oven? It said not to microwave it but I thought at gas mark 4 the chances of meltdown were remote. I used my skanky baking sheet from Woolworths in Muswell Hill circa 1994 to be on the safe side. Into the oven they went. For about 15 minutes.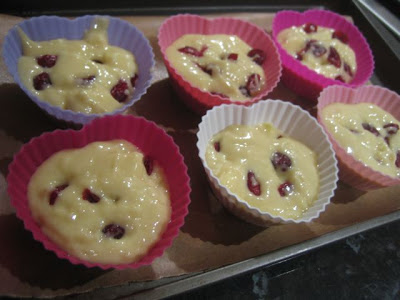 Here are the sensible bigger cases instead. These ones took 18 minutes and look very nice as you can see below.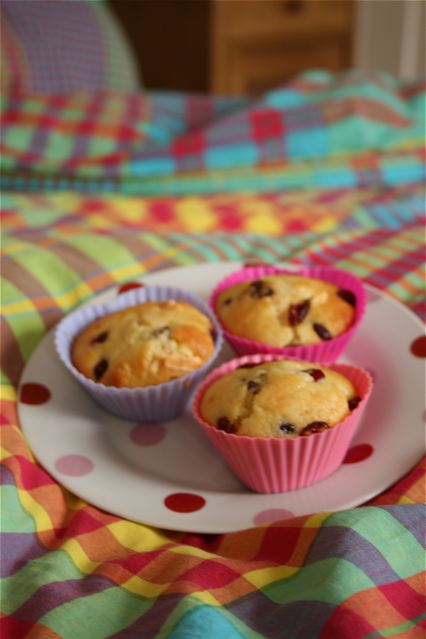 Sadly the miniature muffins expanded a bit too much to be successful.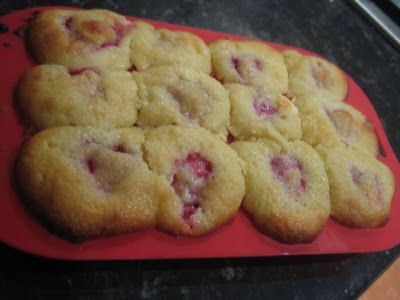 I managed to get them out of the mould in one piece with erm… 50/50 chances of success.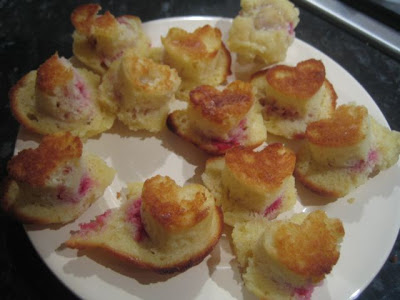 Okaaaaay. Well you can see where I was going with this. The heart shaped bottoms look ok but their tops are a disaster. I think the moulds should only have had 2/3 mix in them and that the raspberry was a stretch too far. But like my teenage love life, I am not disheartened enough to give up, I will try again, next time a little wiser.
There is still time to enter my pancake giveaway. Closing time is midnight GMT on Friday 5th February. For details read this post.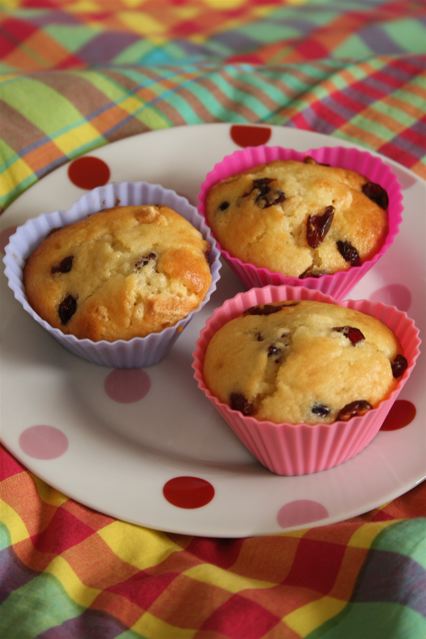 White Chocolate and Sour Cherry or Raspberry Heart Muffins
Makes a small batch of around 9 standard muffins, 6 large muffins or 15 mini muffins (if you use mini cases not a silly ice cube mould)
Adapted from Donna Hay Modern Classics Vol 2


The dried sour cherries were bought on my recent trip to Montenegro. You could substitute with dried cranberries.


Ingredients:
135g (1 cup) plain flour
1 tsp baking powder
85g (1/3 cup) caster (superfine) sugar
125ml (1/2 cup) buttermilk or sour cream
40mls (1 1/4 fl oz) vegetable or ground nut oil
75g (2/3 cup) raspberries or dried sour cherries
60g (bit less than 1/2 cup) white chocolate, chopped coarsely


Method:
1. Preheat oven to 180c (350f) (gas mark 4). Sift your flour, baking powder and sugar together in a bowl. Stir to mix.
2. Break the eggs into a mixing jug with the buttermilk and oil. Whisk until smooth. Stir into the dry ingredients until just combined.
3. Add the chopped chocolate and stir once or twice but no more.
4. Spoon mixture into cases. Press raspberries if using into the batter dispersing evenly or else sprinkle over the dried fruit prodding to submerge under the surface slightly.
5. Bake for 12-18 minutes depending on size: less for small muffins, more for large ones. They are ready when a cocktail stick comes out dry.