My second post using Whitworths baking sugars is apple and rhubarb crumble slice – find out below how you can win a selection of their sugars to bake with yourself.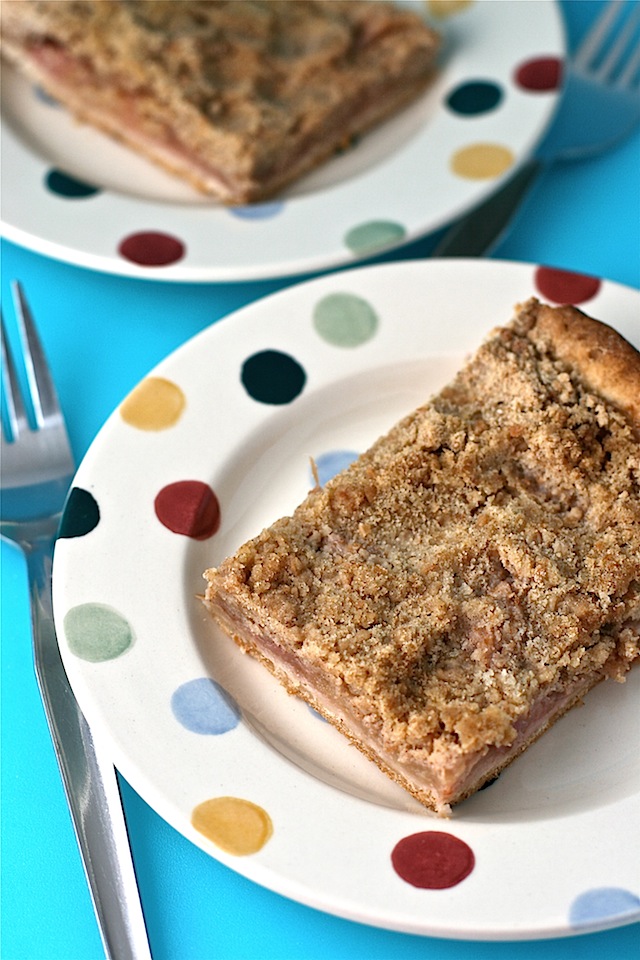 You would think that a husband whose wife wrote a baking blog would delight in having new and exciting desserts.
Actually my husband has a few favourite things that he asks me to make repeatedly and always shows more interest in the familiar favourites than any new concoction. In fact, it's fair to say that many new things I make get met with something closer to suspicion than enthusiasm.
It's like if I ask him what was his favourite meal I ever made him, he'll say the indian meal I made the very first time he came round to eat at my flat when we were first going out.
And I'm like, "and it's all been downhill from there has it?"
Not necessarily, but my husband is certainly sentimental about the first time I cooked for him. He even referred to it in his wedding speech.
So my husband and Ted both like crumble but there's a limit to how many times I can blog apple crumble.
I have already featured mini apple and blackberry crumbles, a big apple and forest fruit crumble made with Ted (tenuous reworking of the mini version), already featured apricot crumble tartlets and even put crumble on mince pies back in 2009. I guess five times in four years isn't overkill but certainly I don't blog crumble recipes as often as we eat them at home else you'd be sick of the sight of them.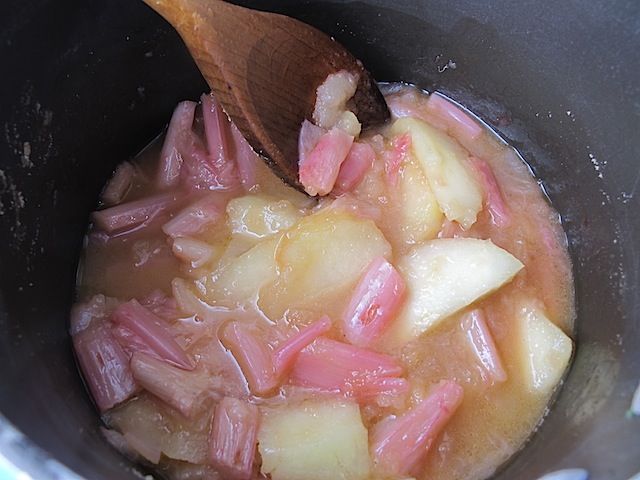 But I do like crumble, it's such an easy pudding to make. I have a soft spot for hot puddings served with cold cream or ice cream. A nice big crumble made on a Sunday can provide dessert for most of the week.
Today's crumble is a tart variety. I especially like crumbles done as tarts because you can pick them up and eat them like brownies without getting in (too much) of a mess.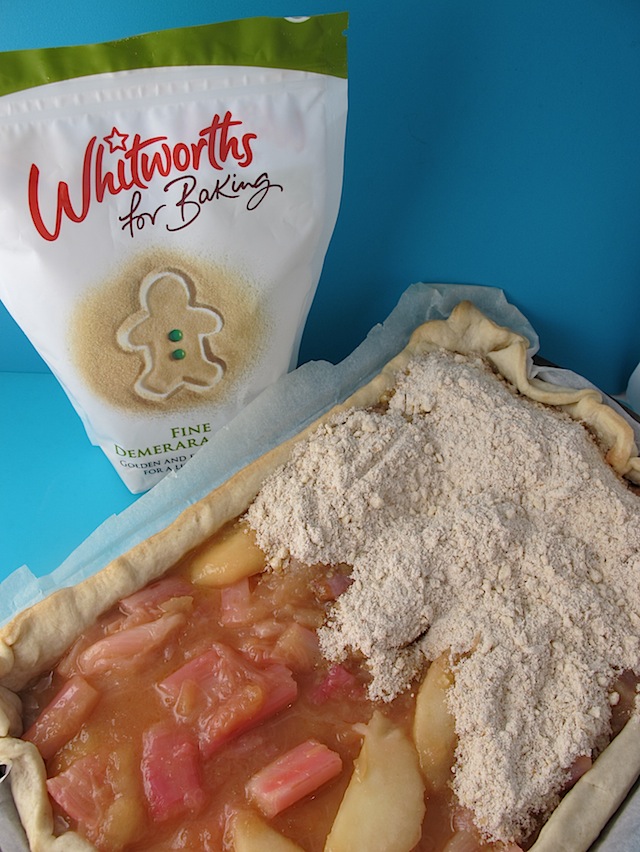 Crumble is also ideal for me to use some of this Whitworth's fine demerara sugar for a light golden colour. If I wanted a more textured crumble I might use the standard demerara. In keeping with this being a lightning fast dessert I have used pre-rolled pastry for this version however you can make your own pastry if you prefer.
Apple and rhubarb crumble slice

Serves 8-10

Ingredients:
100g wholemeal flour
75g plain flour
50g wheatgerm (optional – you can use more flour if you have no wheatgerm)
100g butter cut into cubes
50g Whitworths fine demerara sugar
1 pack of pre-rolled shortcrust pastry (such as Jus-rol)
1 cooking apple, peeled and chopped into segments
5 sticks of rhubarb, cleaned and chopped into chunks.
50g Whitworths caster sugar

You will need a baking sheet lined with parchment paper – approximately 8 x 12 inches and some baking beans.

Directions:

1. Preheat the oven to 180c or gas 4. Remove the pre-rolled pastry from the fridge.

2. Blend the flours, sugar and butter using a quick whizz in the food processor. You can rub the mixture in with your hands if you prefer.

3. Using a large saucepan, heat the chopped fruit and sugar with a couple of tablespoons of water. Cook over a low heat for around ten minutes until the fruit is starting to soften. Allow to cool slightly.

4. Unravel the pre-rolled pastry and use it to line the baking sheet. Pinch around the edges to make a rectangular tart case. Line the tart case with more parchment paper and fill it with baking beans. Bake in the oven for 15 minutes.

5. Remove the baking beans from the partially cooked tart case and decant the fruit into it. Cover with a generous layer of the crumble mix. You can sprinkle over some extra sugar if you wish.

6. Bake for a further 15-20 minutes until golden brown. You can serve immediately with custard or allow to cool and serve on its own.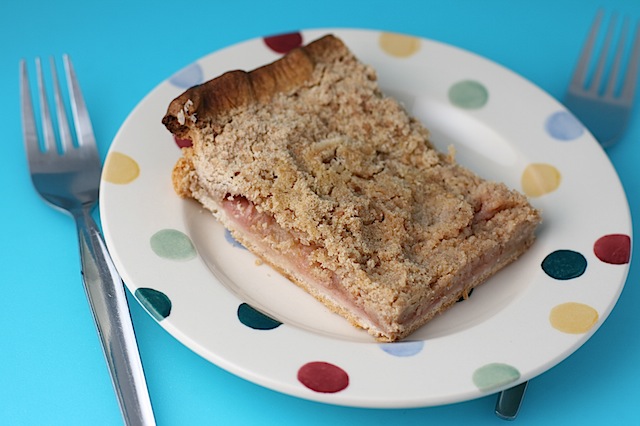 This post was sponsored by Whitworths in conjunction with their series of Twitter competitions throughout February. There are two Twitter contests still happening between now and the end of the month. Just make sure you use the right hashtag for each week.
How to enter

1.       Follow @WhitworthsSugar

2.       Each week @WhitworthsSugar will ask their Twitter fans a different baking related question, all you have to do to enter is tweet your answer with the well-themed hash tag.

 

Week 3 (16th – 22nd February)

We all love home baked goods, but what's your favourite? Tweet using #LoveHomeBaking'

Week 4 (23rd – 28th February)

Imagine being stranded on a dessert island, you've got your luxury items, perhaps a bed, a good playlist and a note pad, but what baked treat would you take with you if you could take only one? Tweet using the hash tag #DessertIslandBake

Each Friday one lucky person will be chosen at random to win a Whitworths goody bag (3 in total), this winner will be chosen from the previous week's entries, the requirements are that

1.       They are following @WhitworthsSugar

2.       They have used the correct hash tag for that week (see above).
Good luck!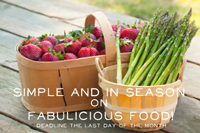 I am sending this apple and rhubarb crumble slice recipe to Ren's Simple and in Season event which this month is hosted by Caroline at Cakes Crumbs and Cooking.