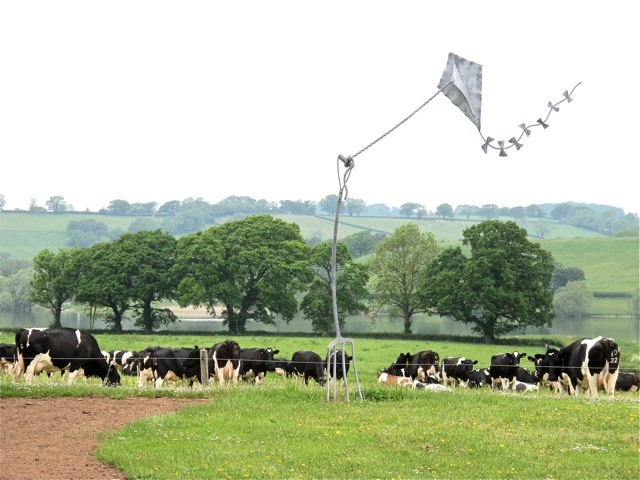 Take one balmy interlude between a heat wave and a decidedly un-flaming June and imagine yourself transported to the rolling hills of Somerset.
"Yeo Valley" is not the actual name of the idyllic fields sweeping upwards from Blagdon Lake however as the base for the dairy farm producing products of the same name, it's one that has stuck.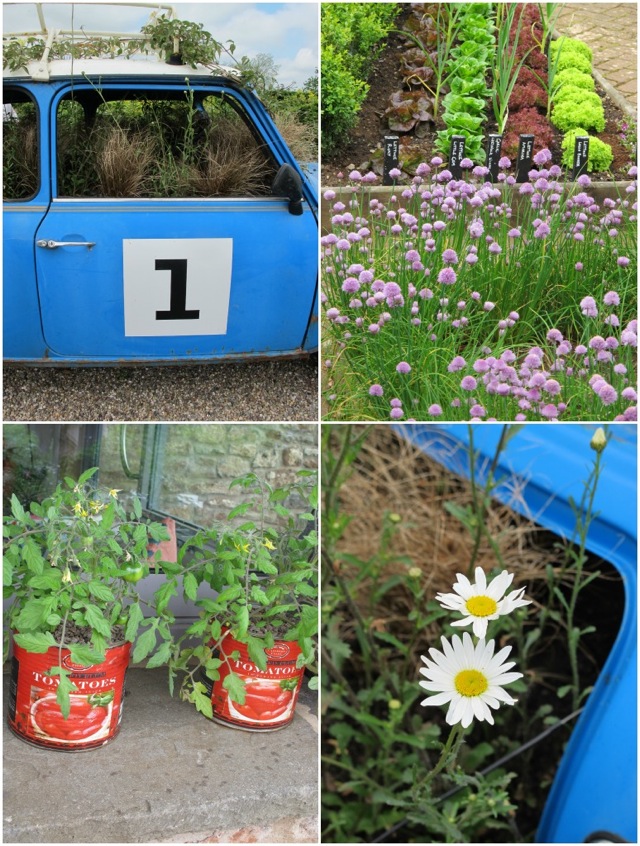 Although famous across the nation since the late nineties for their organic dairy products, few people dipping spoons into their pots would be aware that Yeo Valley has been going for over fifty years.
Not only that but direct ancestors of the Mead family owners have been farming in Somerset since the fifteenth century.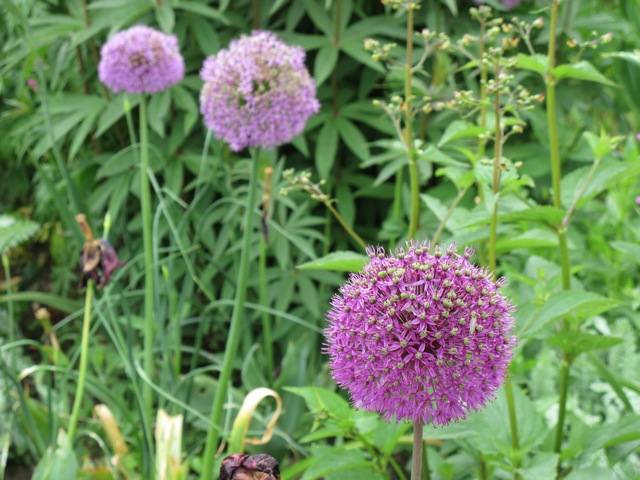 Yeo Valley's Organic Garden at Holt Farm has expanded over the past 18 years into a six and a half acre gardener's paradise with tea rooms open to the public since 2010.
I joined a group of bloggers to visit the gardens and get a taste of the Yeo lifestyle myself.
The unpredictable weather had skewed the seasons at Yeo Valley however there were more flowers to be seen than my previous visit to the garden at Le Manoir.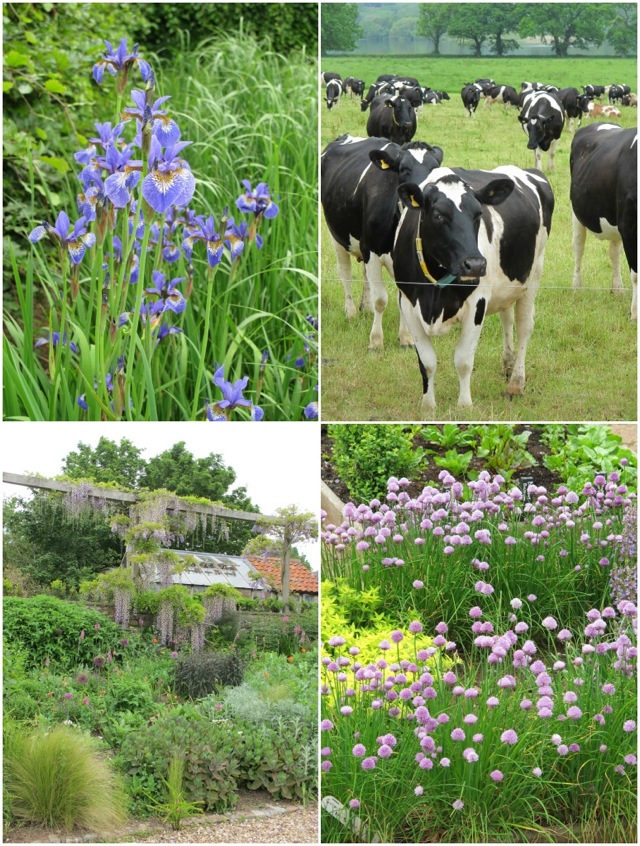 I should probably point out that I only have a recreational interest in gardens – I love sitting in the results but you're unlikely to find me poking about in beds with trowels and waving watering cans.
So a carefree walk around the grounds that muggy morning was just the ticket and ended with the highlight of meeting a field of Yeo Valley's British Friesian cows.
They've always farmed Friesians at Yeo Valley – whilst other farmers switched to other breeds producing higher yields of milk, Yeo stuck with their iconic black and white herd who live longer and are better suited to their grass-based farming system.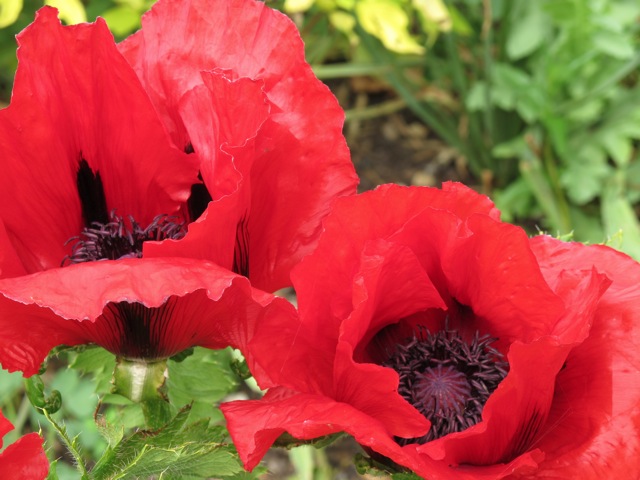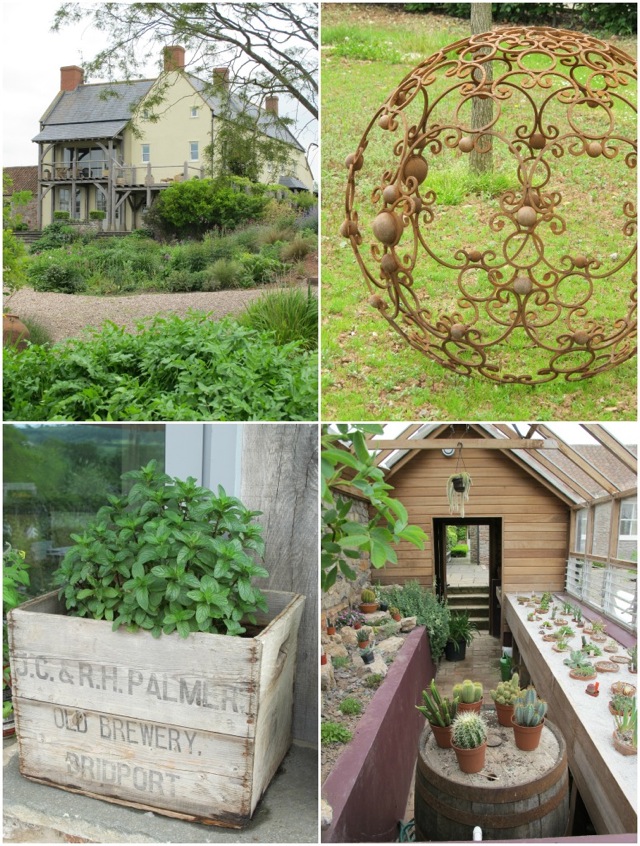 After touring the garden we returned to the quirky tea rooms.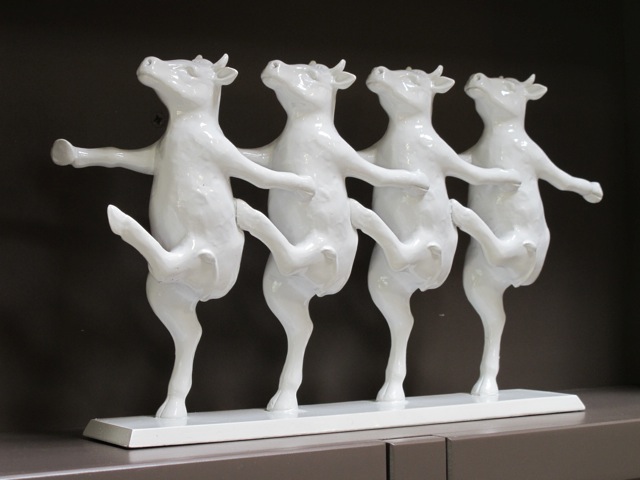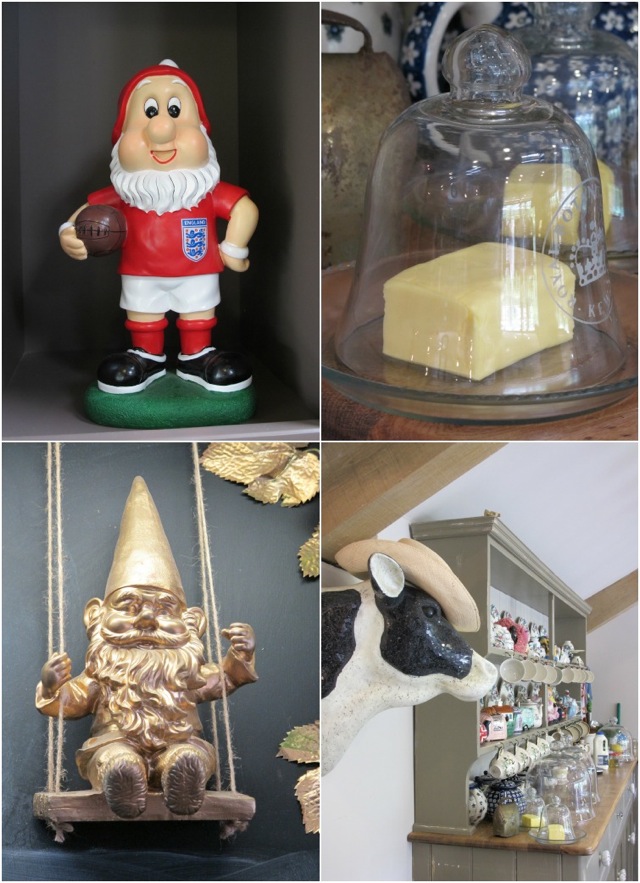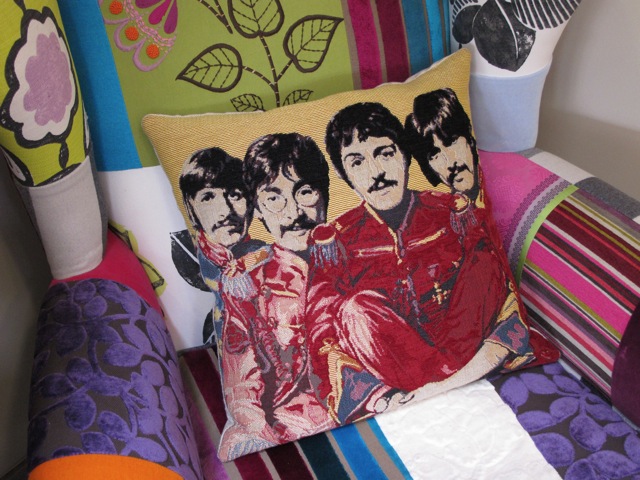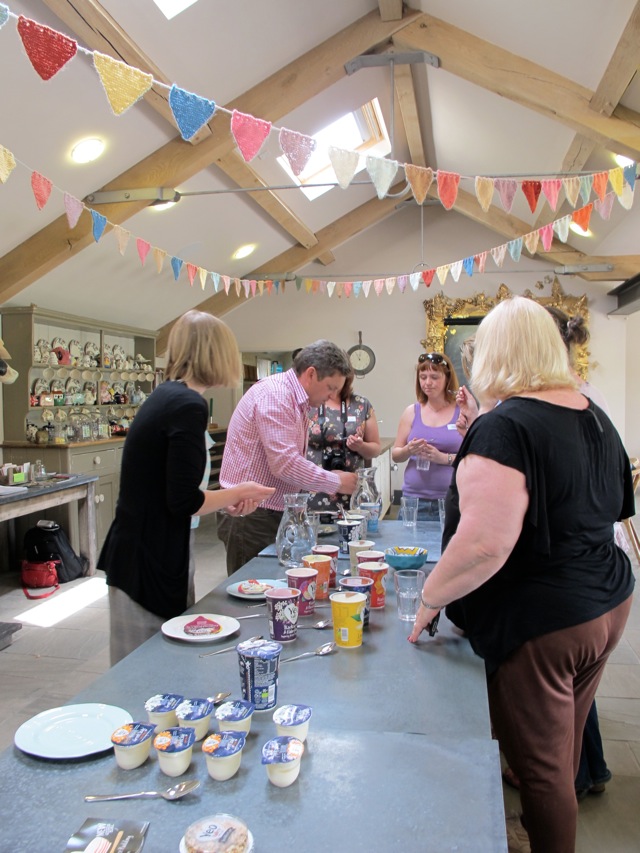 Lined up for our delectation were nearly twenty varieties of what the company have now affectionately renamed "Yeogurt".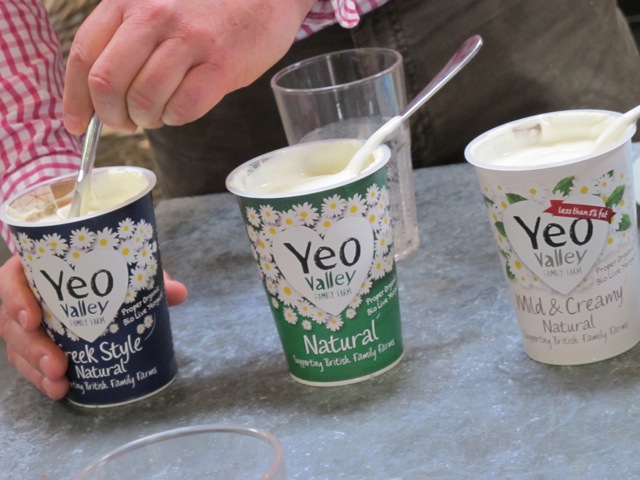 Side by side we were able to compare the sparky Natural alongside 0% fat varieties and build up to the thick Greek Style.
Working our way through all the flavours, lemon curd and Greek Style with coconut were my particular favourites.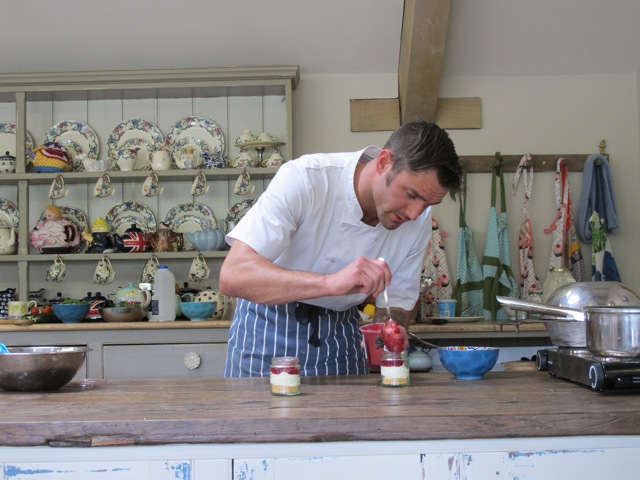 After the tastings it was time for a demonstration of yogurt recipes from Yeo Valley's chef Jaime. As well as showing us the versatility of Yeo's yogurt to make ricotta cheese and dessert, he also demonstrated tea smoked trout and how to make sour dough bread.
We were all given a pot of sour dough starter to take home. I must confess, despite following the care instructions I quickly killed mine (as I generally do) and felt terribly guilty because it was created from a 25 year old batch.
So I never managed the pleasure of baking at home my own pillowy sour dough with a fluffy texture close to mashed potato and deep hop aroma. It was not a loaf I'll forget in a hurry!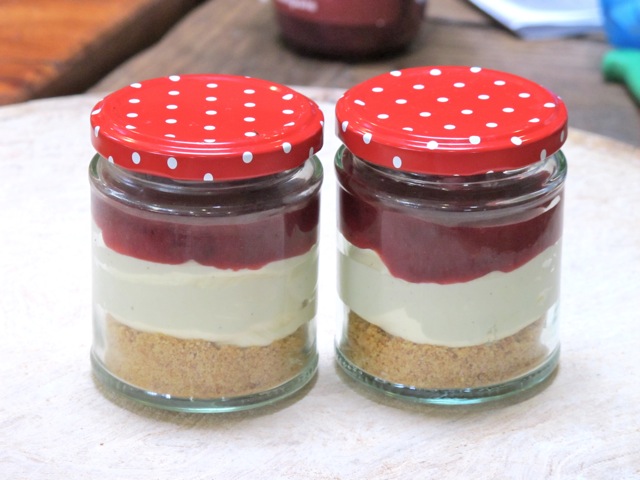 I was especially taken with these strawberry cheesecakes in a jar… You can find Jaime's recipe on Yeo's site here and if you are not already following me on Pinterest, do check out my board there "Lovely things in jars".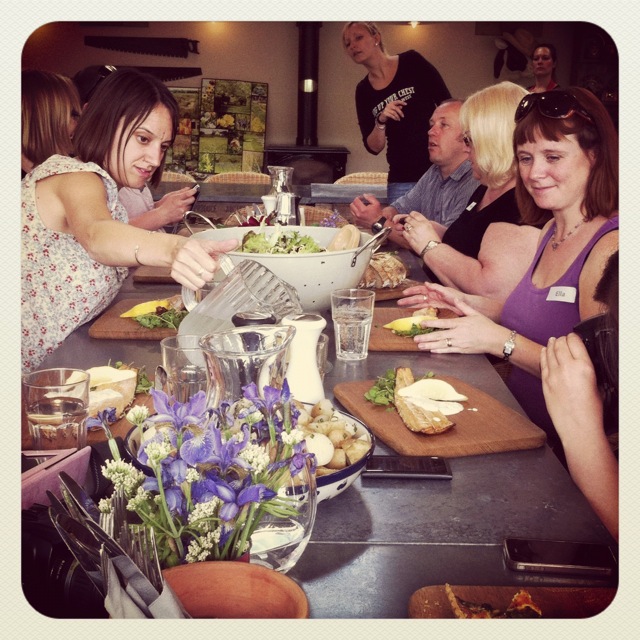 By now, despite the earlier yogurt snacking we were all tormented by hunger brought on by watching the cookery demo.
We enjoyed a feast of heritage tomato salad, potatoes and Jaime's trout, the sour dough and cheesecakes.
Find out more about visiting Yeo Valley's Organic Garden at Holt Farm at theorganicgardens.co.uk
Opening times vary according to season so do check ahead before making the trip.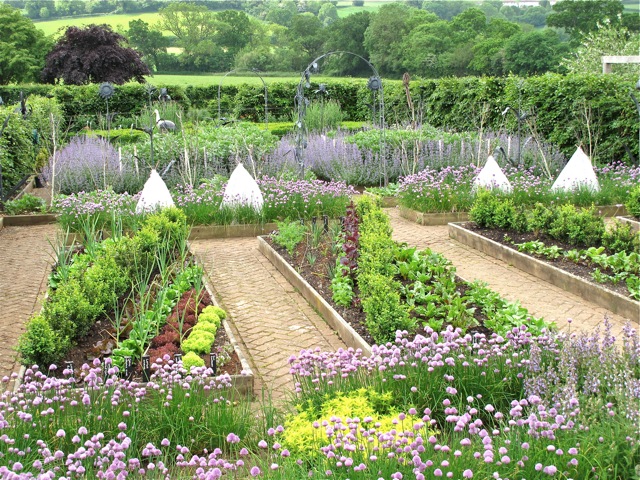 With thanks to Yeo Valley for the trip and gigantic gift of Yeo-gurt.