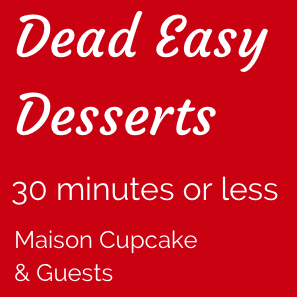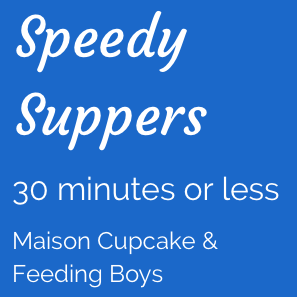 The latest Speedy Suppers is currently running at Maison Cupcake until Aug 29th theme PICNICS
The latest Dead Easy Desserts is currently running at A Slice Off Me until Aug 29th theme STRAWBERRIES.
Future hosts for Dead Easy Desserts
To volunteer, email me at "sarah AT maisoncupcake DOT com". See existing schedule of future hosts below.
Future hosts for Speedy Suppers
Usually alternates between Maison Cupcake and Katie at Feeding Boys. Volunteers also welcome!
How to enter
When: Usually 1st to 29th; display respective badge in post and add URL to the linky.
Speedy Suppers: Blog any savoury dish ready inside 30 minutes (check announcement for theme that month); link to this page and co-host Katie at Feeding Boys.
Dead Easy Desserts: Blog any sweet dish ready inside 30 minutes according to that month's theme. Link to this page and the guest host if any.
Important: If you use or adapt a recipe from elsewhere please give credit. Images in submitted posts may be used in Pinterest pins and group boards. One image per post will appear in the round up. Sharing your entry with multiple events is fine by me.
I aim to retweet any entries using #deadeasydesserts #speedysuppers hashtag that @ mention @maisoncupcake on Twitter.
Enjoy your Speedy Suppers and your Dead Easy Desserts and have fun taking part!
Dead Easy Desserts archive and future hosts: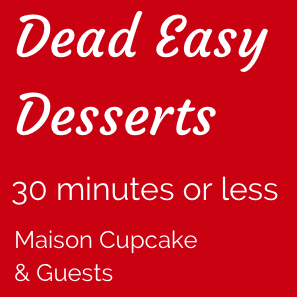 #12 Jan 2015 hosted by Blue Kitchen Bakes
#11 Dec 2014 hosted by Croque Maman
#10 Nov 2014 hosted by Taming Twins
#9 Oct 2014 hosted by Franglais Kitchen
#8 Sept 2014 hosted by Elizabeth's Kitchen Diary theme hot puddings
#7 August 2014 hosted by Manjiri Slice Off Me theme strawberries Round up
#6 July 2014 hosted by Maison Cupcake theme raspberries Round up
#5 May 2014 hosted by The Spicy Pear – Round up
#5 April 2014 hosted by Utterly Scrummy – Round up
#4 March 2014 hosted by Maison Cupcake – Round up
#3 Jan 2013 hosted by Maison Cupcake – Round up
#2 Dec 2013 hosted by Maison Cupcake – Round Up
#1 Nov 2013 hosted by Maison Cupcake – Round Up
Speedy Suppers archive: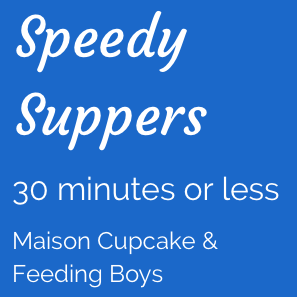 #9 Oct 2015 hosted by Maison Cupcake – theme cheese
#8 Sept 2015 hosted by Feeding Boys – extended into Oct
#7 August 2014 hosted by Maison Cupcake – theme picnics – Round up
#6 July 2014 hosted by Feeding Boys – theme Salads – Round up
#5 June 2014 hosted by Maison Cupcake – theme Pasta Please – Round Up
#4 May 2014 hosted by Feeding Boys – round up
#3 April 2014 hosted by Maison Cupcake – round up
#2 March 2014 hosted by Feeding Boys – round up
#1 Feb 2014 hosted by Dinner With Crayons – round up