This giveaway is now closed. The winner was Catherine Whittall, Shropshire.
We all need bigger pots to cook in at this time of year, Christmas Day sees me with a kitchen strewn with a series of bowls and saucepans trying to accommodate everything when the reality is, only one of my saucepans is big enough.

There's plenty of room in this 24cm stock pot with an attractive copper-coated bottom to evenly spread the heat. A glass lid means you can keep an eye on the progress of your cooking and it's suitable for use on electric, gas and ceramic hobs.

Find out how to win one of these 24cm stainless steel copper-coated bottom stockpots below but first here are some Christmas goodies on sale this year in Sainsbury's.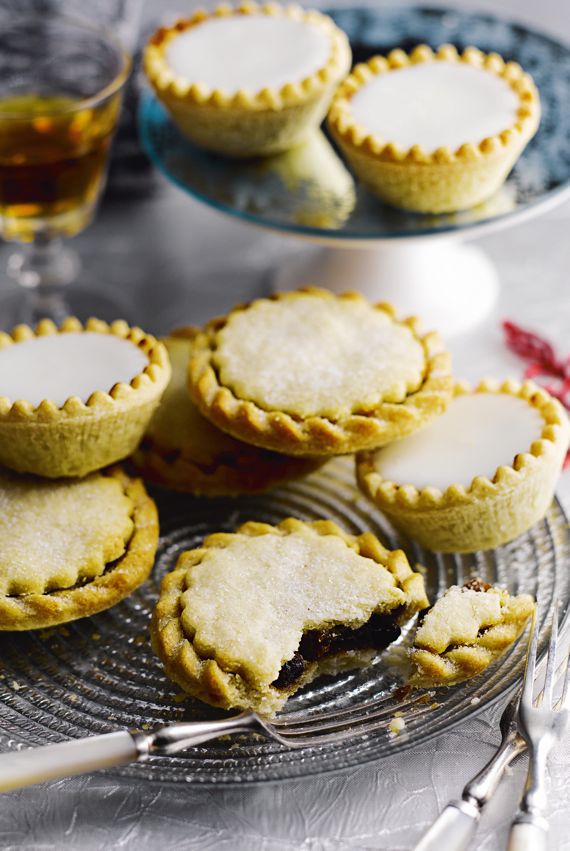 Going gluten free is not a medical necessity for me but I like to eat alternatives to wheat wherever possible. Sainsbury's recently offered me the chance to sample some of their Christmas products and it was the Free From Mince Pies that leapt out at me from the list.
I did not choose these with any great hopes but was pleasantly surprised. In fact I'll go as far to say that I liked them more than the usual kind – or at least the usual kind of compulsory cheap ones that get handed out everywhere at this time of year. Free From baked goods are a great deal more expensive than the wheat versions but I really enjoyed these even if they work out ridiculously more expensive than home made ones. Having said that, I've not made successful wheat free pastry so if you want gluten free then they're worth it.
Retailing at £1.99 for four, I might not have paid this without knowing in advance whether they were any good but be reassured – they are.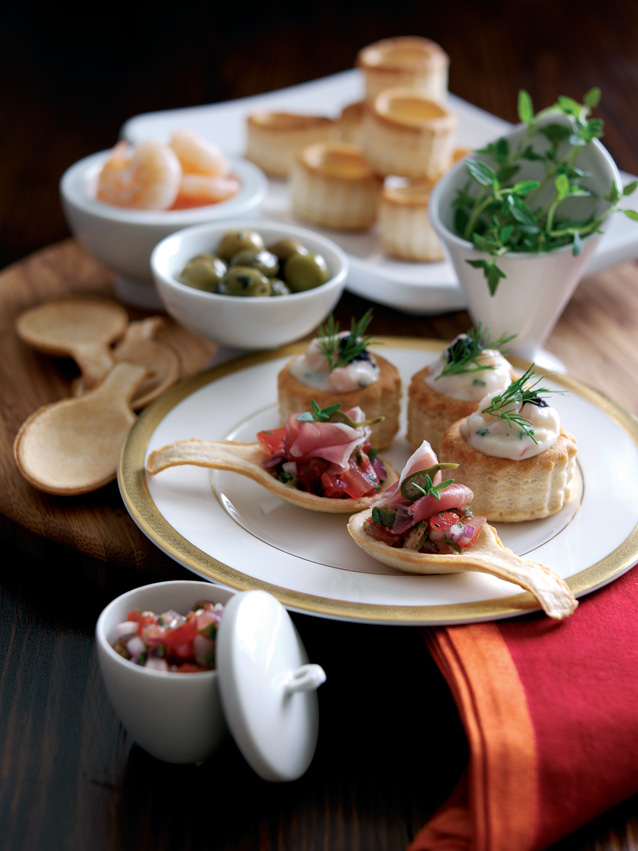 Party canapes come in a range of pies and parcels, there was a risk of death by pastry but I'm pleased to report that most were extremely good with exceptionally short and light pastry. My favourites were:
Filo prawn "cracker" – not a puffed thing from the takeaway, a filo wrapped prawn in the shape of a Christmas cracker. Good fun!
Mini chicken and bacon pies (frozen)
Steak and ale pies with suet pastry cases
Thai fish cakes
I was less impressed with the Fish and Chip Cones which came in mock newspaper cardboard tube. I don't know about you but I prefer a canape to be entirely edible and if I was after these, I would instead select the Waitrose version seen in this post.
I had mixed feelings about the savoury canape spoons (seen above, £1.99 for 42g worth), apparently made by Belgian patissiers. They are sold in boxes for you to add your own toppings but I found them so hard I was worried about damaging my teeth. A fellow blogger loved them though. I think they'd be good for serving spoon canapes but personally I'd be sucking the fillings off and leaving the edible spoons behind. At least they won't snap or get soggy though.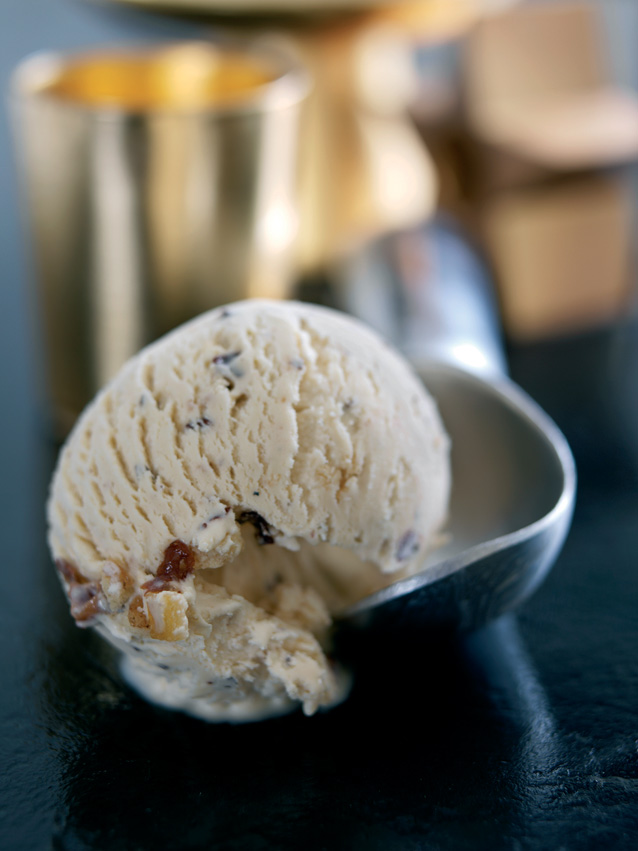 Hero product of the evening was probably the Taste the Difference Mince Pie Ice cream. Made with Jersey cream and "as if Taste the Difference Mince Pies had been crumbled in it". This dessert is quite rich so don't get any bright ideas and serve it with actual mince pies, you'll probably explode. Served alone, it's a treat I can imagine having curled up in front of the TV in the evening.
Amusingly I made mince pie ice cream on my blog last new year.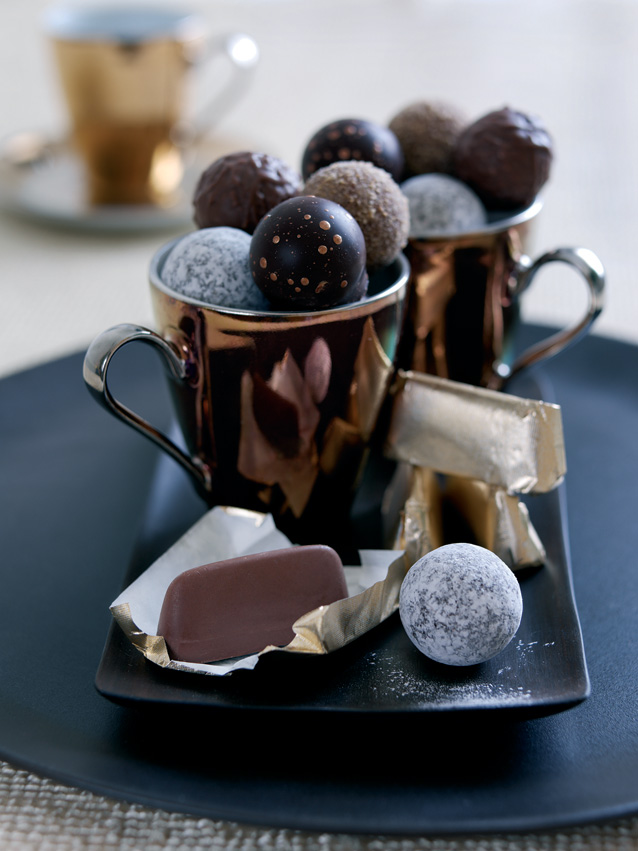 Sadly by the time the Taste the Difference Truffles came out, we were all ready to roll home. A pity then that I only tried one. You get a selection of different coated ones in a pack.
This is as good a time as any for me to tell you to book your Christmas food shopping slot if you haven't already. Normally I'm fighting in traffic only to find bare shelves with lonely sprouts and Eat Me dates rolling about on Dec 23, but this year I have done the sensible thing and booked a shopping order for December 22.
So far I've only checked out with a case of beer and some parsnips but my slot is booked at least and I will keep amending it a bit at a time until the night before. If this sounds like sucking eggs to you then please accept that I am an online food shop newbie, I tried it years ago when the interweb was slower than a snail stuck in treacle and it's only in this cold snap that I've had another go.
Of course it could all go horribly wrong if we get big falls of snow on the day the little van is due to arrive. But we won't think about that.
Finally, the last time I shared news of a competition on here, a reader entered as well and won a Kitchenaid. But I'm not bitter. Lightning won't strike twice. Sainsbury's (yes them again) are running a competition called The Perfect Christmas that you may have seen on TV, the one that looks like it's set in Emmerdale with carol singers.
You nominate your street and ask all your friends and neighbours to do the same. The 25 streets with the most votes go into a shortlisting and one will get to have their street turned into a winter wonderland with fake snow, carol singers, hampers of food and Jamie Oliver with a fake beard and red and white outfit. Hang on, no, I made that last bit up.
It closes this weekend so you better jump to it if you want to enter. Call me selfish but I've deliberately not told you about it until now because I've made no secret of wanting to win. Sigh, if only my street were pretty or unusual enough… I suspect as a bog standard Victorian terraced cul de sac we don't stand a chance.
If you do win, please invite me.
Sainbury's Different by Design stockpot giveaway:

There is one mandatory way to enter and several ways to get bonus entries.

This giveaway is open to readers with UK mailing addresses. Readers from overseas are welcome to enter provided they can give the UK mailing address of a friend to receive the gift on their behalf with any onward delivery being at their own cost.

The winner will be chosen using an online randomiser and announced in a subsequent post on this blog – the winners of several of the 12 giveaways will be will announced together across 2-3 posts according to their closing dates.

To win:

1. Mandatory. Leave a comment below saying what your fantasy party canape would be.

2. Second chance to win, tweet a link to this giveaway as follows: "Win Sainsbury's big fat Stockpot @maisoncupcake" WITH A LINK TO THIS POST as it may no longer be the home page item if you enter later this week. Then leave a second comment saying you've done so telling me your Twitter ID.

3. For a third chance to win, follow this blog on Google Friend Connect in this blog's side bar and then leave a further comment saying you have done so.

You must leave a further separate comment for each bonus entry otherwise they cannot be selected in the draw.

Closing date: midnight GMT on Wednesday December 15th 2010.

The winner will be notified by email. If the winner does not reply within 48 hours, a new winner will be drawn.

Good luck everyone!

Prize sponsored by Sainsbury's
Also up for grabs during the Maison Cupcake 12 Days of Christmas Giveaways:
Waitrose Christmas goodies RRP £35 Closes Dec 12
Green & Black's Ultimate Chocolate Chef gift set Closes Dec 13
Nigella Living Collection Measuring Cups Closes Jan 16 (bloggers' competition, international)
Alex Polizzi's Little Black Book of Hotels Closes Dec 14
Interflora Christmas Hamper RRP £100
Books from Octopus
Cookware from Jamie Oliver and Mum et Moi
Chocolate from Matcha Chocolat
Spices from Steenbergs
and more!
Don't forget to come back tomorrow to see which prize is next!