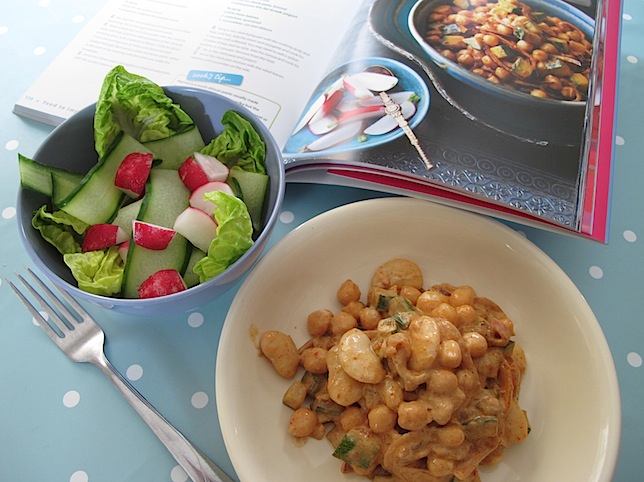 Following on from yesterday's review of Weight Watchers' Seriously Satisfying, here is a dish from the book.
Although I naturally took some interest in the puddings, it's actually a spicy salad dish which I'm sharing.
Harissa Chick Peas appealed to me as it was more "worldly" than recipes I've usually seen in Weight Watchers' books. As I said yesterday, there were several stand out dishes in this title with an international flavour.
I made a couple of changes to the printed recipe; I had half a tin of butter beans sitting in the fridge so did a mix of these with chick peas and I used oh so naughty 2% fat Greek yogurt instead of 0% as stated. But you won't tell anyone will you?
Harissa is a north African paste made from chilli, tomato and paprika, you often find it in the world foods aisles of supermarkets. This makes a simple lunch that could be served warm or cold.
This dish took less than 15 minutes to make and in larger quantities it would be suitable for parties.
If making again I would add maybe some tumeric and cumin to give more depth – although possibly another brand of harissa might have been more rounded.
I used 1 teaspoon less than stated here but still found it very firey – this warning comes from someone who likes hot stuff!

So share with me folks – do you like hot stuff? Tell me what else I can do with my left over harissa?
Harissa Chick Pea Salad

Serves 2, takes 15 minutes

11 Propoints values per recipe

Ingredients:

low fat cooking spray

1 red onion, sliced thinly

1 courgette, diced

4 teaspoons of harissa

400g can of chick peas, drained

4 tablespoons of 0% fat Greek yogurt

To serve:

Little gem leaves

3 radishes, quartered

1/2 cucumber, cut into ribbons

Directions:

1. Spray a non stick frying pan with the cooking spray and heat until hot. Add the onion and courgette and cook for 5 minutes until softened. You may need to add a splash of water if they start to stick. Add the harissa and cook for another 2-3 minutes. Remove from the heat.

2. Stir in the chick peas and yogurt.

3. Serve the chick pea mixture with the salad leaves, radishes and cucumber on the side.
Reproduced with permission from Seriously Satisfying by Weight Watchers. Published in paperback by Simon & Schuster, available in Weight Watchers meetings. You can also get it from Amazon.