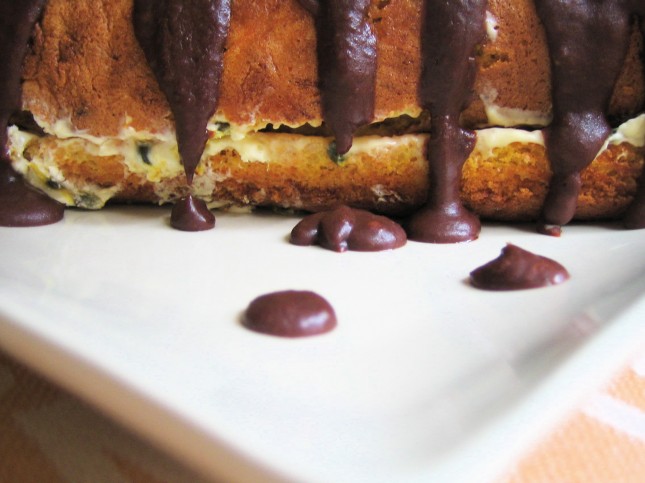 You know you've been around a bit when you start blogging from your archives… this chocolate and passionfruit roulade initially featured on my site during its first three months.
It was also one of the first posts I did after the food photography workshop at Scandinavian Kitchen.
Over night I had improved pictures but didn't "get" how blog events worked.
I'd recently had my first ever comment although I wasn't familiar with or visiting any other UK food blogs. It was the American baking sites that got me hooked, I was a big fan of She"s Becoming Doughmesstic and Recipe Girl, I'd not yet seen anything as ambitious in the UK.
I kept seeing posts headed "Tuesdays with Dorie" or "Daring Kitchen" but didn't realise these were being blogged by more than one person (I know – you can laugh). I invented a challenge of my own called "Bake Five", to bake five recipes from a specific book per month.
It wasn't a concept I stuck with for long, I featured five recipes each from Rachel Allen's Bake, a Donna Hay book and Harry Eastwood's Red Velvet Chocolate Heartache. Ironically, the main reason I stopped "Bake Five" was I thought it would be outlandish to buy a new baking book every month… this was before I had publishers emailing me with offers to review their (sometimes good, sometimes lousy) books.
Only when I noticed several sites publishing Daring Bakers' recipes all on the same day did the penny drop that food blogging was a community activity.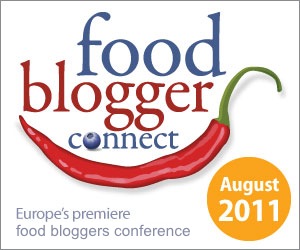 Around the same time I attended the first ever Food Blogger Connect, an event I'm delighted to also be attending this summer at The Hempel in London.
FBC has come a long way since that first meet up in a dark restaurant one rainy Saturday afternoon. Last year's 3 day event set the template for what is now a conference to rival BlogHer Food and other events taking place in the US.
Scribbling down notes and listening to presentations from bloggers like Jaden of Steamy Kitchen and Meeta from What's For Lunch Honey, I firmly believe my site would not be what it is today had I not attended these events.
Admittedly £300 for a conference is a lot of money, but if you were passionate about a hobby like skiing, you'd happily spend £300 on a weekend's ski trip. Plus there's nothing to stop you getting a brand to sponsor the cost, or part of the cost of your ticket – as is commonly done by bloggers going to the UK parenting blog conference Cybermummy.
An event like Food Blogger Connect is fabulous for meeting other bloggers, exchanging ideas and broadening your knowledge about blogging.
I'm always reviewing where I want my site and spin off activities to take me and am giving a lot of thought to this at the moment.
I'm not in a position to say much more at the moment but one thing I will say is that although it might seem like I'm publishing like crazy lately, this is a means to an end. I have tried on a few "outfits" shall we say, over the past few months and some of these are designer numbers I'll cherish in my wardrobe for years to come and others are throwaway Primark junk.
I'm going to take a blog break from mid to late July then throughout during the summer holidays and when I come back there will be some changes.
Did you know where your blog would take you after three months? Did it end up some place else?
Food Blogger Connect 2011 takes place in London, 12-14 August. For more details visit foodbloggerconnect.com (site no longer available) and to see what it was like last year check out these posts:
"a taste of Food Blogger Connect"
"the food at Food Blogger Connect"
"friends old and new at Food Blogger Connect."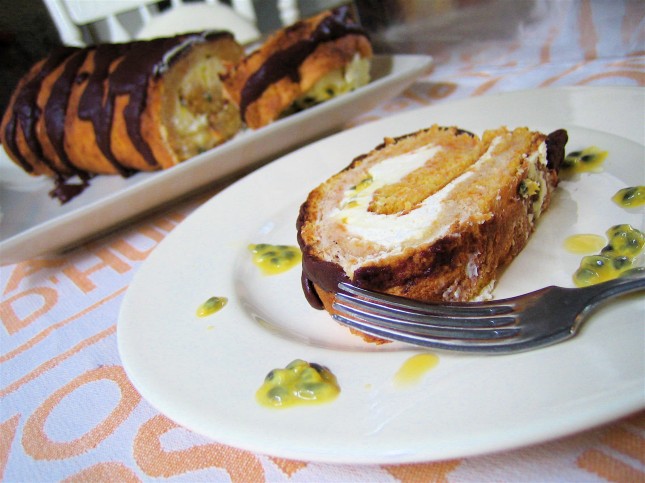 This cake was initially published here in November 2009. I am republishing it to submit to this month's We Should Cocoa currently hosted by Chele with the theme "swiss rolls and roulades." (site no longer available)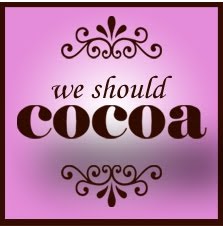 It's been a few months since I could enter anything to We Should Cocoa yet its organisers Chele and Choclette often participate in Forever Nigella so I wanted to return a bit of the love – although I was unable to make anything new – shock horror, call yourself a cake obsessive? I've barely baked anything since the middle of February – I realised I had something in my archives that a) hit the spot perfectly and b) probably hadn't been seen by many people first time round. Voila!