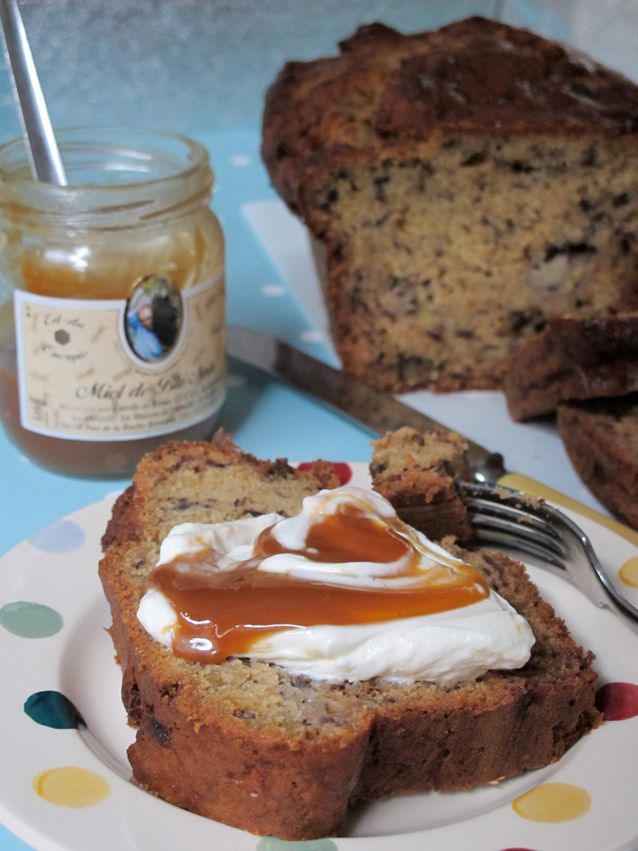 Banana bread topped with greek yogurt and Brittany honey
This is a post about banana cake but first we must talk about croquembouche.
Inhaling bridal magazines by the kilo, I was on a quest for a specific type of cake; French croquembouche spun sugar covered profiterole towers as seen at a family wedding in Lyon fifteen years earlier.
Today, I would probably find one easily, heh I might even be nuts enough to try and make a croquembouche. Visiting a huge wedding fair, enquiries were met with a sharp intake of breath and a comment about every French village having a patissier who would effortlessly conjure one up… but in the UK, forget it.
Croquembouche, everyone said, need to be made at the very last minute. You cannot drive them 100 miles up the M40 near Birmingham because the cream inside the choux pastry buns will go soggy and collapse. Apparently.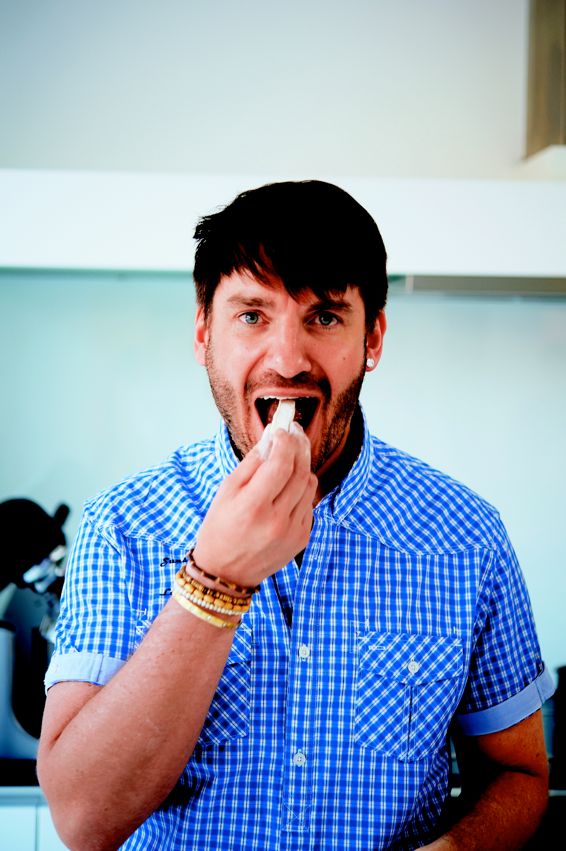 So you can imagine my joy when at another stand I met my fantasy croquembouche and a French master patissier who made them; it was Eric Lanlard of Savoir Design and more recently Cake Boy and Channel 4 series Glamour Puds.
"But of course," he said with a confident Gallic shrug, scoffing at the notion of sogginess and had even delivered cakes to virtually the same place before.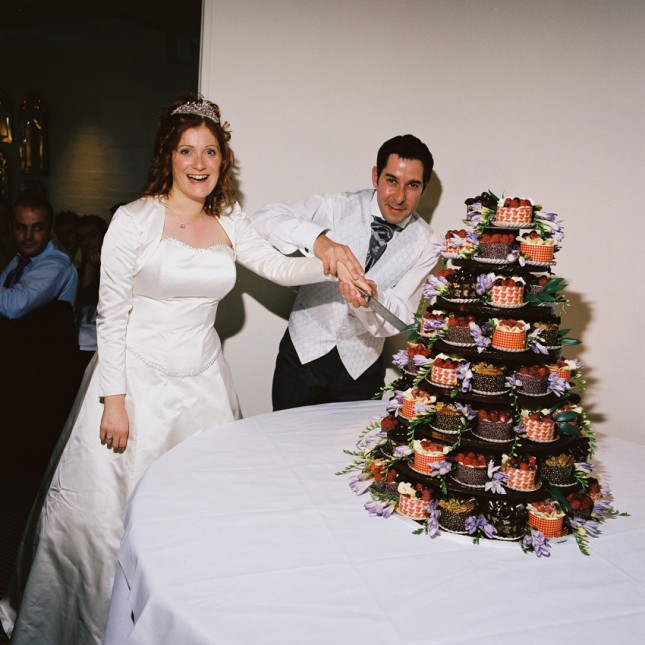 As it happened, my best woman and I toured the rest of the show and on our return to Eric's stand, we came face to face with the splendid tower of desserts you see in the photo above. Croquembouche schmockombouche, pah, what we really needed was a chocolate tower of individual cheesecakes and chocolate fondant puddings wrapped in chocolate collars with printed patterns on them and decorated with flowers. As you do.
The cake was without a doubt, the high point of the day, two guests even ordered from Eric for their wedding too.
With these happy cakey memories, I was delighted to be asked to review a copy of Eric's latest book Home Bake.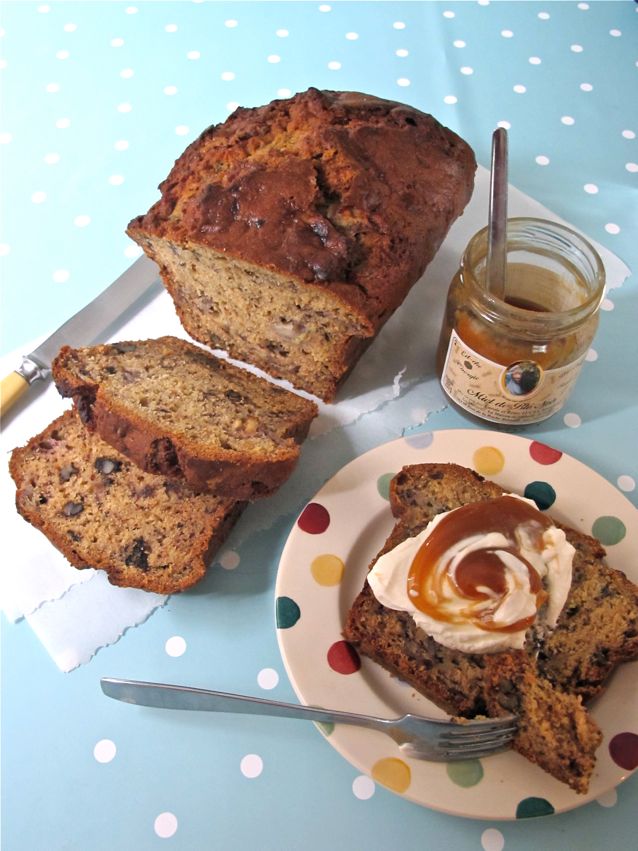 Book Review: Eric Lanlard Home Bake
Home Bake is Eric's second book, following on from Glamour Cakes. As the title of this one indicates, it offers the kind of cakes you can make at home rather than coffee table dreams for A-listers.
In this practical selection, Eric shares a range of straight forward cake and pudding recipes such as lemon drizzle, victoria sponge and madeleines and apple charlotte. Food blog style, there are plenty of step by step photos to help you along.
To give you an idea what to expect, here's what you find in the meringue chapter: Italian and Swiss meringues, Macaroons (oddly not referred to as macarons), Marshmallow Strings, Pavlova, Eton Mess, Baked Alaska and Lemon Meringue Roulade. As well as classic sponges, there are also chapters on muffins, cupcakes, traybakes and festive recipes.
It's a good mix of standard recipes such as classics like Pear Tarte Tatin and Bakewell Tart, stalwarts in Eric's own style – Classic "Cake Boy" vanilla or chocolate sponges – and more original treats such as Salted Butter Caramel Mousse with Mini Pears and Blondies with Peanut Butter. There are also several flour free cakes.
It's a generous size, over 200 pages, although if you've already got a lot of baking books, possibly too much repetition of classics here to be worth adding it to your collection. But certainly there's justification to make space for it since at least half of the recipes are more unusual and the photography and styling are attractive.
The preambles to recipes are very short, this isn't a chit chatty book but it's a very good looking one with solid content. I will definitely bake more things from this book and the Toffee and Apple Sauce Muffins are right up there on my list.
Eric Lanlard Home Bake is published by Mitchell Beazley priced £20, hardback.
My first choice was to try was the banana cake from the sponges chapter. I didn't have massive expectations since banana cakes tend to be pretty similar. This cake impressed me, it was a majestic size, rises heroically in the oven and slices into fat moist tranches without crumbling. You could walk into any bake sale proud with one of these under each arm.
Another reason for choosing this recipe was the suggestion that you accompany it with fresh Greek yogurt – handy since Total had just sent me a month's supply of it – and maple syrup. Instead of maple syrup I opted for this dark honey you see above which I had bought on holiday in Brittany. Since Eric hails from Brittany I think this most appropriate!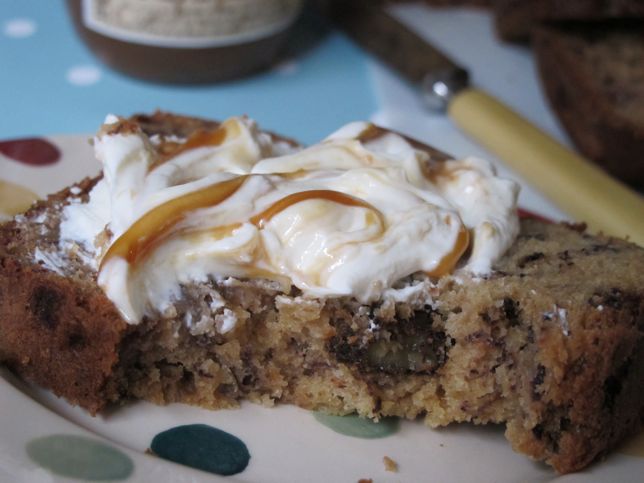 "Cake Boy" Eric Lanlard's Banana Cake from Home Bake
Recipe reproduced with permission

Serves 8 (I think this is very generous indeed, this is a big cake)
Preparation time: 20 minutes
Cooking time: 1 hour

Ingredients
125g (4.5 oz) unsalted butter, softened, plus extra for greasing
175g (6 oz) unrefined soft brown sugar
2 eggs
300g (11 oz) plain flour
1 tsp bicarbonate of soda
150ml (5 fl oz) milk
3 medium very ripe bananas, peeled and mashed
1 tsp vanilla extract
1 tsp poppy seeds
75g (2.75 oz) walnut halves, chopped
50g (2 oz) dried banana chips (I omitted these)

Directions
1. Preheat the oven to 180c (fan 160c/350f/gas mark 4). Lightly grease a 25 x 11 cm (10 x 4.25 in) loaf tin with extra butter.
2. Cream the butter and sugar together in a large bowl using an electric hand whisk until smooth. Add one of the eggs and beat in well, then add the second and continue to beat well. Sift in half the flour, then add the second and continue to beat well. Sift in half the flour with the bicarbonate of soda, and mix well. Mix in the milk, then the remaining flour.
3. Fold the mashed bananas into the mixture along with the vanilla extract, poppy seeds and walnuts. Then tip the mixture into the loaf tin and level the top with a spatula. Arrange the banana chips on top of the mixture. (I missed these out)
4. Bake in the preheated oven for around 1 hour until a skewer inserted in the centre comes out clean and not sticky. Cover the top with foil if it starts to brown too quickly.
5. Allow to cool in the tin for at least 20 minutes before turning out. To serve, cut into thick slices and serve warm or room temperature.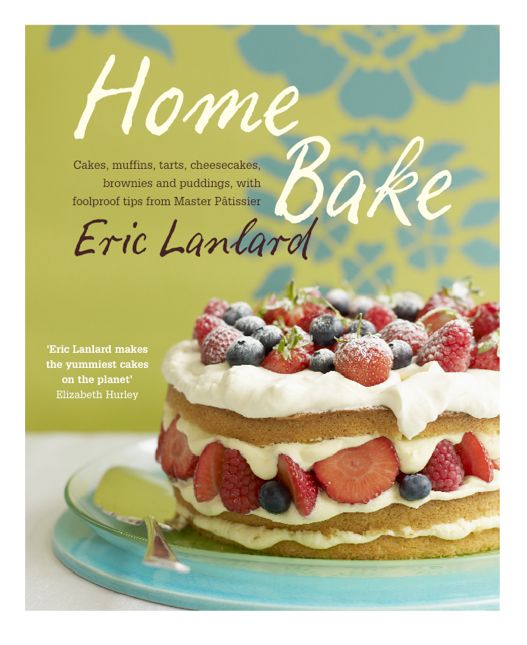 Eric Lanlard Home Bake Giveaway – Two copies to be won
This post originally featured a giveaway which is now closed. The two winners were Georgina Ingham, Staffordshire; Cristina McDowall, Devon.
Eric and Home Bake book images and prizes courtesy of Octopus books.
Also up for grabs during the Maison Cupcake 12 Days of Christmas Giveaways:
Waitrose Christmas goodies RRP £35 Closed
Green & Black's Ultimate Chocolate Chef gift set Closed
Nigella Living Collection Measuring Cups Closes Jan 16 (bloggers' competition, international)
Alex Polizzi's Little Black Book of Hotels Closed
Sainsbury's Different by Design cookware Closes Dec 15
Heinz Secret Ingredient Hamper Closes Dec 16
Chai Caramels from Matcha Chocolat INTERNATIONAL Closes Dec 17
Steenberg's Christmas Spices Survival Kit, Christmas Chai Tea and Stollen Spice Blend Closes Dec 17
Interflora Christmas Hamper RRP £100 Closes Dec 19
Mum et Moi Silicone Cake Mould Closes Dec 18
One more to go! Don't forget to come back tomorrow for the last giveaway: some pukka Jamie Oliver Kit