The giveaway is now closed. The winner was Maggy Woodley of South London.
Today's Christmas Giveaway is for a set of Steenberg's Christmas Spices Survival kit, Christmas Chai Tea and Steenberg's Stollen Spice Blend.

Find out how to enter at the bottom of this post.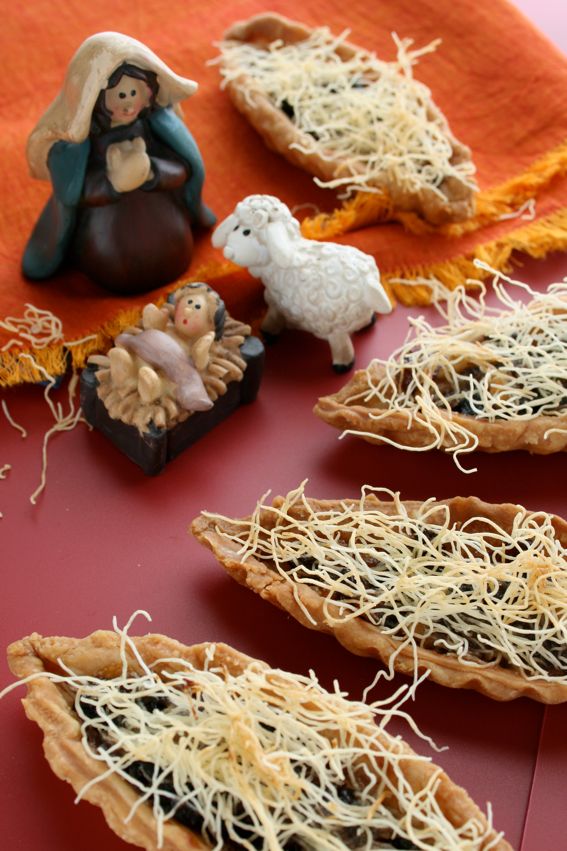 The kitchen is fuggy with Christmassy spices… today I have made Nigella Lawson's Manger Mince Pies and my first ever stollen.
I shan't be blogging the stollen just yet, the reason for which will become apparent, but I mention it because it was a German stollen recipe on the Steenberg's blog which first got me interested in making one.
Sophie and Axel Steenberg run an online organic and ethically sourced herbs and spices business. Yotam Ottolenghi is apparently a fan. They also write a jolly good blog which I was delighted to dip into and find this recipe for traditional mince meat.
Shop bought mince pies can be such an abomination that even many people who never bake the rest of the year manage to make some. Given that the traditional versions get handed out everywhere, I had a go at Nigella's Manger Mince Pies from How to Be a Domestic Goddess which are made in a barquette mould and sprinkled with shredded filo in the fashion of straw in the manger.
This is the first outing of Baking Grandma's barquette moulds. They're supposed to represent boats and are often used for little fishy tarts. Fanny Cradock was fond of them.
Possibly I am the first person to blog Nigella's Manger Mince Pies. A google search is showing up no one else who has published them and no photos either.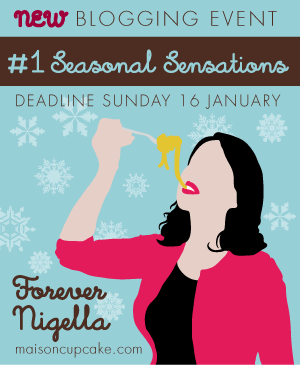 I am submitting these mince pies to my own new blogging event, Forever Nigella and in the spirit of the rules, since I have followed the recipe to the letter and there is no link elsewhere online, I merely leave you with the instructions to hunt out a copy of How to Be a Domestic Goddess to find the recipe.
…or you could just take a shortcut and make topless mince pies and sprinkle over this shredded wheat style filo pastry. It's sometimes called kofana and found in Turkish supermarkets. Snipping up sheets of filo pastry is fiddly but more easily sourced alternative.
Don't forget if you are blogging seasonal a Nigella recipe you can submit it to Forever Nigella!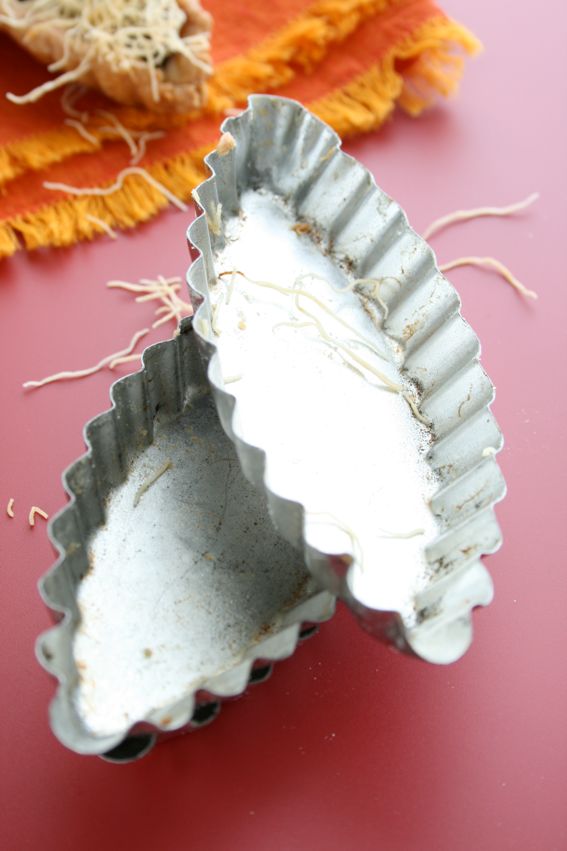 Finally, I am also submitting these to the Most Wanted Yule-Blog-Bake competition run by Vouchercodes.co.uk
If you've not used Voucher Codes before, let me explain that it is a directory of discount codes for online shopping and you should definitely check in there before you buy stuff to see if you can find one of those magic codes to put in that "discount code" box you see just before you pay for your shopping! They can help you save in many top stores including Habitat, M&S, Debenhams, Cath Kidston and White Company.
The Most Wanted Yule Blog Bake competition closes on December 13. That's today so you better hurry if you want to enter before midnight. Details here.
Steenberg's Giveaway

Steenberg's Giveaway

Today's prize is set of Steenberg's Christmas Spices Survival Kit, Steenberg's Organic Stollen Spice and Steenberg's Organic Christmas Tea. The survival kit comprises nine different pots of spices to see you through the festive season and beyond from cinnamon and nutmeg to juniper and fleur du sel.

There is one mandatory way to enter and several ways to get bonus entries.

This giveaway is open to readers with UK mailing addresses. Readers from overseas are welcome to enter provided they can give the UK mailing address of a friend to receive the gift on their behalf with any onward delivery being at their own cost.

The winner will be chosen using an online randomiser and announced in a subsequent post on this blog – the winners of several of the 12 giveaways will be will announced together across 2-3 posts according to their closing dates.

To win:

1. Mandatory. Leave a comment below.

2. Second chance to win, tweet a link to this giveaway as follows: "Win @steenbergs Christmas goodies @maisoncupcake" WITH A LINK TO THIS POST as it may no longer be the home page item if you enter later this week. Then leave a second comment saying you've done so telling me your Twitter ID.

3. For a third chance to win, follow @steenbergs on Twitter then leave a comment below saying you have done so.

I'll also throw extra entries in if you visit the Steenberg's Facebook page and "Like" it.

You must leave a further separate comment for each bonus entry otherwise they cannot be selected in the draw.

Closing date: midnight GMT on Friday December 17th 2010.

The winner will be notified by email. If the winner does not reply within 48 hours, a new winner will be drawn.

Good luck everyone!

Prize sponsored by Steenberg's
Also up for grabs during the Maison Cupcake 12 Days of Christmas Giveaways:
Waitrose Christmas goodies RRP £35 Closes Dec 12
Green & Black's Ultimate Chocolate Chef gift set Closes Dec 13
Nigella Living Collection Measuring Cups Closes Jan 16 (bloggers' competition, international)
Alex Polizzi's Little Black Book of Hotels Closes Dec 14
Sainsbury's Different by Design cookware Closes Dec 15
Chai Caramels from Matcha Chocolat INTERNATIONAL Closes Dec 16
Interflora Christmas Hamper RRP £100
Eric Lanlard's "Home Bake" from Octopus Books
Cookware from Jamie Oliver and Mum et Moi
Don't forget to come back tomorrow to see which prize is next!