The giveaway is now closed. The winner was Vanessa Cox, Buckinghamshire.
Today's giveaway is a silicone Christmas Tree baking mould from new online shopping site Mum et Moi. Find out how to enter at the bottom of this post.
A tale of two bake sales.
Round one, provide 100 cupcake for the church bazaar. The mission being to make them even better than the previous batch of pumpkin and cinnamon cupcakes.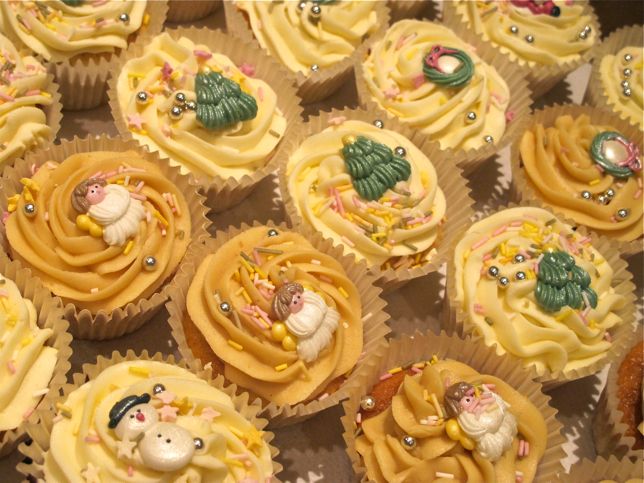 The baking day arrives and Ted is still off preschool with chicken pox even though he's barely showing any sign of ever having it.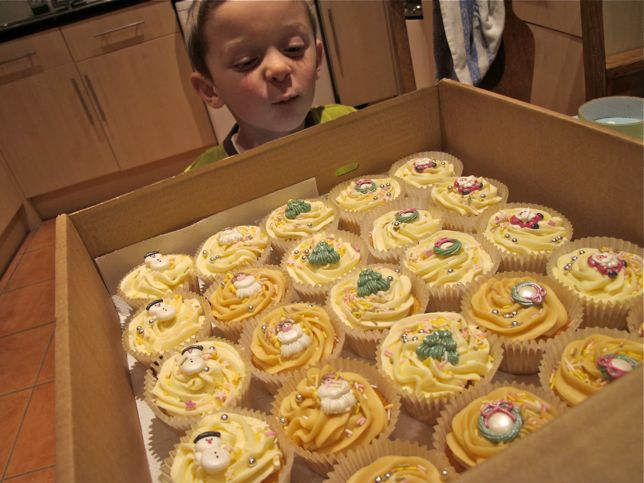 With the so-called assistance of my little helper, I still manage to churn out four double batches of cupcakes (two vanilla, two chocolate) by lunchtime, spend 2 hours in Sainsbury's and then decorate them in around 90 minutes in time to drop off.
I had a little of the dulce de leche buttercream left over and so used this with vanilla for the first half and then chocolate buttercream for the chocolate bases. Toppings were Dr Oetker Christmas novelty shapes (shown above), Dr Oetker jazzies (below left) and Sainsbury's chocolate coated crispies (below right).
Fast forward to the preschool disco one week later and I'm feeling fairly sure of myself. We have this mass cupcake production thing pretty much sewn up I think. I don't even start baking until 4 hours before the party.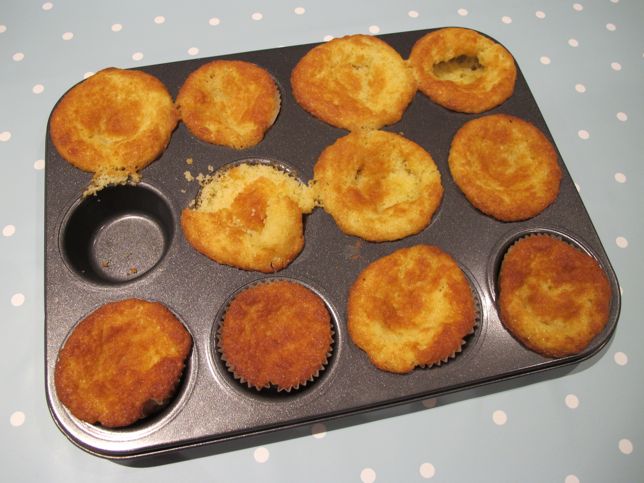 And then this happens. I only have plain flour and think "it's ok I'll add baking powder so it's same as self raising". Not done this before and I should have played it safe and popped to Spar. My cupcakes exploded and had big holes inside. They taste ok but look messy and even if I disguised their shape with icing, they crumble badly when peeling the wrappers off. Not a great impression to give as "the lady who makes cakes."
Frantically, with less than one hour to go, I opt for a replacement.
What do you get for being a smartie pants trying to make your cupcakes at the last minute?
Smartie pants rocky road. It's one step up from cornflake crispies but the bottom line was I knew the children at the disco would enjoy them. Which is what counts.
Smartie Pants Rocky Road
Makes around 50 squares, takes around 40-45 minutes from start to finish.

Ingredients:
2 x 200g bars white chocolate
1 x 200g bar milk chocolate
2/3 box Coco Pops or Nesquik Puffed Chocolate Pops Cereal
1/2 tub glace cherry halves
handful of raisins
weird stuff left over in cupboard i.e. remnants of packets of flaked almonds, dried fruit etc (use your discretion here)
75g mini marshmallows
2 tubes Smarties or about 8 boxes of funsize mini Smarties (sugar coated chocolate jelly bean type sweets)

You will need two 8″ square tins lined with baking parchment.

Directions:
1. Do not panic.
2. Break the white chocolate into squares then blitz in the microwave, give it around one minute then 20 seconds at a time stirring in between so it doesn't get hot spots and burn.
3. Decant the cereal, cherries, raisins, mini marshmallows and anything you've decided to scrabble out of your baking archive into a large mixing bowl.
4. Tip melted chocolate onto the dry ingredients and combine.
5. Press the mixture down into your baking tins.
6. Melt the milk chocolate in the microwave too. Pour over the white chocolate/crispy pop mixture.
7. Scatter over the Smarties.
8. Allow to cool then freeze for 20 minutes (or leave in fridge for 2 hours if you are blessed with time).
9. Cut into 25 squares per tin and throw haphazardly into Ikea storage tubs lined with coloured paper napkins. Run to party.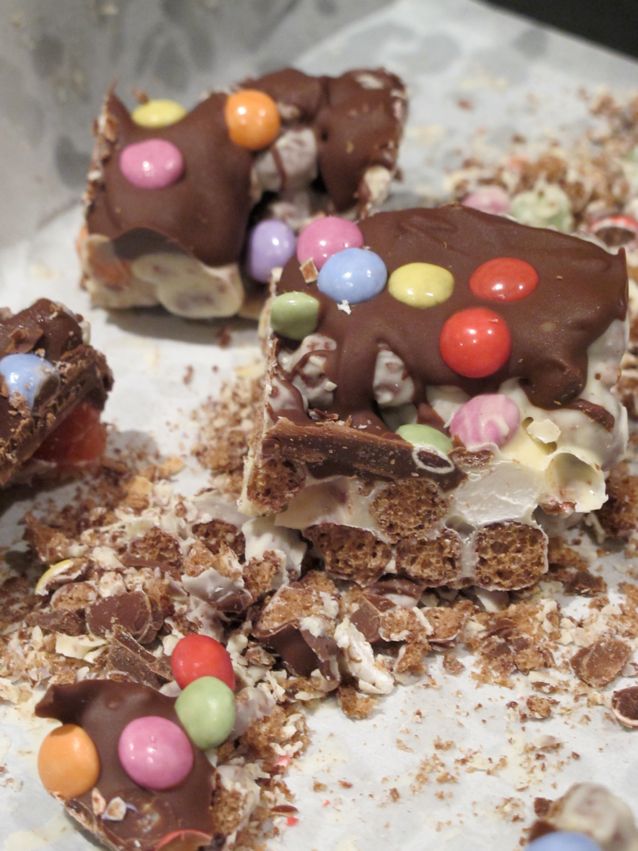 Introducing "Mum et Moi"

I discovered Mum et Moi online shopping site shortly after it launched around a month ago. I was impressed with owner Emilie's drive, starting an online shopping business with 3 young children and her choice of products. Mum et Moi features stylish gifts for children (and their mums) ranging from eco friendly toys to jewellery. There's also a selection of cookware and it's from this range that we have today's giveaway in the 12 Days of Christmas Giveaways on Maison Cupcake.

Mum et Moi silicon cake mould giveaway:

This Christmas Tree silicone mould measures 280 x 200 x 40mm. RRP £17

There is one mandatory way to enter and several ways to get bonus entries.

This giveaway is open to readers with UK mailing addresses. Readers from overseas are welcome to enter provided they can give the UK mailing address of a friend to receive the gift on their behalf with any onward delivery being at their own cost.

The winner will be chosen using an online randomiser and announced in a subsequent post on this blog – the winners of several of the 12 giveaways will be will announced together across 2-3 posts according to their closing dates.

To win:

1. Mandatory. Leave a comment below telling me about a novelty birthday or christmas cake that made an impression on you.

2. Second chance to win, tweet a link to this giveaway as follows: "Win Mum et Moi cake mould @maisoncupcake" WITH A LINK TO THIS POST as it may no longer be the home page item if you enter later this week. Then leave a second comment saying you've done so telling me your Twitter ID.

3. For a third chance to win, visit and "Like" the Mum et Moi Facebook page then leave a comment below saying you have done so.

You must leave a further separate comment for each bonus entry otherwise they cannot be selected in the draw.

Closing date: midnight GMT on Saturday 18th December 2010.

The winner will be notified by email. If the winner does not reply within 48 hours, a new winner will be drawn.

Good luck everyone!

With thanks to Mum et Moi
Also up for grabs during the Maison Cupcake 12 Days of Christmas Giveaways:
Waitrose Christmas goodies RRP £35 Closed
Green & Black's Ultimate Chocolate Chef gift set Closed
Nigella Living Collection Measuring Cups Closes Jan 16 (bloggers' competition, international)
Alex Polizzi's Little Black Book of Hotels Closed
Sainsbury's Different by Design cookware Closes Dec 15
Heinz Secret Ingredient Hamper Closes Dec 16
Chai Caramels from Matcha Chocolat INTERNATIONAL Closes Dec 17
Steenberg's Christmas Spices Survival Kit, Christmas Chai Tea and Stollen Spice Blend Closes Dec 17
Interflora Christmas Hamper RRP £100 Closes Dec 19
Eric Lanlard's "Home Bake" from Octopus Books
Cookware from Jamie Oliver
Don't forget to come back tomorrow to see which prize is next!